UNDERTOW want to know it again!
For that reason, they signed a "worldwide deal" with El Puerto Records last week!
Guitarist Markus Brand is sure:
"After 25 years of underground, it is time to take a big step forward and El Puerto want to and will support us actively. We're glad incredible on joint work and hungrier than ever. This will be clearly heard on the new record! "

Also on label side one is fully convinced:
Torsten Ihlenfeld is "As proud as punch on our latest signing! With UNDERTOW, one of my alltime favorit and long running german metal band signed to EL PUERTO RECORDS! Welcome to the team guys!"

The first details of the new CD will be released shortly. Release date will be in September 2018.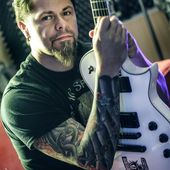 Interview with Markus 'Brandy' Brand from UNDERTOW, talking about the new album - Markus' Heavy Music Blog
A few days ago German metal powerhouse Undertow entered the studio for starting to work on a new album. A good moment to reflect on the time between the last release "In Deepest Silence" and the ...
http://www.markusheavymusicblog.com/2016/10/interview-with-markus-brandy-brand-from-undertow-talking-about-the-new-album.html