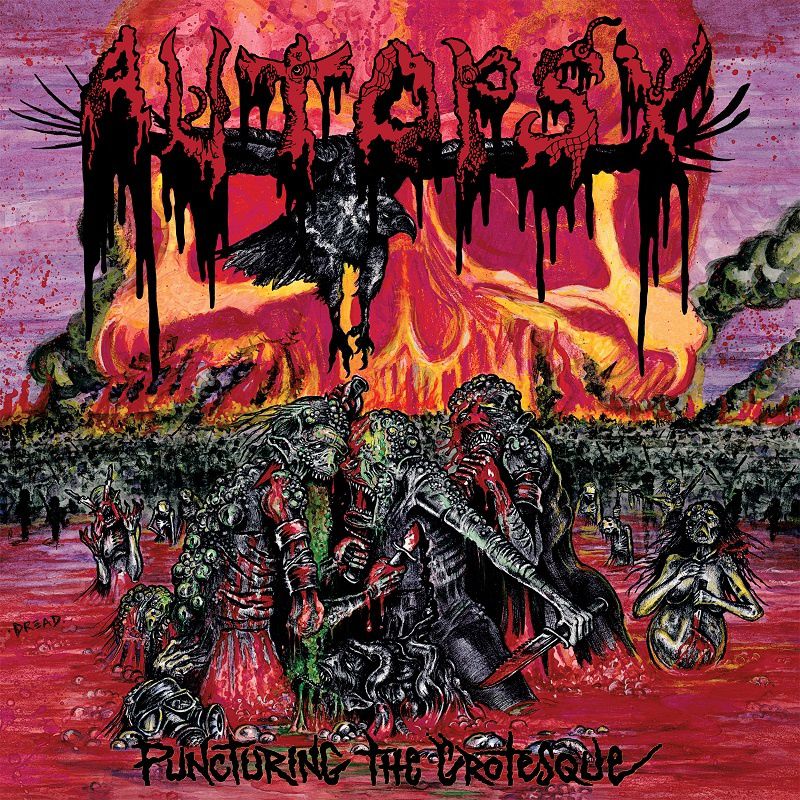 (9/10) It was three decades ago when one of the most influential death metal outfits appeared on the scene - and the guys came to stay. Even though having had a break along the way, it's 2017 being a year to celebrate. Autopsy is 30 years around and it's a new mini-LP that will act as a bloody anniversary feast.
Chris Reifert, Eric Cutler, Danny Coralles and Joe Trevisano deliver another rotten metal meal, that's served in seven steps.
The quartet didn't loose any intensity and impact over time. As if the debut would have been releases yesterday, the guys created another vicious release that combines slow-paced riffing and extreme metal in a way only Autopsy can do.
It's a rolling bassline that kicks of "Depths of Dehumanization", acting as a creepy intro for what's next – "Puncturing the Grotesque". The title song is a merciless death metal anthem with the pace kept high, showcasing the band as a well-oiled death machine. There is no way to escape. This song hits you like a ten-ton hammer.
"The Sick Get Sicker" follows and it's another ruthless riff monster with some tempo breaks making this song so good. Starting fast and furious it's the foot on the break halfway that acts as a well-placed disruption before a savage solo brings back the tempo. These changes built the general pattern for this exciting hymn. It's a sonic avalanche that rolls over you and you can't do anything about it.
Was it so far only breaks that brought some doom up to surface it's "Gas Mask Lust" that entirely built on slo-mo. "Corpses At War" and "Gorecrow" don't need to stand back behind the other songs and it's the crazed "Fuck You!!!" that rounds off an excellently done mini-LP.
Gore legend Autopsy was and is belonging to the spearhead of US death metal, again underlined by this new EP.
(9/10)
Tracklist:
Depths of Dehumanization
Puncturing the Grotesque
The Sick Get Sicker
Gas Mask Lust
Corpses of War
Gorecrow
Fuck You!!! (Bloodbath cover)
Label: Peaceville Records
Genre: Death Metal
Release Date EU: December 15th, 2017