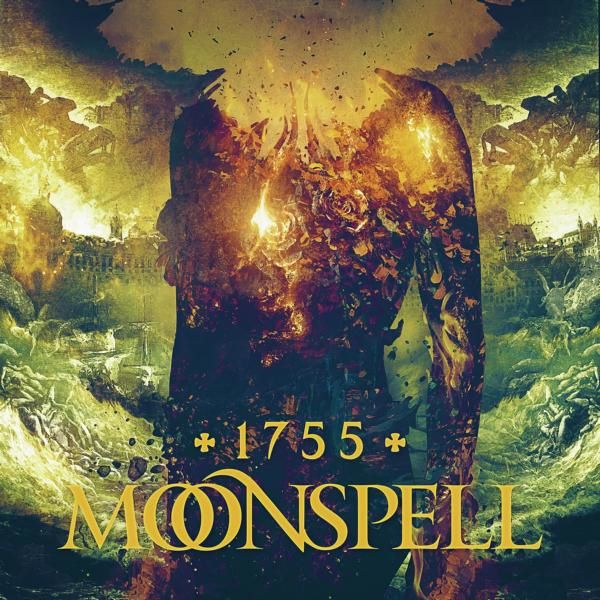 (7/10) Portuguese dark metal powerhouse Moonspell released a few weeks ago their twelfth longplayer. "1755" is the title of this album that shows Moonspell from another angle. The newest output from Portugal's finest is a concept album with the devastating earthquake from 1755 being the thematically center piece. "1755" aims for reflecting the entire impact of such a force of nature in ten new songs.
A glimpse on the tracklist shows the first difference to other Moonspell releases. The entire album is kept in Portuguese which fits very well to the topic, but also makes it difficult to follow this dramatic story line. Therefor let's focus on the music that has to do the job.
"Em Nomen Do Medo" is the starting point. Being dark and oppressive, the tune is an intro to this musical interpretation of a natural disaster. Bombast and drama are already a substantial element of the opener, leading you to the title track "1755", which is a heavy song with a cinematic expression, mainly due to the choir that's included in this number.
Moonspell uses orchestral elements and the mentioned choir to increase the intensity of the newest longplayer and they succeed. "1755" comes with an impressive density which is also an achievement of the production, done by no less than the well-known Tue Madsen.
All the mentioned describes a longplayer that gets out of the speakers very well, but I also have to say that the five piece band had already stronger releases in the past. Moonspell had always great songs that have been part of the earlier releases (like "Await" and "Opium") but also the last album "Extinct" comprised more than one true highlight being part of the tracklist.
"1755" is in this context different. The album can be seen as a Gesamtkunstwerk but misses real highlights with a few songs that stick out a bit. It almost feels like Moonspell got lost in bombast, frills and details. Less would have been more. Even though there are with "Ruínas" and "Abanão" two tracks that get closer to the highlights of the predecessors, these numbers are in general more the exception than the rule.
Moonspell doesn't listen to the echoes of the past and decided to go for a partly new approach with "1755". The ten songs include the typical Moonspell trademarks and showcase a successful endeavour that still has some room for improvement. "1755" is a good album, but Moonspell has better ones in their impressive discography.
(7/10)
Tracklist:
Em Nome Do Medo
1755
In Tremor Dei
Desastre
Abanão
Eveto
1 De Novembro
Ruínas
Todos Os Santos
Lanterna Dos Afogados
Label: Napalm Records
Genre: Dark Metal
Release Date EU: November 3rd, 2017