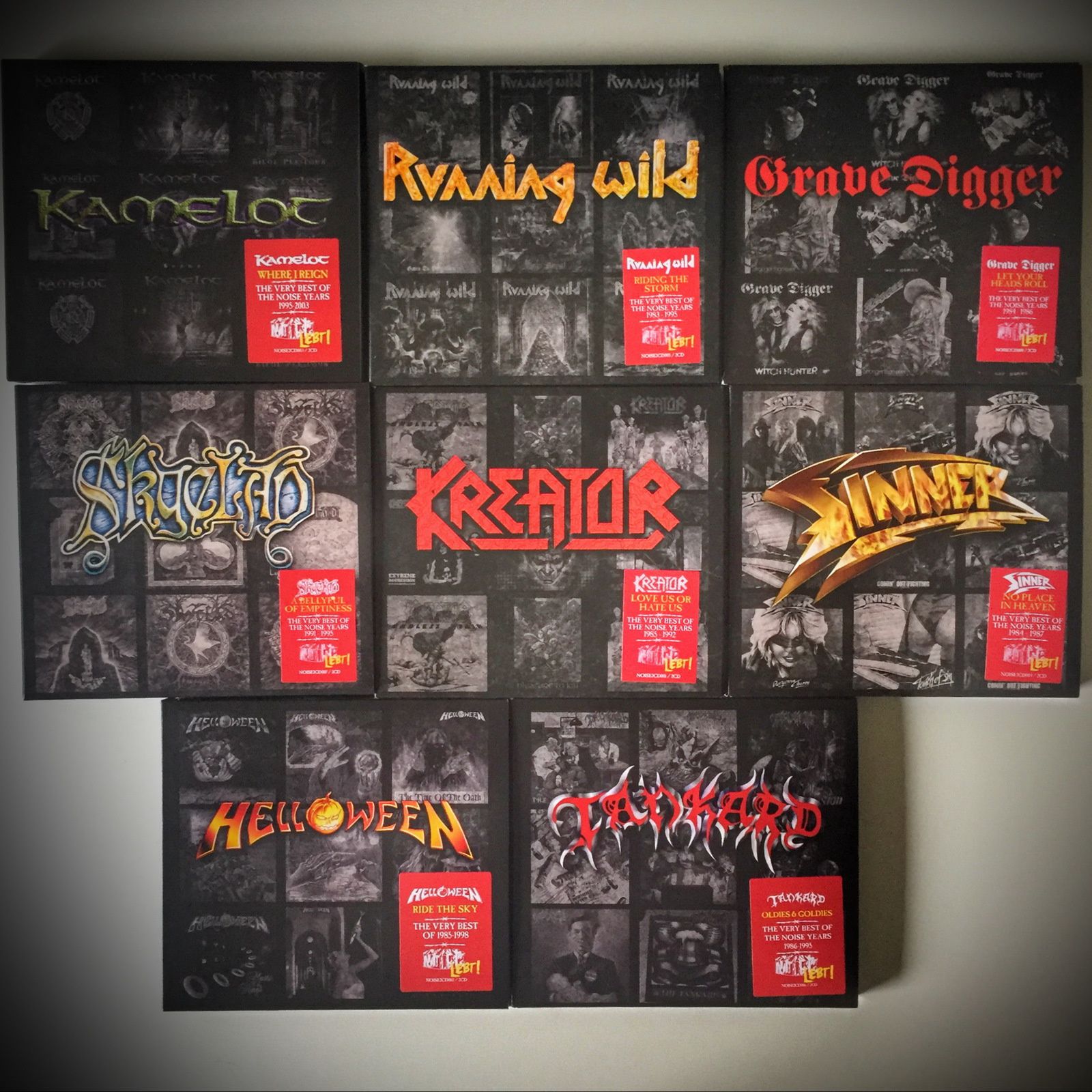 Normally my level of excitement is rather low when I get "Best of..." albums. In the digital world, when everybody can create their own personal playlist with iTunes, Spotify and others, the meaning of these kind of releases is, let's say, at least limited.
In this case things are slightly different. If this is more based on a nostalgic feeling of being grown up in the eighties I don't know, but I was very thrilled when I heard about "Noise lebt!" (engl. 'Noise is alive!'). Actually it is about Noise Records, the German record label, that was a real important player in the earlier days of metal. There have been a few labels at that time that gave metal a true chance. Metal Blade, Roadrunner and Music For Nations are some of them and Noise Records was the German equivalent.
Actually coming more from punk, Karl-Ulrich Walterbach moved the label more and more towards metal, discovering bands like Hellhammer (later Celtic Frost), Running Wild, Helloween and some more. Space thrashers Voivod have been signed by the label in an early stage as well as Grave Digger, the mighty Coroner and German beer passionates Tankard. Not to forget the metal command from Essen, Kreator. Noise Records was the label that gave all these bands a chance and created the springboard for them to grow and become successful.
The biggest success was for sure linked to Helloween. Their two "Keeper of the Seven Keys" albums are still highlights in metal, records that led to worldwide attention and publicitiy, something the band still builds on today.
In the beginning of the digital century Walterbach decided to sell Noise Records to Sanctuary Records, who later on where shut down. The entire back catalogue of Noise went to the archives - up till now.
It's BMG, who aquired Sanctuary Records in 2013, that revive the label and opens this treasure box again, releasing 'Best of...' records from eight bands that have been signed by Noise Records. Under the banner of "Noise lebt!" they released two disc compliations that include all the metal classic of the following bands:
Kreator
Running Wild
Sinner
Helloween
Kamelot
Skyclad
Tankard
Grave Digger
Each of these releases includes an additional booklet, featuring comprehensive liner note of each of the bands history.
Some of you guys might even be that young that you have missed the eighties. These CD's will help you to close the gap, diving into the early days of metal bands that are either still highly successful and/or having a cult status in todays metal scene. And for the ones that are older, like me, the discs are activating some memories from days when was still in the arly stages of its development.
At least for me these releases make a lot of sense and maybe there will be even more, partly unreleased things, in the Noise treasure box (I would love to see this package for Coroner).
Here are some more details per CD package:
Kreator: "Love Us Or Hate Us - The Very Best Of The Noise Years 1985-1992"
Helloween: "Ride The Sky - The Very Best Of 1985-1998"
Release Date EU: May 6th, 2016
Tracklist Kreator:
Endless Pain
Tormentor
Flag Of Hate
Total Death
Bonebreaker
Pleasure To Kill
Under The Guillotine
Riot Of Violence
Ripping Corpse
Command Of The Blade
Terrible Certainty
Toxic Trace
Storming With Menace
No Escape
Behind The Mirror
Extreme Aggression
Some Pain Will Last
Bringer Of Torture
Love Us Or Hate Us
Betrayer
Terror Zone
Coma Of Souls
People Of The Lie
When The Sun Burns Red
Agents Of Brutality
Renewal
Depression Unrest
Karmic Wheel
Europe After The Rain
Winter Martyrium
Tracklist Helloween:
Oernst of Life
Metal Invaders
Starlight
Murderer
Ride the Sky
Gorgar
Judas
I'm Alive
Future World
Halloween (Video Edit)
Eagle Fly Free
Dr. Stein
March of Time
I Want Out
Keeper of the Seven Keys
Kids of the Century
Back On the Streets
Step Out of Hell
Get Me Out of Here
Where the Rain Grows
Why?
Mr. Ego (Take Me Down)
Steel Tormentor
Wake Up the Mountain
Power
A Million to One
Hey Lord!
Time
I Can
Kamelot: "Where I Reign - The Very Best Of The Noise Years 1995-2003"
Sinner: "No Place In Heaven - The Very Best Of The Noise Years 1984-1987"
Release Date EU: May 13th, 2016
Tracklist Kamelot:
Eternity
Black Tower
Call Of The Sea
The Gleeman
Ascension
Heaven
Rise Again
Creation
Millennium
Expedition
Where I Reign
Rhydin
The Fourth Legacy
Desert Reign
Nights Of Arabia
Until Kingdom Come
We Three Kings
We Are Not Separate
Wings Of Despair
The Spell
Karma
Center Of The Universe
The Edge Of Paradise
Descent Of The Archangel
III Ways To Epica
​
Tracklist Sinner:
Danger Zone
No Place In Heaven
Lupo Manaro
The Shiver
Shadow In The Night
Wild Winds
Rattlesnake
Born To Rock
Bad Girl
Shout!
The Storm Broke Loose
Out Of Control
Too Late To Run Away
Hand Of Fate
Masquerade
Age Of Rock
Comin' Out Fighting
Rebel Yell
Germany Rocks
Lost In A Minute
Faster Than Light
Hypnotized
Don't Tell Me (That The Love Has Gone)
Knife In My Heart
Dangerous Charm
Nobody Rocks Like You
Concrete Jungle
Fight The Fight
Back In My Arms
Desperate Heart
Running Wild: "Riding The Storm - The Very Best Of The Noise Years 1983-1995"
Tankard: "Oldies & Goldies - The Very Best Of The Noise Years 1986-1995"
Release Date EU: May 20st, 2016
Tracklist Running Wild:
Victim of State Power
Genghis Khan (Remastered)
Prisoner of Our Time
Walpurgis Night
Branded and Exiled
Fight the Oppression
Chains and Leather
Under Jolly Roger
Beggars' Night
Diamonds of the Black Chest
Raw Ride
Intro / Port Royal
Uaschitschun
Final Gates
Conquistadores (Remastered)
Calico Jack
Riding the Storm (Remastered)
Evilution
Bad to the Bone
Tortuga Bay
Blazon Stone (Remastered)
Little Big Horn
Over the Rainbow
Genocide
Whirlwind
Fistful of Dynamite
Pile of Skulls
Soulless
The Privateer
Fight the Fire of Hate
The Phantom of Black Hand Hill
Lions of the Sea
Tracklist Tankard:
Zombie Attack
Mercenary
Maniac Forces
(Empty) Tankard
Poison
Total Addiction
Tantrum
Don't Panic
For A Thousand Beers
Chemical Invasion
Alcohol
Intro / Commandments
Shit - Faced - Faced
F.U.N.
Try Again
The Morning After
Alien
666 Packs
Live To Dive
666 Packs
Live To Dive
Open All Night
We Are Us
Dancing On Our Graves
Bermuda
Space Beer
Jurisdiction
Broken Image
Stone Cold Sober
Freibier
Death Penalty
Nation Over Nation
Two - Faced - faced
Grave New World
Minds onThe Moon
Atomic Twilight
Hope?
Skyclad: "A Bellyful Of Emptiness - The Very Best Of The Noise Years 1991 - 1995"
Grave Digger: "Let Your Heads Roll -The Very Best Of The Noise Years 1984-1987"
Release Date EU: May 27th, 2016
Tracklist Skyclad
The Sky Beneath My Feet
Trance Dance (A Dreamtime Walkabout)
The Widdershins Jig
Skyclad
Spinning Jenny
Salt On the Earth (Another Man's Poison)
Ring Stone Round
Men Of Straw
The Declaration Of Indifference
Alone in Death's Shadow
Emerald
A Room Next Door
When All Else Fails
Thinking Allowed
The Wickedest Man in the World
Earth Mother, the Sun and the Furious Host
Tunnel Visionaries
A Word to the Wise
Tunnel Visionaries
A Word To The Wise
Civil War Dance
Cardboard City
Land Of The Rising Slum
The One Piece Puzzle
A Bellyful Of Emptiness
Gammadion Seed
Brothers Beneath The Skin
Still Spinning Shrapnel
Just What Nobody Wanted
Art - Nazi - nazi
A Stranger In The Garden
Another Fine Mess
Halo Of Flies
Desperanto (A Song for Europe?)
Dance Of The Dandy Hound
Tracklist Tankard:
Headbanging Man
Heavy Metal Breakdown
Back from the War
Yesterday
We Wanna Rock You
Tyrant
Heart Attack
Shoot Her Down
Witch Hunter
Get Ready for Power
Love Is a Game
Get Away
Here I Stand
Don't Kill the Children
Keep On Rocking
Heaven Can Wait
Let Your Heads Roll
Love Is Breaking My Heart
(Enola Gay) Drop the Bomb
Paradise
Fall Out
Wanna Get Close*
Don't Leave Me Lonely*
Stronger Than Ever*
Moonriders*
Lay It On*
I Don't Need Your Love*
Stand Up and Rock*