Nine Inch Nails known for their industrial heavy weight awing performances came back with a vengeance. An epileptic inducing graphic light show did not disappoint and was totally in sync with their thunderess sounds.
Surprisingly the show was not sold out. Reznor stage presence added shadows of himself to the graphic light wall. Hunched over the mic, he spitted out his unique vocals in a quality that entwined into the music to a pumped moshing sweaty crowd. The heat in HMH was off the scale whereby Trent's own body fluids contaminated his own synth but the show continued with a "fuck it". Thankfully in front we were sprayed with water by one of Trent's bodyguards with an attempt to cool us a little. This was gratefully accepted especially when given water to drink. The set list was career spanning including "Head like a hole", "Disappointed", "Closer", "The Frail & the Wretched", "Copy of a", "March of the pigs" and ending with powerful rendition of "Hurt". Every song detonated the crowd into a full-scale rock assault. The musical ferocity left the audience with what they came for after so many years without.
Not to forget Cold Cave, who opened up for NIN and warmed up the crowd.
Set list:
Me, I'm Not
Copy of A
1,000,000
March of the Pigs
Piggy
The Frail
The Wretched
Gave Up
Sanctified (with Sunspots riff)
Closer
Find My Way
The Warning
Disappointed
Came Back Haunted
The Great Destroyer
Eraser
Wish
Burn
The Hand That Feeds
Head Like a Hole
Encore:
The Day the World Went Away
Hurt
Location: Heineken Music Hall, Amsterdam, The Netherlands
Date: 27.05.2014
(Author: Caroline Kube)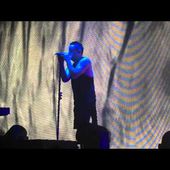 Hurt, Nine Inch Nails - Heineken Music Hall, Amsterdam 2014
Uploaded by cjkube on 2014-05-28.
Source YouTube (cjkube)