Master streams their entire new album "The witch hunt". Check the link below and enjoy the show.
Listen To Master's New Album In Its Entirety
By Terrorizer Newshound on September 19, 2013 Terrorizer is proud to present a stream of death metal legends Master's new album, 'The Witchhunt', in its entirety. Formed in Chicago in 1983, Master ...
http://www.terrorizer.com/news/streams/listen-masters-new-album-entirety/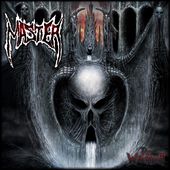 CD review MASTER "The witchhunt"
Paul Speckman, one of the founding fathers of death metal, is back. One year after the latest release of Master the band comes back with their new album called "The witchhunt". Paul, who is playing
http://mwiemetalblog.over-blog.com/cd-review-master-the-witchhunt