Witherscape is a new Swedish band formed by former Edge of Sanity mastermind Dan Swano. Swano is supported by Ragnar Widerberg and the sound of the band is progressive death metal. The album, which is called "The inheritance" will be released on August 6 in Europe via Century Media.
The tracklist:
1.) Mother of the soul
2.) Astrids fall
3.) Dead for a day
4.) Dying for the sun
5.) To the calling of blood and dreams
6.) The math of the myth
7.) Crawling from validity
8.) The wedlock observation
9.) The inheritance
Check out the first video of the band called "Astrids fall". It reminds a little bit to Opeth.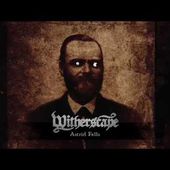 Witherscape - Astrid Falls (ALBUM TRACK)
Witherscape - Astrid Falls (OFFICIAL ALBUM TRACK). Taken from the album "The Inheritance". Century Media 2013. Out on: July 29th, 2013 (Europe) & August 6th, 2013 (North America).