Former Bonfire singer Claus Lessmann teamed-up with Casanova, Mad Max and Michael Schenker guitarist Michael Voss to work on a new project. Phantom 5 is the result of this cooperation and the band is completed by Robby Boebel (Frontline), Axel Kruse (Jaded Heart) and Francis Buchholz (former Scorpions).
The first track of this five-piece can be listened to via the link below. You can expect professional made hardrock from Germany, at least when it comes to this track.
Michael Voss states: "For me it sounds like we did a follow up to the famous Bonfire ´Fireworks' album with a touch of Frontline meets JADED HEART groove… it is a driving monster with huge walls of guitars, powerful soaking drums and fine catchy melodies…we took a trip back into the world of the eighties!!!"
Claus Lessmann adds "I am very proud of being part of a very fine piece of melodic rock and I hope that many people will like and love it the same way we do. Everything came together very naturally and I had the feeling, that our flow of creativity never seemed to run dry, just like it should be. After the more than painful situation with Bonfire, it was exactly the right thing, at the right time to do for me and it just felt and feels so damn right!"
Release date of "Phantom 5" is March 13th, this year and the longplayer comes via Frontiers Records.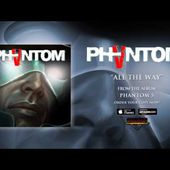 Phantom 5 - All The Way (Official Audio)
Get your copy of PHANTOM 5 NOW: Amazon: http://radi.al/Phantom5Amazon / iTunes: http://radi.al/Phantom5iTunes Subscribe - http://www.youtube.com/subscription_c... Frontiers Facebook - ...
https://www.youtube.com/watch?v=wPpF-d3UA18&feature=youtu.be