And another new track is online. Death rockers Chrome Division released the new track "Endless night" from the coming album "Infernal rock eternal". Sounds like - wanna hear more.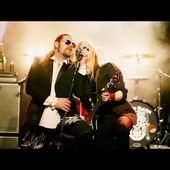 CHROME DIVISION - Endless Nights (OFFICIAL VIDEO)
Chrome Division "Endless Nights" official music video. Order at: http://smarturl.it/CD-IRE-CD Subscribe to Nuclear Blast: http://bit.ly/subs-nb-yt Subscribe to Chrome Division: ...
Source: Nuclear Blast