Winter tours from Doro Pesch and band do have already a certain tradition and also this year the legendary metal singer started a smaller tour, bringing the band to several German cities and some locations in neighbor-countries. This winter touring activities started in Leiden, The Netherlands and the setlist looked very promising. The 'Love's Gone to Hell' tour has obviously an oldschool approach with many song from the Warlock area ending up on the setlist.
The opening act that night was Spitfire, a band I missed so far. And since the name isn't that unique it wasn't an easy thing to find out more about the guys. You won't believe how many bands are around with such a name. Anyhow, research was successful. This band is hailing from Norway and they play a hardrock/metal mix that includes rough and wild songs. The four-piece had 40 minutes to warm up an audience that actually came for Doro. Yes, there were some fans in the first rows and a respectful applaus, but the biggest amount of people stood at the bar or further in the back of the room. Spitfire tried hard that night with some highlights here and there, but in the end the show was too tense to really score. If this was due to the fact that it was the first show on this tour or if it was the sound they got (which wasn't the best one) or if it was something else I don't know. In the end it has been 40 minutes that have been OK, but it also didn't lead to heavy disappointment when the last chord faded away.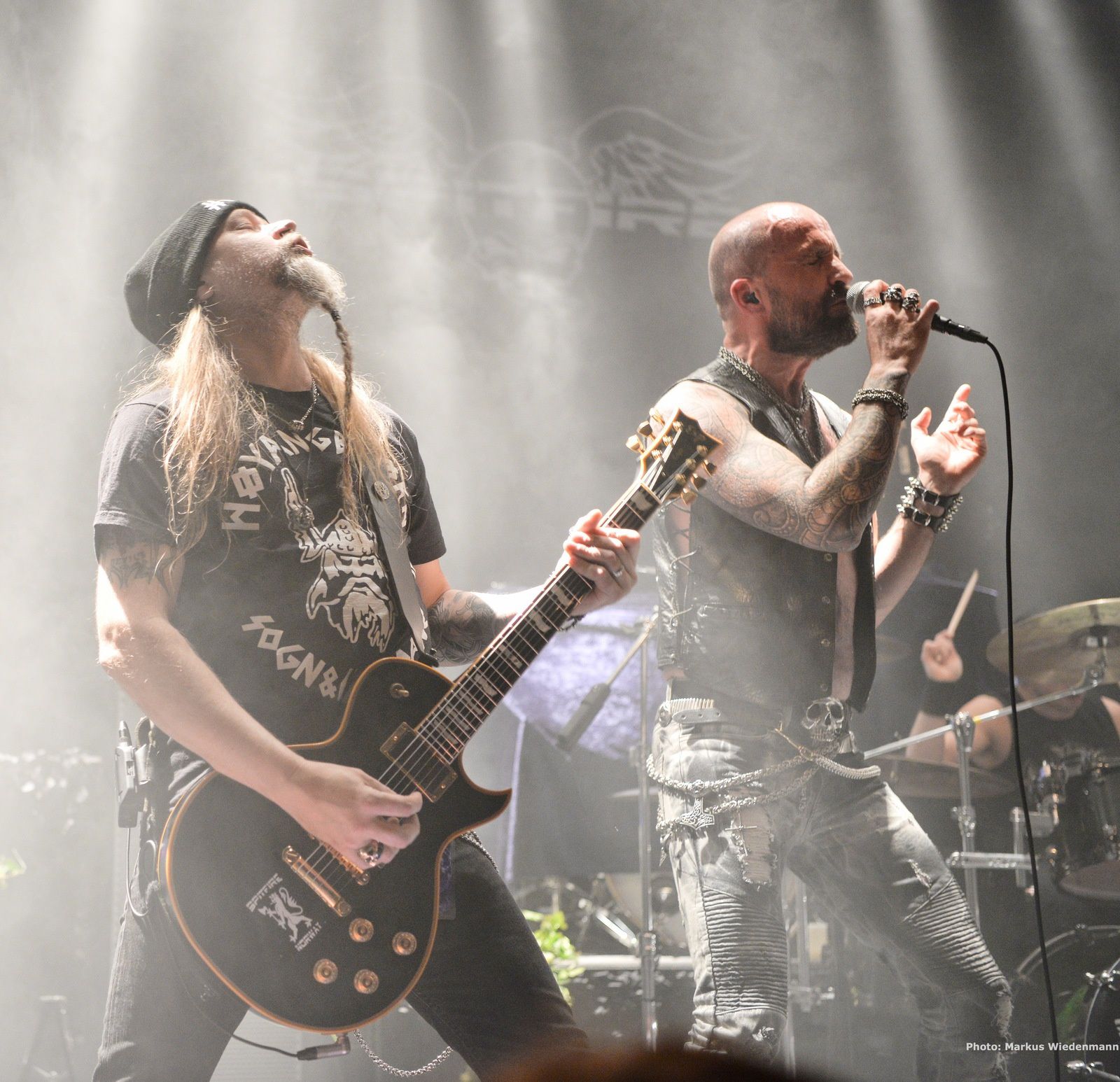 Time for Doro Pesch. I don't think that there is any metal fan that never heard about Doro Pesch before. This name is a brand that stands for honest and authentic heavy metal, passion for what she is doing and pure joy of fan interaction. All these things built the red thread for this show too. From the first note onwards the venue turned into a headbanging madhouse, constantly motivated by Doro who was again all over the place. It's amazing to see her energy and this positive approach. She obviously enjoys what she's doing a lot – even after 32 years in business. This is something that makes her so authentic which is for sure one reason for her popularity.
As mentioned earlier, the setlist she and her bandmates decided to go for was quite oldschool stuff, something I appreciated a lot. "Burning the Witches", "East Meets West" and "All We Are" are metal anthems that belong to the classics in the bands discography, with Doro being loudly supported by her fans. No doubt that the name giver of this tour, "Love's Gone to Hell", was performed as well, "Warlock" was introduced by the appearance of the Warlock himself and "Fuer Immer" was more a big fan choir rather than the band playing the song. Normally I'm not the biggest fan of solo parts, but in this case even the drum solo that was integrated in "Earthshaker" was a treat more than an energy taker.
Something that's also very beneficial is the line-up which is stable since seven years. Doro, Johnny Dee (d), Bas Maas (g), Luca Princiotta (g) and Nick Douglas (b) played tight together as a band that's well attuned. Even though there's 'Doro' on the banner it is the entire band that makes a 'Doro'-show to what it is – great metal entertainment that's based on excellent songs and a great vibe.
Great night, great metal and a good entertaining Thursday night.
Explore Markus Wiedenmann's 1,481 photos on Flickr!
Setlist Doro:
I Rule the Ruins
Raise Your Fist
Burning the Witches
Fight for Rock
Chained
Warlock
Bad Blood
Fall For Me
East Meets West
Metalracer
Fuer Immer
Earthshaker (incl. a drum solo)
Love's gone to Hell
Out of Control
Revenge
All We Are
Love Me in Black (Encore)
Location: Gebr. de Nobel, Leiden, The Netherlands
Date: 24.11.2016