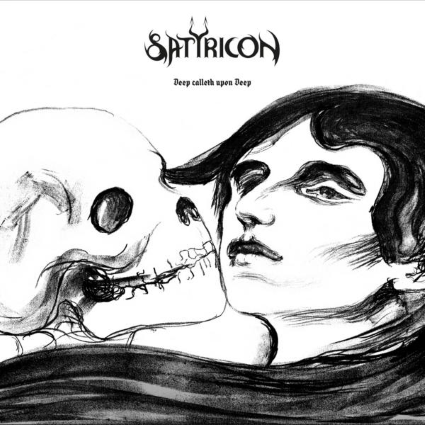 (8/10) In case you read some of my earlier reviews you know that sometimes I also talked about the artwork of albums, esp. if they didn't fit to the music or looked quite 'interesting'. Also when it comes to Satyricon's newest strike the packaging is worth to be mentioned, this time because it fits so perfectly to the music you get on the album.
The cover artwork is reduced to a minimum. It's a puristic drawing, focusing on the essence of the 'kiss of death' and so does the music. "Deep Calleth Upon Deep" comes with eight tracks, which are still referring to the band's black metal roots. However, Satyricon is more than black metal that's build either on blastbeats or bombastic orchestration. The band created a vicious and diabolic sound that can be immediately recognized as being Satyricon.
Also the new album is no exception. The tunes on "Deep Calleth Upon Deep" are a black and gloomy journey, representing a sinister vibe. In one or another way the songs are a pure distraction since they unveil a certain beauty of evil.
Satyr and Frost created tunes that are fueled with tristesse. Songs like the outstanding "To Your Brethren in the Dark" are slowly waltzing anthems in black, spread out over six minutes. The same goes for the opener "Midnight Serpent", which, even though with a higher pace, follows the same pattern.
But it's not only the longer tunes you should focus on. Also the straightforward "The Ghost of Rome" is an excellent smasher with unexpected background vocals.
"Deep Calleth Upon Deep" doesn't come with filler. Each of the eight tracks is worth to be on this longplayer, an album that features with the dark symphony "Black Wings and Withering Gloom" another apex.
As with the earlier releases, the Oslo-based duo stick to their trademarks, delivering an album that lives up to expectations. It shows the beauty of simplicity and focus. Satyricon fans will love this lomngplayer that is even relevant for non-black metal fans. Good music for the dark season.
(8/10)
Tracklist:
Midnight Serpent
Blood Cracks Open the Ground
To Your Brethren in the Dark
Deep Calls Upon Deep
The Ghost of Rome
Dissonant
Black Wings and Withering Gloom
Burial Rite
Label: Napalm Records
Genre: Black Metal
Release Date EU: September 22nd, 2017