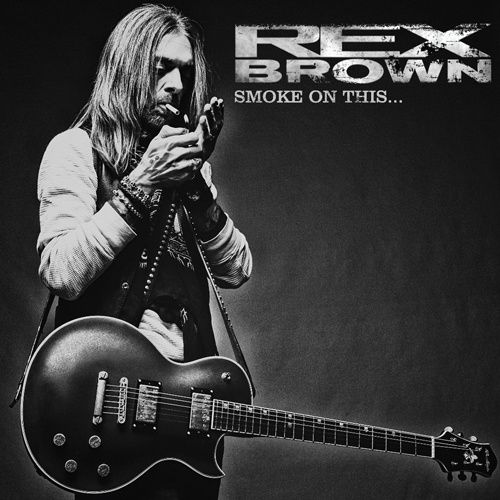 (9/10) I guess that the name Rex Brown makes you immediately think about the legendary Pantera and the mighty Down. Brown was/is bass player in these two metal outfits and in the meantime he also worked on his solo debut. Now, in case you expect a sludge masterpiece or a hard hitting thrash album, I think you need to re-calibrate your metal-system. Rex Brown breaks new ground with "Smoke on This".
The first things that's different is Brown handling the six string guitar which he does as professional as he does the bass. Secondly he also took over the vocals and these are surprisingly good. His loudly and sometimes rough and hoarsely vocals fit perfect to the Southern rock style music that you get with "Smoke on This".
Rex Brown goes back to his roots when it comes to the new album which makes it feel very authentic and tangible. It's the lighter that's introducing the opener. "Lone Rider" is the first highlight of the album, being a rolling spot-on track with a good riff and great vocals. Things just fit together perfectly on this longplayer. I like songs that tells the message. Without even checking the title I had to think about a huffing and puffing train while listening to the song for the first time. In that sense the tune is excellently done, seeing the powerful transcontinental locomotive right in front of you.
Also the half-acoustic tunes are a treat. "Buried Alive" is one of them, coming with a kind of Soundgarden reference. The calmest song is "Fault Line". This ballad comes with a lot of emotional depth and it feels very personal. It's a listener you get goose bumps while listening to it. Another songs that's worth to be mentioned is "Grace", reminding me of Alice Cooper. Partly light-hearted the tune still includes a creepy overtone that makes it special.
This album is full of good stuff and there's no single filler present. Brown recorded songs that came right from the heart, making "Smoke on this" to a real and honest masterpiece. I must admit that I haven't expected such a great album. A positive stunner. This album kick ass.
(9/10)

Tracklist:
Lone Rider
Crossing Linbes
Buried Alive
Train Song
Get Yourself Alright
Fault Line
What Comes Around
Grace
So Into You
Best of Me
One of these Days
Label: Steamhammer/SPV
Genre: Hardrock
Release Date EU: July 28th, 2017