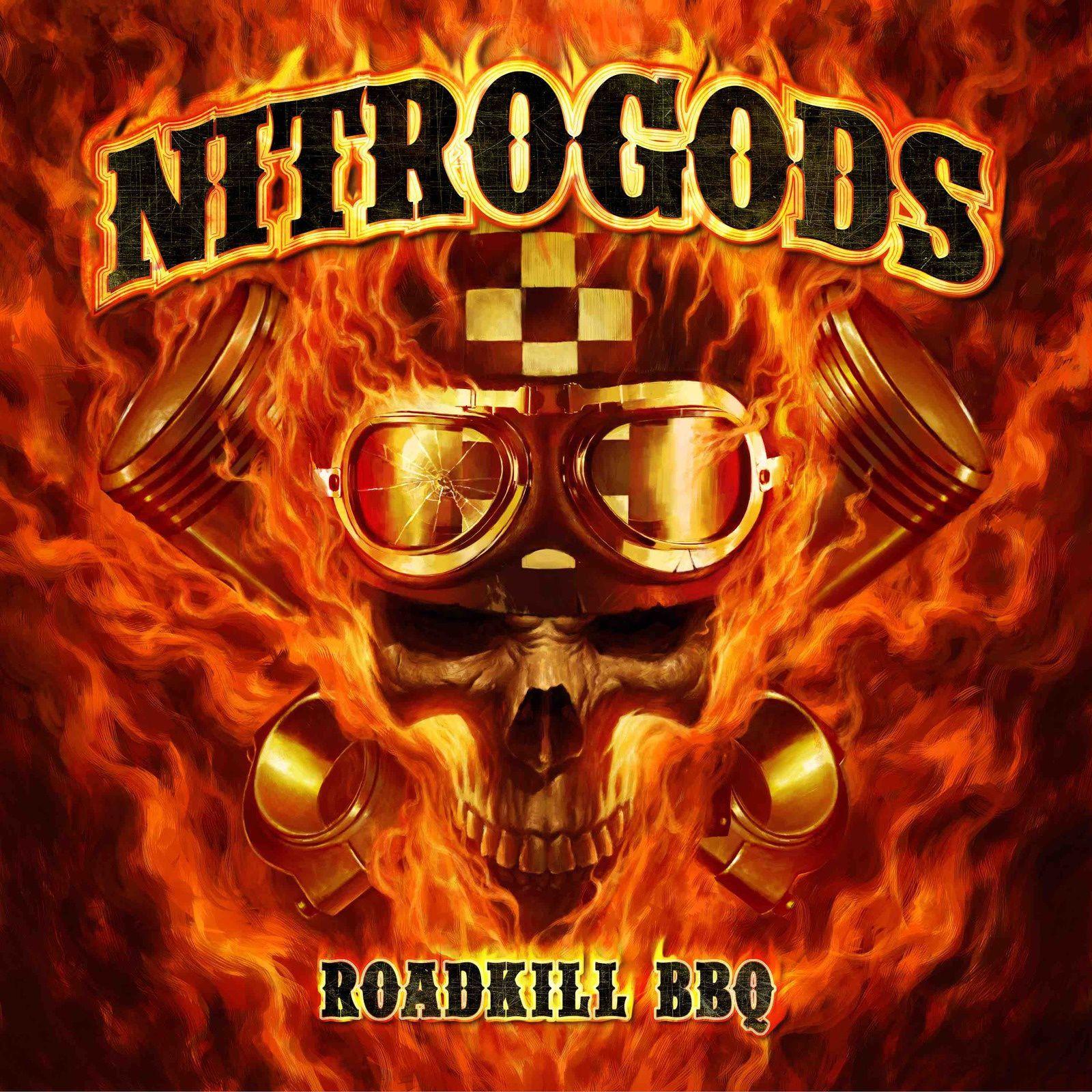 (7/10) The Stuttgart/Hannover-based street rockers Nitrogods hit the studio some months back in time for recording their new output "Roadkill BBQ. The outcome of this hard working exercise is in the meantime availble in the recordshop, featuring 12 new songs.
Nitrogods is Oimel, Klaus Sperling (Freedom Call, Primal Fear) and Henny Wolter (Thunderhead, Primal Fear, Sinner). These three guys are around since 2011 and the trio can look back on a debut, "Nitrogods", which was released in 2012. Five years later the sophomore record hit the stores and what you can expect of this disc is pure rock'n'roll entertainment.
This longplayer is a nasty rocker. The loss of Lemmy and the end of Motörhead is still a very sad moment in rock music and the uniqueness of musician and band will stay forever. Fortunately the guys implemented a seed that was growing in the past and still grows. One of the fruitful results is Nitrogods from Germany.
Their newest longplayer "Roadkill BBQ" brings back some of the good 'ol Motörhead vibes. The opener "Rancid Rock" is one of these moments and "Bad Place Wrong People" is another one. It's the merciless groove and the hammering bassline that reminds of nice memories and also Oimel's coarse voice fit in an excellent way to what these tunes express - a pure joy of rock.
However, even though the mighty Motörhead influences Nitrogod's sound more than a bit, the band is more in their bag than being 'just' a tribute band honouring their idols. There are moments when Status Quo delivered a blueprint for what you get to hear. The easy going title track is such a track while "I Hate" is not more, but also not less, than a cool rollin' rocker that will turn any clubshow into a madhouse experience.
Nitrogod's "Roadkill BBQ" is simple, to the point and an excellent soundtrack for your next BBQ party with friends and beers.
(7/10)
Tracklist:
Rancid Rock
Roadkill BBQ
My Love's a Wirebrush
Boogeyman
Bad Place Wrong People
Wheelin'
A Los Muerto
The Price of Liberty
Race to Ruin
I Hate
Father
Where Have the Years Gone
Russian Rocket (Bonus)
Did Jese Turn water Into Beer (Bonus)
Label: Steamhammer / SPV
Genre: Street Rock
Release Date EU: May 26th, 2017