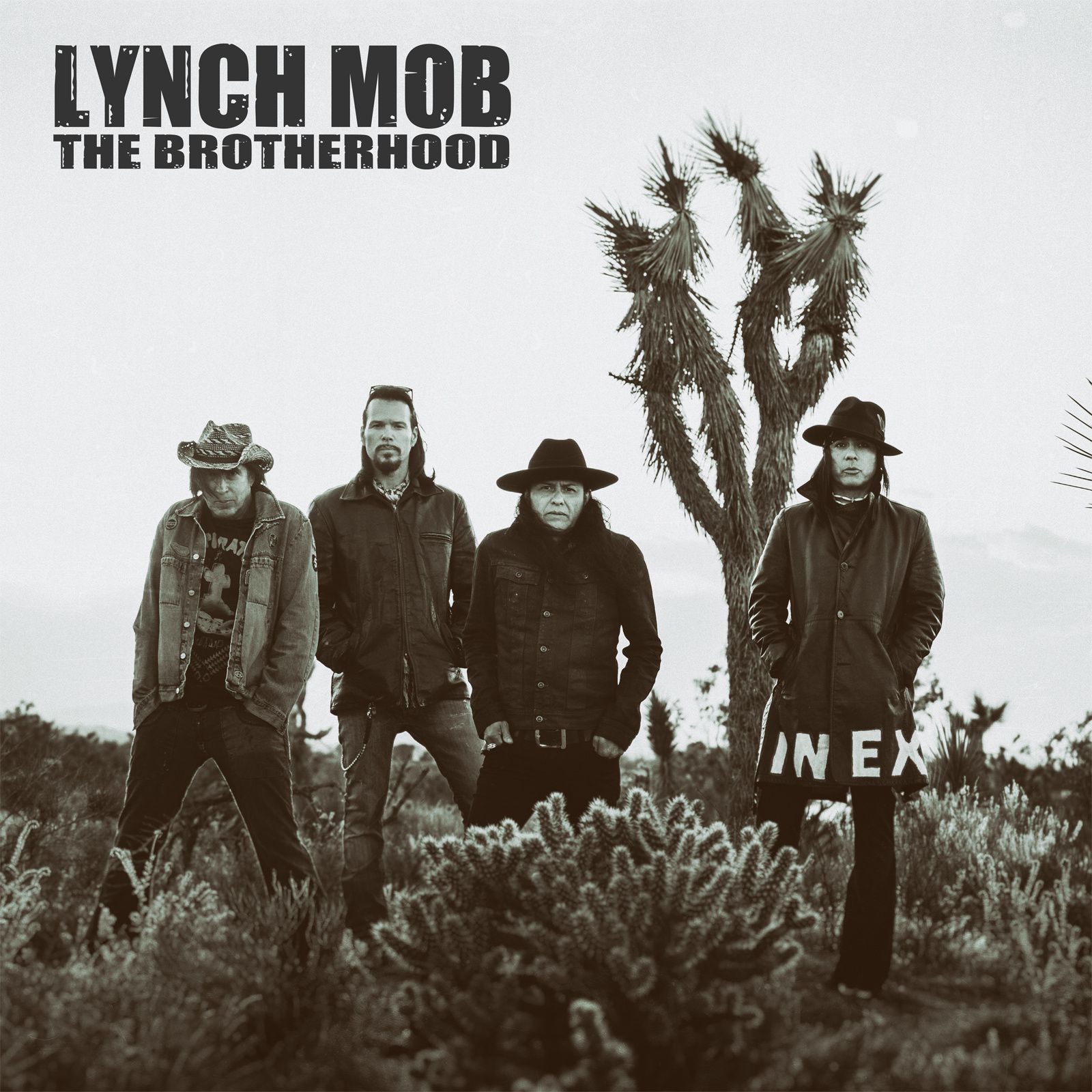 (8/10) To name an album "The Brotherhood" must have a meaning and it does. Basically it emphasis the fact that the line-up worked together in different constellations over the last years with George Lynch and singer Oni Logan being the key factors. Band leader and singer started their cooperation already in 1989 when Lynch Mob took off, followed by many 'in and out moments' over time. Since 2014 both of them work together again on a consistent base and the new album reflects the strength of it very well. "The Brotherhood" sounds tight and straight-forward, standing as a rock in the ocean of new releases. What's rather new to Lynch Mob is the powerhouse, represented by Jimmy D'Anda (d) and Sean McNabb (b), both joining in 2015 and being well-integrated in the band.
This four-piece band recorded Lynch Mob's eighth studio album that features 12 new songs, all in the fields of rock and blues. "The Brotherhood" rocks from the first to last note played, with "Main Offender" being a grooving opener that shows the extra class of Lynch and his band mates. Songs on the new record are quite hard and come with a darker vibe which is also reflected in the artwork.
The guys do best when they combine hard rocking sounds with some blues roots, reflected in songs like "I'll Take Miami" and "Where We Started", the latter being a heavy pounding smasher.
To balance the heavy songs Lynch Mob embedded half-way down the road an acoustic highlight entitled "The Forgotten Maid's Pearl" before hooks and riffs take over again with "Until the Sky Comes Down" and "Black Heart Days". Towards the end the record contains with "Miles Away" a ballad that might fit perfect into the flow of the album but is on the other hand not leading to endless excitement.
Last but not least it's the very rhythmic "Until I get My Gold" that closes another Lynch Mob album which is built on the creative collaboration of guitarist and singer. George Lynch and Oni Logan seems to challenge each other enough for writing well-crafted hardrock songs that are a treat for fans and enthusiasts of rock music. Hopefully the brotherhood atmosphere will remain when it comes to the coming years.
(8/10)
Tracklist:
Main Offender
Mr. Jekyll and Hyde
I'll Take Miami
Last Call Lady
Where We Started
The Forgotten Maid's Pearl
Until the Sky Comes Down
Black Heart Days
Black Mountain
Dog Town Mystics
Miles Away
Until I Get My Gold
Label: Rat Pak Records
Genre: Hardrock
Release Date EU: September 8th, 2017