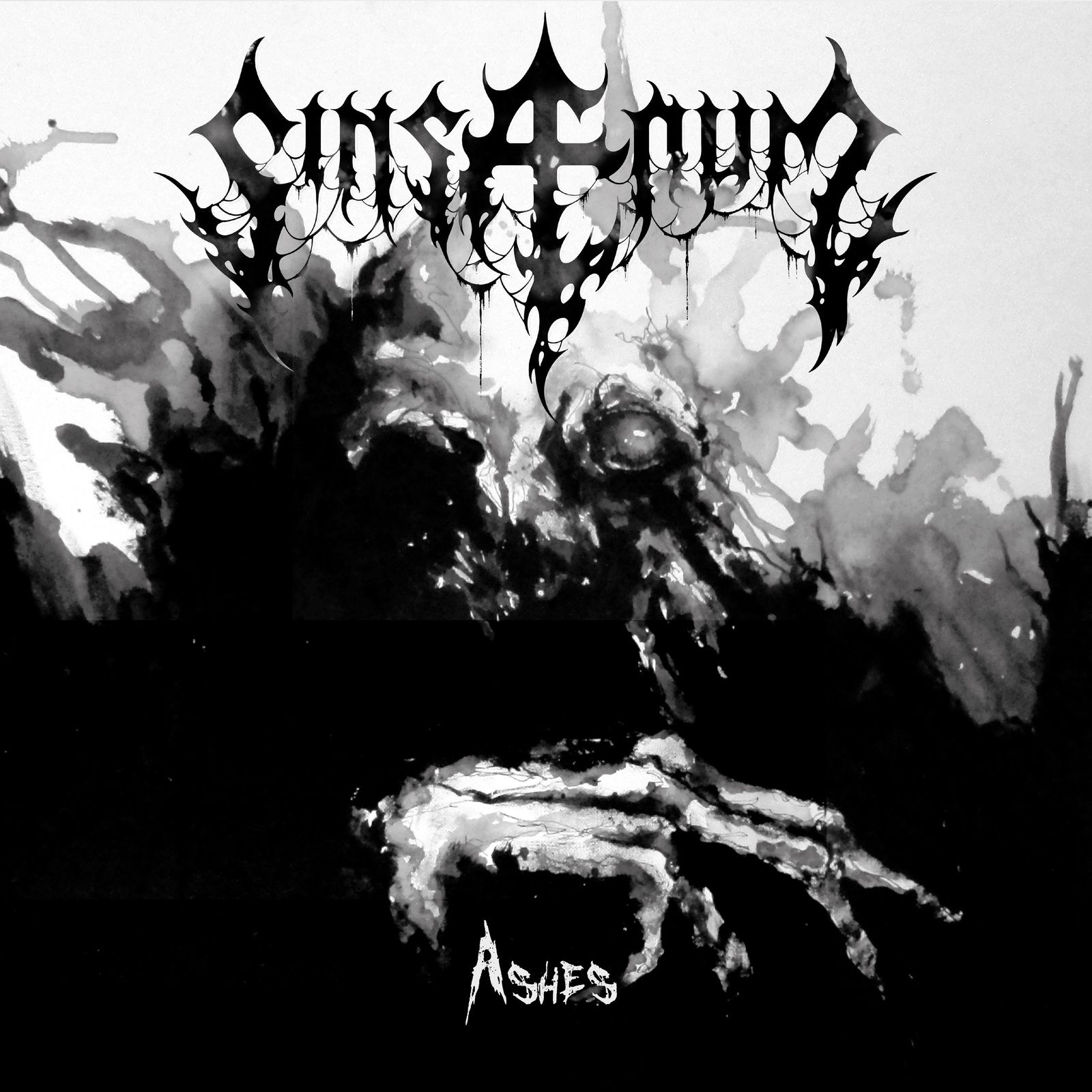 (8/10) Time is flying. It's already more than a year ago when death metal supergroup Sinsaenum released the highly anticipated debut "Echoes of the Tortured". In order to keep the hellish fire burning the guys put more wood on the fire with a new EP that will hit the shelves on November 10th. And what name would fit better for such a disc than "Ashes".
This EP is a metal purgatory. The quintet recorded three new songs for this release, each of them coming with an angry, dark and merciless vibe. The new tracks stand for a shifting level of aggressiveness adding more sonic brutality to Sinsaenum's sound.
It's the title track the kick-off this journey into the abyss. A furious riff in combination with bloodcurdling growls set the tone of voice for the next 26 minutes. The title track belongs to the faster songs. However, it comes with some well-done breaks too, reflecting the musical experience of everybody involved. Sinsaenum aren't nobodies. Frederic Leclercq, Sean Z., Attila Csihar, Stephane Buriez, Heimoth and Joey Jordison have a long track records in metal, being or having been involved in bands like Slipknot, Mayhem and Dragonforce. Combining this metallic fire power in one band allowed the guys to create songs that reflect their passion for harsh metal, but also to take things from a wider perspective.
"Ashes" is a continuation of what started with the self-titled EP more than a year ago. However, the quintet evolved their music with some more black metal getting to the forefront. Especially "2099 (Heretics)" reflects this a lot. What's obvious with this tune is the musical filigree craftsmanship that's, next to the wildness, another substantial element of this five-piece band.
Besides the three new songs this EP comprises three more songs. "Degeneration" and "King of the Desperate Lands" are two Japanese bonus tracks while the closer "Dead Souls" got a remix done by Frederic Dusquesne.
"Ashes" shows that Sinsaenum isn't a 'one hit wonder'. These guys are not just a project for one album, they are a band and more exciting music can be expected from this powerful metal outfit.
(8/10)
Tracklist:
Ashes
Monarch of Death
2009 (Heretics)
Degeneration
King of the Desperate Lands
Dead Souls
Label: earMusic
Genre: Death Metal
Release Date EU: November 11th, 2017