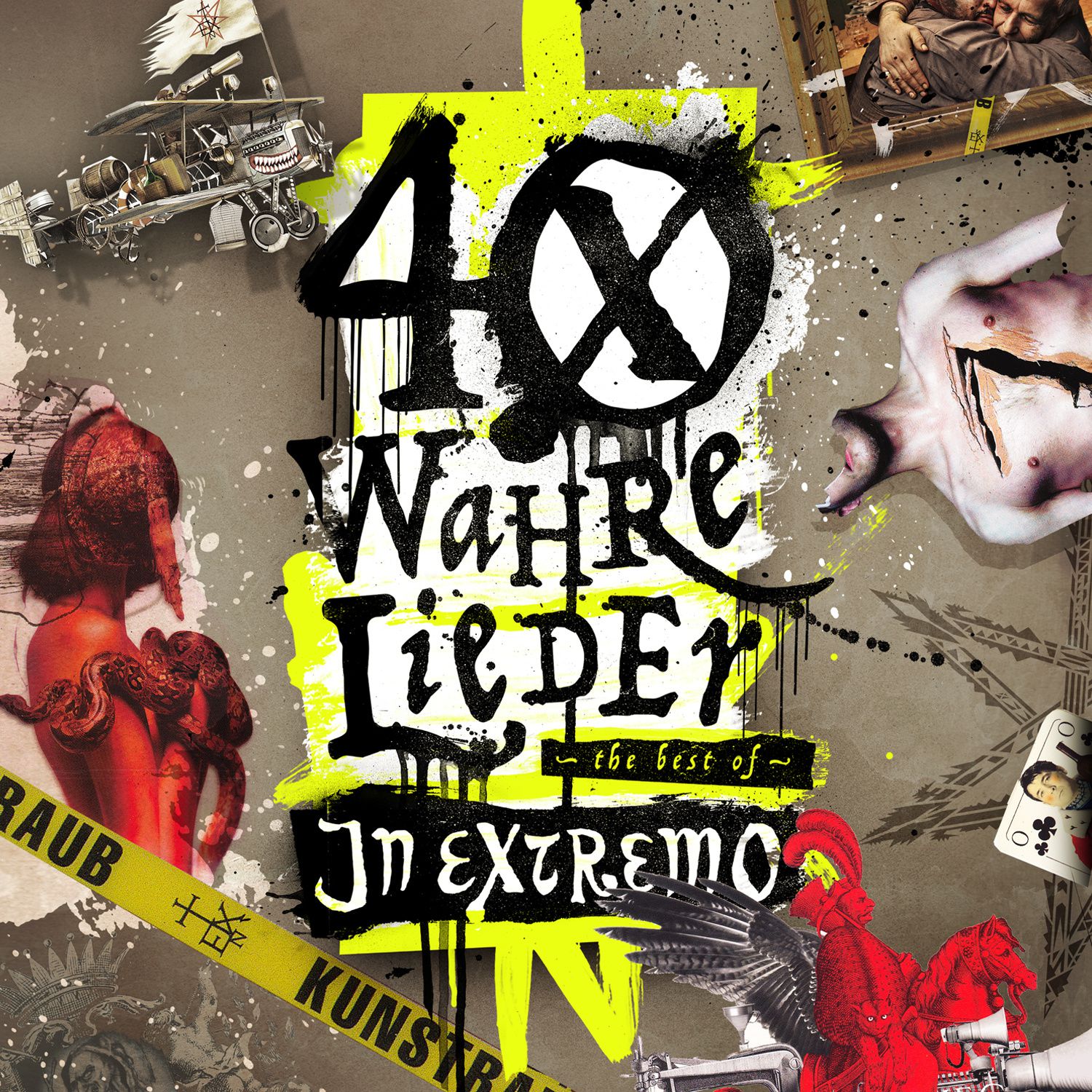 (8/10) German mediaeval rockers In Extremo are a quite productive rock outfit with some releases spread out over the last years. The band started their winning streak back in 1995 and belongs to the spearhead of this genre. Twelve longplayers represent an impressive discography with some of them getting in pole position of German longplayer charts.
This year it's not a new studio album that hits the record stores. The band wants to offer something special to their loyal fan base with a release that covers the entire 22 years of the exciting band history. Under the banner of "40 wahre Lieder" ('40 real/true songs') In Extremo releases a double-CD that includes songs from the early days as well as it features recent highlights such as "Störtebeker" and "Sternhagelvoll". "40 wahre Lieder" is a comprehensive overview of what In Extremo stands for and it documents a quite unique musical evolvement that began on some mediaeval markets and grew to one of the most influential bands in German rock music.
Next to the CD, the package also includes three DVD's, providing footage of spectacular live shows. Next to both shows, celebrating the twenty years anniversary at Loreley, Germany, fans can also enjoy an acoustic set that took place on a boat on the Rhine River. In total we're talking about 59 live songs, all in 5.1-surroundsound. And if this would not be already enough, there are additional extras that come with this package. It's an exclusive documentary "Verehrt und angespien" from 2016, done by German TV station WDR, that's providing background information of band and songs, plus there's a booklet included with many photos that haven't been published earlier.
"40 wahre Lieder" is a worthy retrospective on 22 years of In Extremo, a release that's a perfect entry point for new fans as well as it's a well-done throwback for supporters from the very beginning.
(8/10)
Tracklist:
CD1:
Neunerle
Villeman Og Magnhild
Hiemali Tempore
Ai Vis Lo Lop
Spielmannsfluch
Herr Mannelig
Merseburger Zaubersprüche II
Vollmond
Die Gier
Omnia Sol Temperat
Wind
Küss mich
Erdbeermund
Davert-Tanz
Albtraum
Rasend Herz
Horizont
Liam (feat. Rea Garvey)
Singapur
Nur ihr Allein
CD2:
Sängerkrieg
Frei zu sein
Flaschenpost
Sieben Köche
En Esta Noche
Zigeunerskat
Viva La Vida
Siehst Du das Licht
Unsichtbar (feat. Mille Petrozza)
Sterneneisen
Feuertaufe
Alles schon gesehen
Himmel und Hölle
Gaukler
Belladonna
Loreley
Störtebeker
Quid Pro Quo
Lieb Vaterland, magst ruhig sein
Sternhagelvoll
DVD/BluRay1:
Warmup / Boat show / Thursday, 03.09.2015:
Siehst du das Licht
Lebensbeichte
Nur ihr allein
In diesem Licht
Frei zu sein
Küss mich
Gaukler
Feuertaufe
DVD/BluRay2:
Day 1 / The 1st 10 Years / Friday, 04.09.2015
Intro – Two Søstra
Erdbeermund
Frei zu Sein
Stetit Puella
Krummavisur
Herr Mannelig
Nymphenzeit
Loreley
Vollmond
Die Gier
Wind
Vänner och Frände
Werd ich am Glagen hochgezogen
Hafensolo – Miss Gordon of Gight
Ave Maria
Hiemalti Tempore
Kuess mich
Rotes Har
Omnia Sol Temperat
Spielmannsfluch
Albtraum
Al Vis Lo Lop
Merseburger Zaubersprüche II
Liam
Villemann og Magnhild
DVD/BluRay3:
Day 2 / The last 10 Years / Saturday, 05.09.2015
Intro
Sängerkrieg
in diesem Licht
Zigeunerskat
En Esta Noche
Wesserbronner Gebet
Nur ihr allein
Himmel & Hölle
Belladonna
Hafensolo – Ecce Rex Darius
Gaukler
Unsichtbar
Flaschenpost
Frei zu sein
Feuertaufe
Alles schon gesehen
Loreley
Viva La Vida
Sieben Köche
Auf's Leben
Siehst du das Licht
Sternenreisen
Mein resend Herz
Vollmond
Label: Vertigo Berlin (Universal Music)
Genre: Mediaeval Rock
Release Date EU: September 15th, 2017