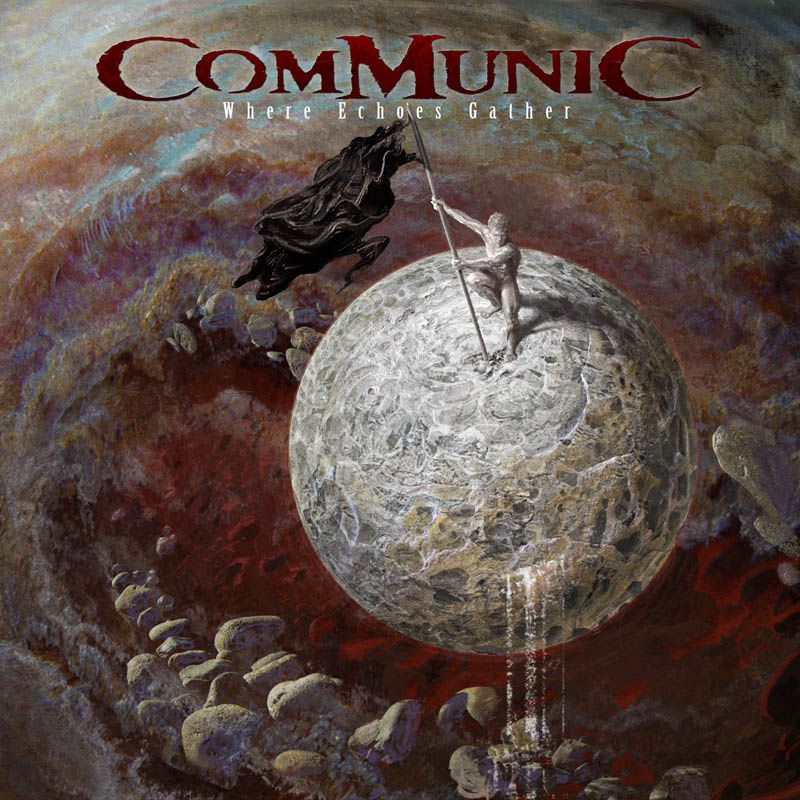 (8/10) The wait is over. Six full years after having released "The Bottom Deep" Norwegian prog metal powerhouse Communic is back with a new album. "Where Echoes Gather" is the band's fifth full-length album and the first one for AFM Records. it ends a period which was more like winding road with expected and unexpected twists and crossroads.
However, six years is a long period of time in a fast moving environment and hopefully the band from Kristiansand didn't slip out of people's mind over all these years. Actually I don't think so since the Norwegian trio has a loyal fan base and because of the new album picking things up where the band ended with the predecessor, fascination should be back immediately.
"Where Echoes Gather" marks a fantastic return of one of Europe's most influential progressive metal bands. In total the album comes with nine songs of which three are split into two parts.
The ideas for some of the tracks go back to the beginning of the new millennium when Communic began their metallic adventure with some of them being older than 20 years. This doesn't mean that the new longplayer sounds dusted and oldschool. Communic refreshed the creative output from then and continued working on them. Knowing all this, the title "Where Echoes Gather" makes all of a sudden a lot of sense. It's this record on which the echoes from the past gather and after all the dust from the last years settled, it's a terrific new longplayer that starts to shine.
Communic is often mentioned as a prog metal band but they are more when it comes to me. The three Norwegians don't loose themselves in endless solo antics. The songs include various layers, including tempo breaks and exciting beats – that's one part, the progressive one. But they also include a lot of heaviness in these tunes, reminding of bands like Nevermore. If you combine Warrel Dane's powerhouse with the musical finesse of the earlier Dream Theater with the addition of some Fates Warning, then you will end up with Communic.
It's a mission impossible to go into depth for some of the tracks. They are all too good to just pick some. However, "Pulse of the Earth" with its two parts helps the longplayer to get out of the gates very well. The finishing line is entitled "The Claws of the Sea" which ends an exciting metal record that shows how much willpower and persistance pays off.
"Where Echoes Gather" is the highly anticipated return of Communic. Fans of the Norwegian metal outfit will love this record and so do metalheads with a passion for challenging and entertaining metal that stays exciting for more than one spin on your record player. Welcome back Communic.
(8/10)
Tracklist:
The Pulse of the Earth (Part 1 - The Magnetic Center)
The Pulse of the Earth (Part 2 - Impact of The Wave)
Where Echoes Gather (Part 1 - Beneath The Giant)
Where Echoes Gather (Part 2 - The Underground Swine)
Moondance
Where History Lives
Black Flag of Hate
The Claws Of The Sea (Part 1 - Journey Into The Source)
The Claws Of The Sea (Part 2 - The First Moment)
Label: AFM Records
Genre: Progressive Power Metal
Release Date EU: October 27th, 2017