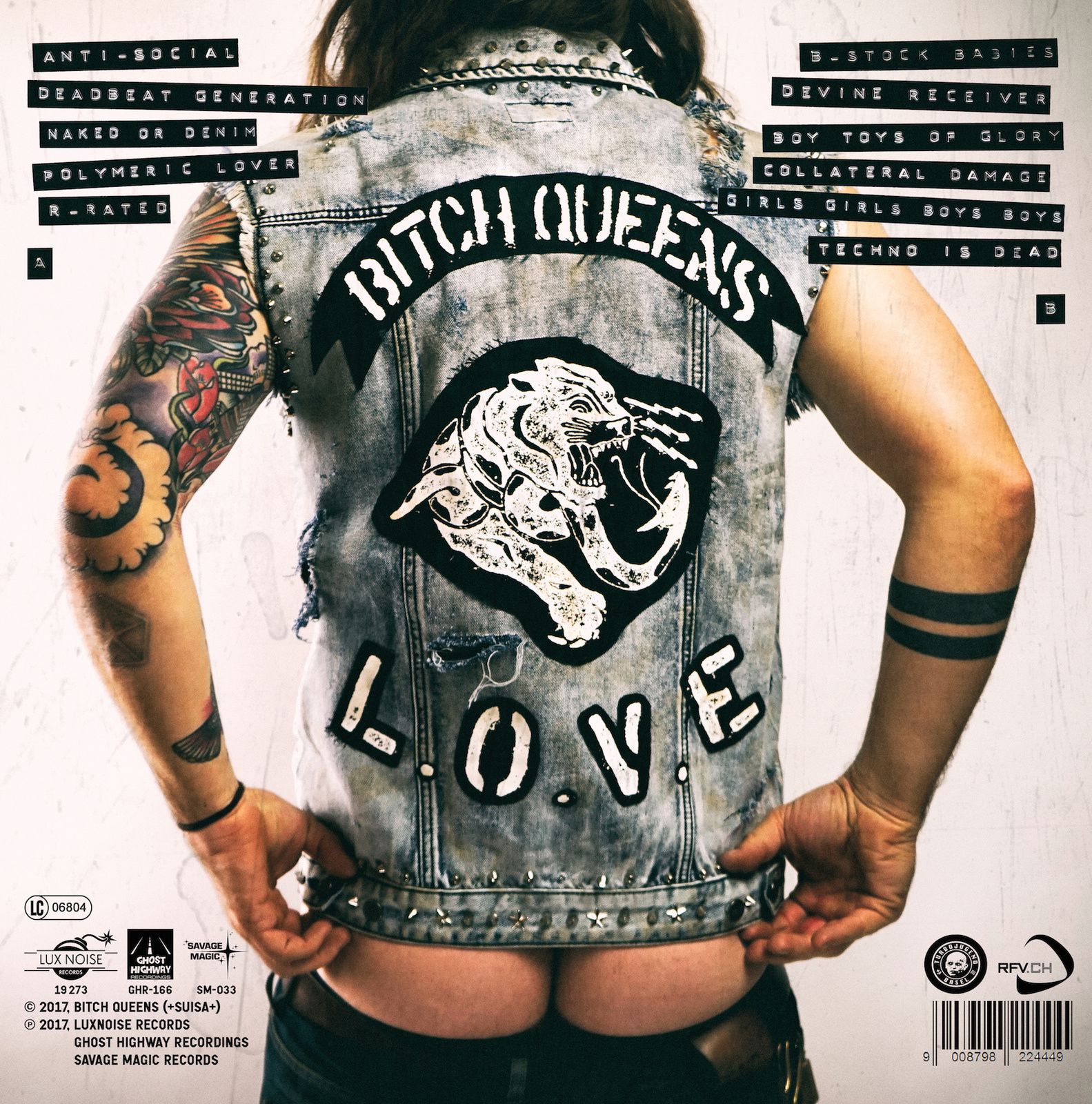 Markus' Heavy Music Blog: "L.O.V.E" is the new Bitch Queens album that will be released these days. Please tell us a bit about the album. What can fans expect?
Melchior Quitt: First of all the album contains eleven songs which are interesting for everybody who likes Scandinavian rock. It's a mixture of Backyard Babies, Gluecifer and Turbonegro, combined with some influences from bands like Ramones, Sex Pistols and Dead Boys. Based on these influences, Bitch Queens is about straight riffs and hooks. But of course we're not copying the mentioned bands. These are groups that influenced us in creating our own sound.
MHMB: How do you see this album in the context of the earlier ones? Are there things you guys changed compared to the predecessor?
Melchior: We did things quite differently this time. The most important change is the time we spend for "L.O.V.E.". It was almost as double as much than what we used for "Kill Your Friends". We also used a wider approach when it comes to the songwriting process which allowed us to try out some new things. You can hear this back in songs like "Devine Receiver" and Techno is Dead", songs that are far more aggressive than what we wrote before. On the other hand we weren't afraid of doing some more pop-like choruses and hooks. Last but not least we did all the work, with the exception of the mastering, on our own.
MHMB: The album comes with a quite eye-catching artwork that's also slightly different from "Kill Your Friends"? Who did the artwork and why did you decided to go for it?
Melchior: I came up with the general idea and it was our bass player Marcel who did the hands-on work. We got support of Björn Rallare who also did graphics for Backyard Babies. He designed the panther/snake logo for us. We work with a special imagery which becomes obvious when you watch the video.
MHMB: Bitch Queens' music features influences from sleaze rock to punk rock. Which bands had the most impact on your sound?
Melchior: I was 13 when I came in touch with Black Sabbath which basically made me listening to everything they released. Two years later I saw a video clip of Hellacopters on Viva (the German counterpart to MTV). This was the trigger to go to the record shop and order "High Visibility" – a starting point for my passion for Scandinavian rock. I guess I also thrilled the others even though we maybe would have had more success with the Black Sabbath sound. It's amazing how much this genre grew over time.
MHMB: Some tour dates are planned for Switzerland and mainly Spain. Are there more shows planned to promote the album?
Melchior: Yeah, sure we will add some dates for Germany for autumn this years. Based on that their might be an opportunity for Czechia and Austria – maybe also Scandinavia. North America is on our list for 2018, but let's see if it will work out.
MHMB: Is there any band you would love to go on tour with, if you could choose?
Melchior: Of course. There are quite some bands and I think that a support slot for a bigger headliner would be quite important for us at this stage. The problem though is, that there's almost no Swiss band that we could join on tour. But to answer the question: we would love to tour with e.g. Michael Monroe, Turbonegro, Danko Jones, Backyard Babies or The Hives. That would be really cool.
MHMB: Why did you go Bitch Queens as the band's name? Are there any anecdotes connected or was it just a funny idea that led to the name?
Melchior: The name came from an old friend of mine. We were 16 years old and we had a band with a really stupid name. I n these days we had to read an awful book called "Bridget Jones Diary" as [part of our English class at school. I didn't read a lot but my friend did. In this book there's "Bitch Queens from Hell" mentioned and we thought that this is a pretty cool name for a band. We reduced it to Bitch Queens which was boon and bane in one. On the one hand the name really sticks with fans but we also had to face censorship on platforms like Facebook and YouTube.
MHMB: Melchior, you're a teacher in 'real' life. How do the kids react on you being part of a rock band?
Melchior: Actually the kids think that it's pretty cool and they don't have any issue with the make-up and stuff like this. There's with every new class a moment of finding out that I'm in a rock band. This always leads to a round of questions which we take. From this moment on the topic is ticked off and we keep it out of everyday school life. Actually it's funnier when it comes to the kids' parents. There is one group that went to concerts themselves very regularly and think that Bitch Queens is pretty cool while the other part fully ignores the topic. However, it's never a problem since I take my work very serious and things evolved over time.
MHMB: Melchior, thanks for spending some time with Markus' Heavy Music Blog and good luck with the new album
Melchior: Thanks for having me.