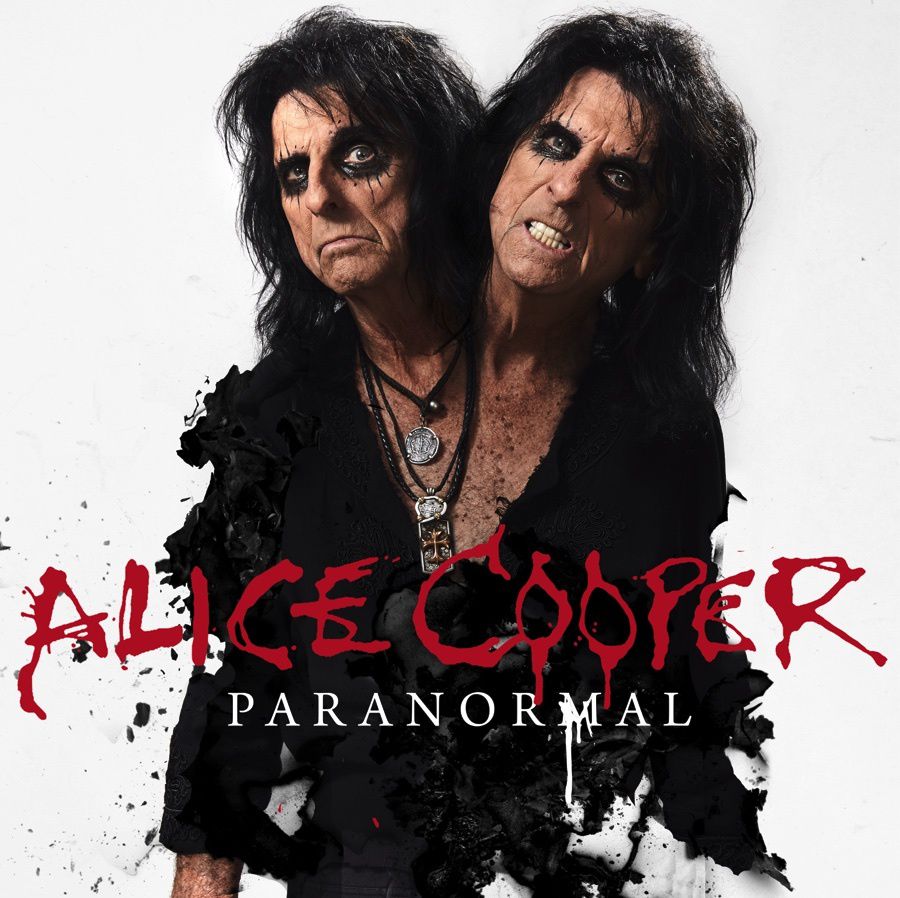 (9/10) Is there anybody out there that never heard of Alice Cooper? It's hard to imagine. Even though you might not be interested in rock music you at least listened to "School's Out" once. Actually it was this song that also acted as a door opener for me. As being a metal head from the 80's my entry point was, next to "School's Out", the 1986 release "Constrictor" which started a new era for the iconic singer that released three years later with "Trash" a next multi-seller.
Almost 50 years after having published the debut "Pretties for You", Alice Cooper will unveil his 27th studio album entitled "Paranormal". In the meantime the former shock-rocker is probably less shocking than during the wild 70's but for sure Vincent Furnier is still rocking as hard and heavy as he did through out his entire career with the new studio album being as good as expected.
Together with producer Bob Ezrin the dinosaur in rock recorded a longplayer that features all the typical Alice Cooper trademarks, all captured in ten brand new tracks.
Things kick-off with "Paranormal" - the title track. It's a gloomy song partly with some almost spoken lyrics, which gives the tune a special retro vibe. In general I must say that the numbers on the album revitalize some earlier Alice Cooper sounds done in a contemporary fashion. The album feels like a journey back in time, including a lot of pure rock'n'roll.
"Fireball" is such a song, a tune that is simply terrific. This groove catches you from second one and standing still while listening to the track is no option. The album is charged with great songs. The first single release "Paranoiac Personality" brings back the 80's Alice Cooper while the up-tempo "Dynamite Road" is an explosive rocker that includes everything you expect from a good Alice Cooper songs.
The last third of the album comes with some nice twists. "Holy Water" includes some well-done horn-parts, followed by the kicking "Rats". This musical fast-train is the best song on the album. Alice Cooper is almost 70 years old and it's amazing how much energy still comes with this icon in rock. I love "Rats" and also the closer can easily keep the level up high. "The Sound Of A" is a well-placed counterpart to "Rats". The tune is built on bigger soundscapes and has a calmer expression. Pink Floyd influences shimmer through here and there, esp. when in comes to the melody-lines and guitar sound. It's an awesome closer, rounding of an excellent album done by an artist that's more than just an influencer. This man is a legend and the new album underlines it. Fortunately there doesn't seem to be an end in sight.
What makes this release to a special one is the bonus CD. The add-on includes two new studio tracks, performed by the original Alice Cooper Band. The singer teamed-up with the former band mates Dennis Dunaway, Neal Smith and Michael Bruce for recording "Genuine American Girl" and "You and All of Your Friends". Both tracks include a very special vibe and sound perfect. These tracks are another proof that rock'n'roll is about passion and not age. I guess that a lot of young dudes would love to write songs like the mentioned ones.
Last but not least this CD includes 6 Alice Cooper classics, recorded in 2016 in Columbus, Ohio. "Under My Wheels", "Feed My Frankenstein" and "Only Woman Bleed" belong to the best ones in hard rock history and are the icing on the cake of this fantastic release. If you don't like this album you must be deaf.
(9/10)
Tracklist:
Paranormal
Dead Flies
Fireball
Paranoiac Personality
Fallen In Love
Dynamite Road
Private Public Breakdown
Holy Water
Rats
The Sound Of A
Bonus CD:
Genuine American Girl (New studio recordings with the Original Alice Cooper Band)
You And All Of Your Friends (New studio recordings with the Original Alice Cooper Band)
No More Mr. Nice Guy (Live at Columbus, Ohio with the current Alice Cooper band 2016)
Under My Wheels (Live at Columbus, Ohio with the current Alice Cooper band 2016)
Billion Dollar Babies (Live at Columbus, Ohio with the current Alice Cooper band 2016)
Feed My Frankenstein (Live at Columbus, Ohio with the current Alice Cooper band 2016)
Only Woman Bleed (Live at Columbus, Ohio with the current Alice Cooper band 2016)
School's Out (Live at Columbus, Ohio with the current Alice Cooper band 2016)
Label: earMUSIC
Genre: Hardrock
Release Date EU: July 28th, 2017