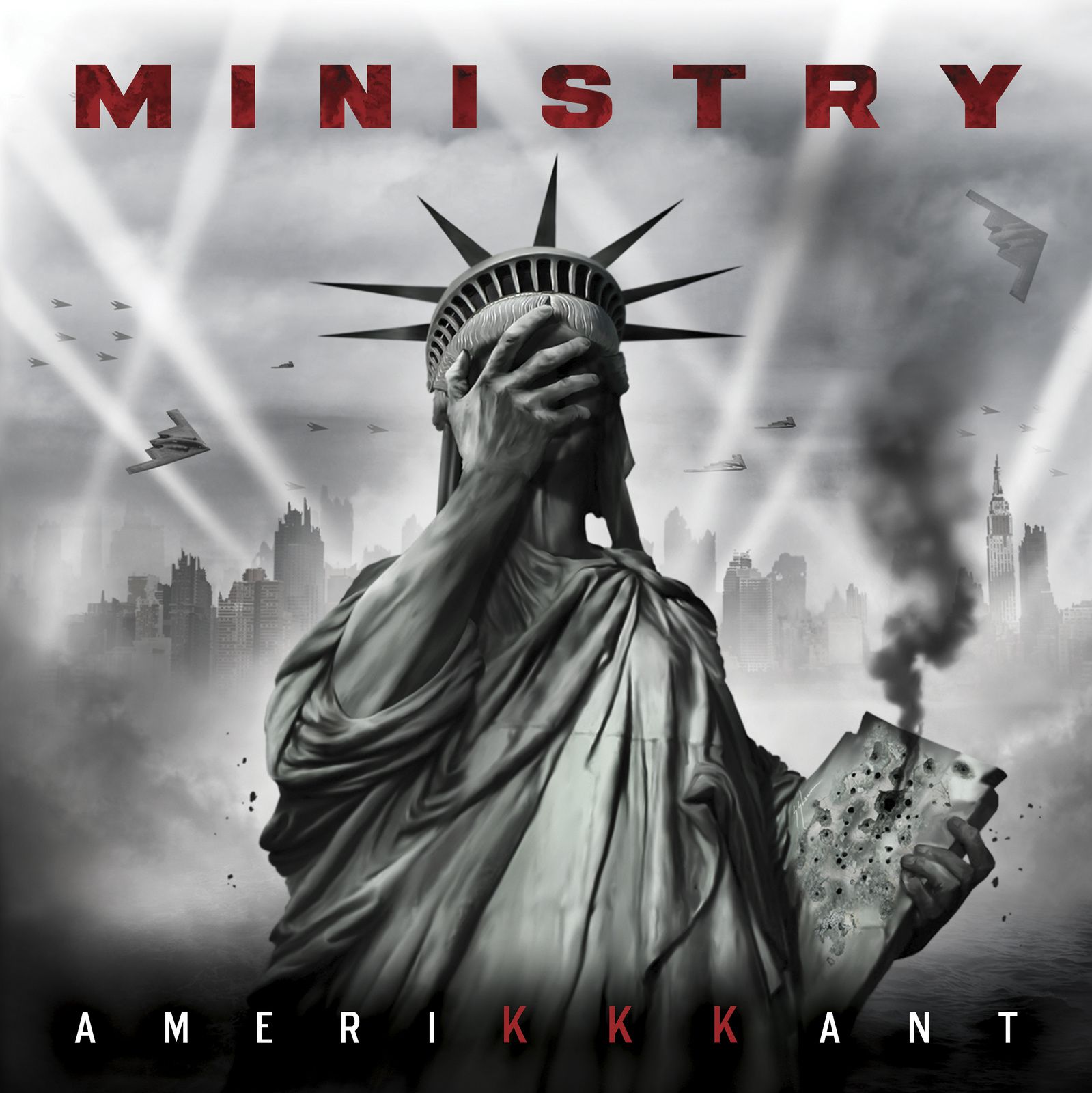 (8/10) It's no secret that the last two Ministry longplayers didn't belong to the best things Al Jourgensen ever brought to table. "From Beer to Eternity" as well as "Relapse" sounded uninspired and bloodless. Creativity and energy were lacking; records that sounded like the desperate attempt to keep a ghost alive. Bad records and Jourgensen's unstable health conditions didn't support a positive outlook of getting a new Ministry longplayer served that can remind of the earlier days.
Now, Jourgensen is a fighter and it feels like he regained energy and passion. It looks like one of the factors of revitalisation was the blond 'blow-dry hairstyle pompadour' that moved into the White House a year ago. Finally there was a counterpart for Jourgensen which allows the iconic singer to process emotions and anger through new songs that belong to best ones since the 2004 released "House of Molé".
"AmeriKKKant" is Ministry's fourteenth studio album and it showcases the band in a much better shape than what we could expect. The first videos that have been revealed over the last weeks send already positive signals to the metal world, but it's the entire album that needs to prove the good first impression.
After having given "AmeriKKant" some spins to date confirms a revitalisation of the industrial metal legend. The new longplayer features powerful industrial tracks that express the entire anger about what happens at the moment in the US.
"I Know Words" is a first statement. Like with "N.W.O" it's this time samples of quotes of the current President of the Untied States that build the base for the opener. It's an oppressive start into the album, which is followed by "Twilight Zone". Jourgensen and Ministry continue with the same vibe, being the base for an eight minutes industrial metal smasher.
Also "Victim of a Clown" can live-up to a high quality level and it's songs like "Wargasm" that brings back the old Ministry spirit. Furthermore it's the raging and ultra-fast "We're Tired of It" that is a pure adrenalin, packaged in a song with less than three minutes of length.
The new album doesn't contain any bad or boring song. The change in the White House obviously was the trigger for Jourgensen to recharge Ministry, with the result of an electrifying new longplayer that I haven't expected to be that strong. Ministry is alive and far more impactful than what we saw and heard over the last decade.
(8/10)
Tracklist:
I Know Words
Twilight Zone
Victims of a Clown
TV 5-4 Chan
We're Tired of It
Wargasm
Antifa
Game Over
AmeriKKKant
Label: Nuclear Blast
Genre: Industrial Metal
Release Date EU: March 9th, 2018