Kreator will release their new Live DVD "Dying alive" on August 30. The show was recorded on 22.12.12 in the sold-out Turbinenhalle in Oberhausen (Germany). The show was part of the "Phantom Antichrist" tour. The DVD/Blu-Ray includes the show, some 'behind-the-scenes' material as well as video clips. The length will be around 115 min. Check out the first trailer.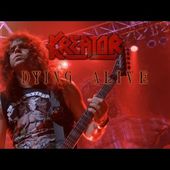 KREATOR - Dying Alive DVD (TRAILER: PT. 1)
First trailer for KREATOR's upcoming DYING ALIVE live DVD. Order at http://smarturl.it/KreatorDyingAlive Subscribe to Nuclear Blast YouTube: http://bit.ly/subs-nb-yt Subscribe to Kreator YouTube: ...
Source: Nuclear Blast Records