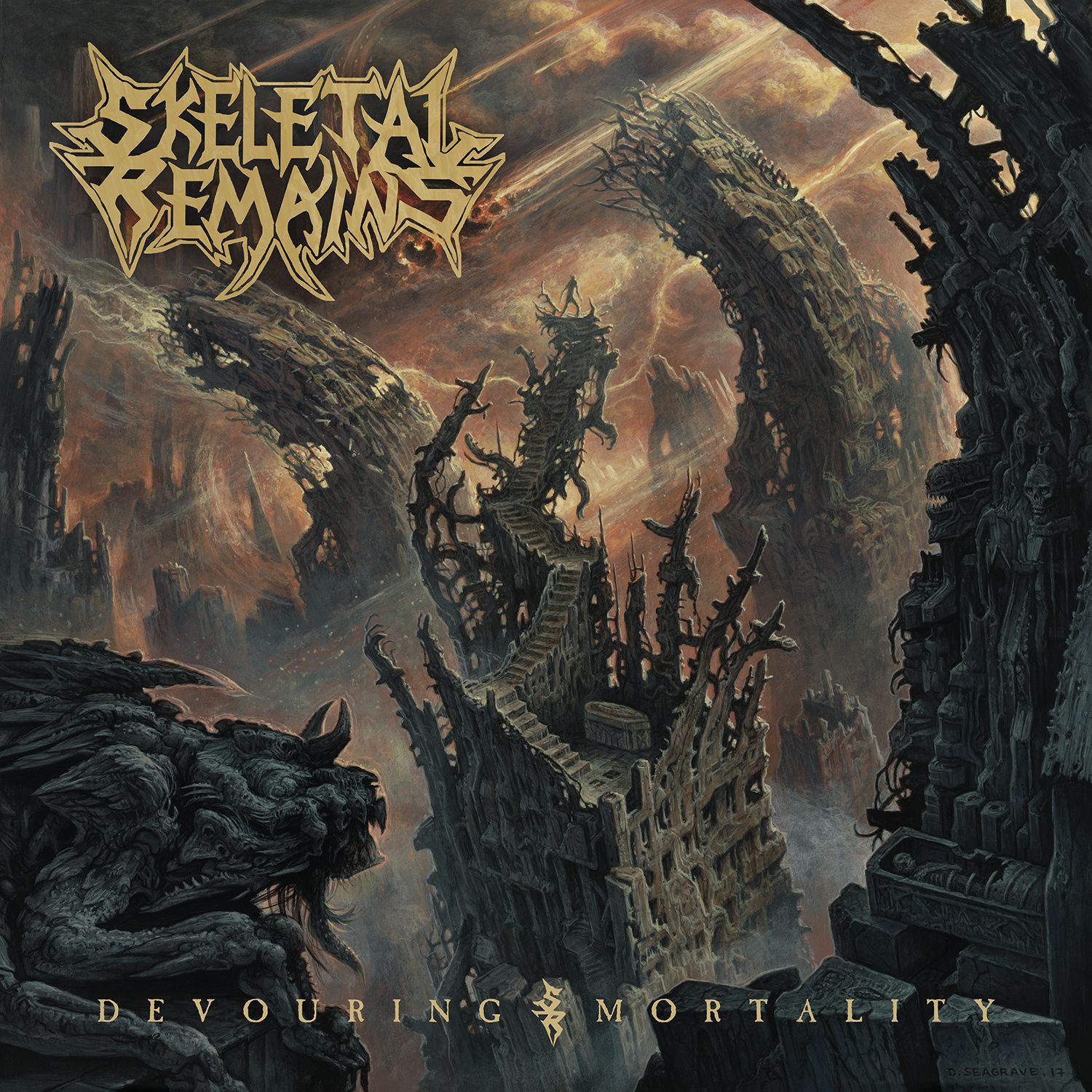 (9/10) It was back in 2011 when a new death metal outfit started an impressive rise within a rather short period of time. Skeletal Remains, hailing from Whittier, California, unveiled a ruthless debut in 2012 and it's the sophomore longplayer "Condemnd to Misery", which brought the band on the radar of a wider group of metalheads.
Skeletal Remains couldn't keep the speed when it comes to releases, but the band could maintain the passion and the spirit over a period of four years, leading to the fabulous third longplayer entitled "Devouring Mortality".
The new longplayer of the four-piece outfit is the first one for Century Media. It feels like the new label and a period of four years created a lot of appetite with the band for brutal death metal. "Condemned to Misery" was already a good album and it's the new longplayer that showcases a band that made a huge next step when it comes to songwriting and power.
There is no single weak or annoying moment coming with this longplayer. Each of the songs is an aggressive little masterpiece of contemporary death metal that builds on the Tampa-Bay sound from the 90's. Nothing sounds old-fashion on this release even though an oldschool vibe can't be denied. Aggressive growls, furious guitars and well-placed breaks create a morbid magic that is hard to resist. Actually it's impossible to not be fascinated by what Skeletal Remains offers on their third delivery, an album that should be also checked-out be fans that don't call death metal to their favorite genre. This album has the potential to cause severe neck problems due to intensive headbanging.
Next to the very well-crafted death metal anthems it's the sound of the album that makes it stand out from the rest. No less than legendary Dan Swano was at the helm for the mix and gave Skeletal Remains new power strike a dynamic that is missed with many other genre releases.
If the third album's still a milestone that allows an outlook into a band's future, thing look very positive and optimistic for Skeletal Remains. "Devouring Mortality" is a cornerstone in the band's history and can act as a springboard to close the gap to the leaders of the pack. In case bands like Obituary would decide to retire, here's the next generation that stands in line to take over.
(9/10)
Tracklist:
Ripperology

Seismic Abyss

Catastrophic Retribution

Devouring Mortality

Torture Labyrinth

Grotesque Creation

Parasite Horror

Mortal Decimation

Lifeless Manifestation

Reanimating Pathogen

Internal Detestation
Label: Century Media
Genre: Death Metal
Release Date EU: April 13th, 2018