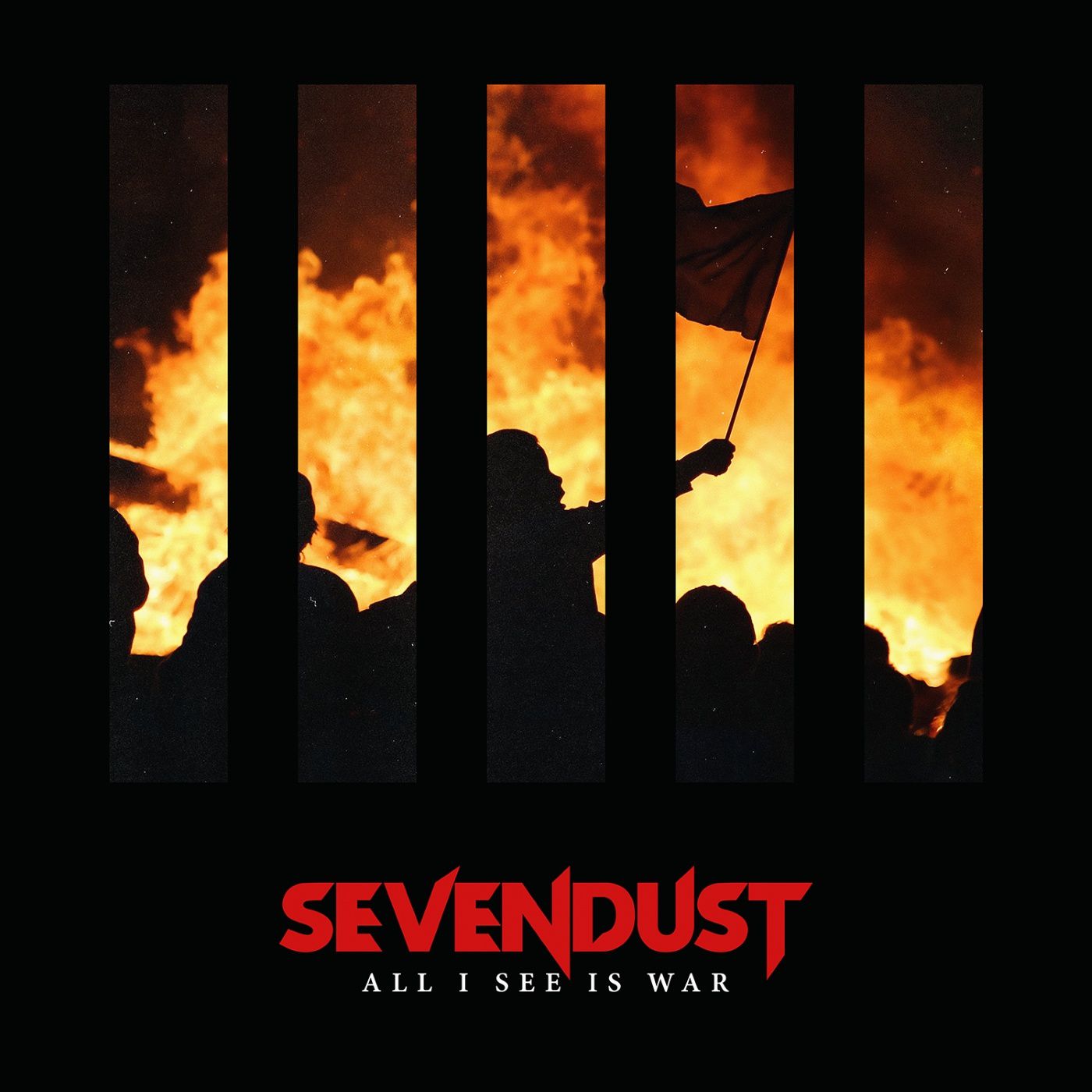 (8/10) Atlanta, Georgia based Sevendust worked hard on the successor of the band's 2015 release "Kill the Flaw". In the meantime things progressed and the next record is ready to be shipped to the record stores.
"All I See is War" is Sevendust's 11th longplayer and the first one for their new label Rise Records. In an interview with All That Shred guitarist John Connelly talked about the creative process for the new record. The band wrote far more songs than what ended up on the tracklist. In total 50-60 songs have been the pool to choose from and in the end 12 new tracks ended up on this excellent longplayer.
The new album starts with "Dirty", which is a heavy grooving track with a certain Tool-expression. With a bit more than 3 minutes of length the tune is spot-on and helps the album to get out of the boxes very easily. After such a great start into the album it is "God Bites His Tongue" that continues the winning streak. "Medicated" is rounding of the starting triple and all three songs together showcase Sevendust's great sense for heavy modern riffing and well-executed melodies. These two ingredients, together with a merciless pounding rhythm section, can be seen as the most important elements of Sevendust's sound, on earlier records and on "All I See is War".
I couldn't identify any weak spot when it comes to the tracklist. To use a standard term: No fillers, just killers. Regardless if we are talking about the exciting interplay of loud and calm in "Monuments", the catchy "Descend" or the aggressive "The Truth" - each of these tunes is very well-crafted and it's a joyful experience, listening to this longplayer.
Spring 2018 is obviously a great time for fans of modern alternative rock and metal. Godsmack releases a new album and so does Shinedown. Last but not least it's the new Sevendust longplayer that will be a delight for fans of this genre. I like "All I See is War". It's the energy, dynamic and great melody lines, making this longplayer to a true highlight and a treat for your ears. It's an album to recommend.
(8/10)
Tracklist:
Dirty
God Bites His Tongue
Medicated
Unforgiven
Sickness
Cheers
Risen
Moments
Nor Original
Descend
Life Deceives You
The Truth
All I Ready Know (Bonus)
What You Are (Bonus)
Label: Rise Records
Genre: Modern Metal
Release Date EU: May 11th, 2018