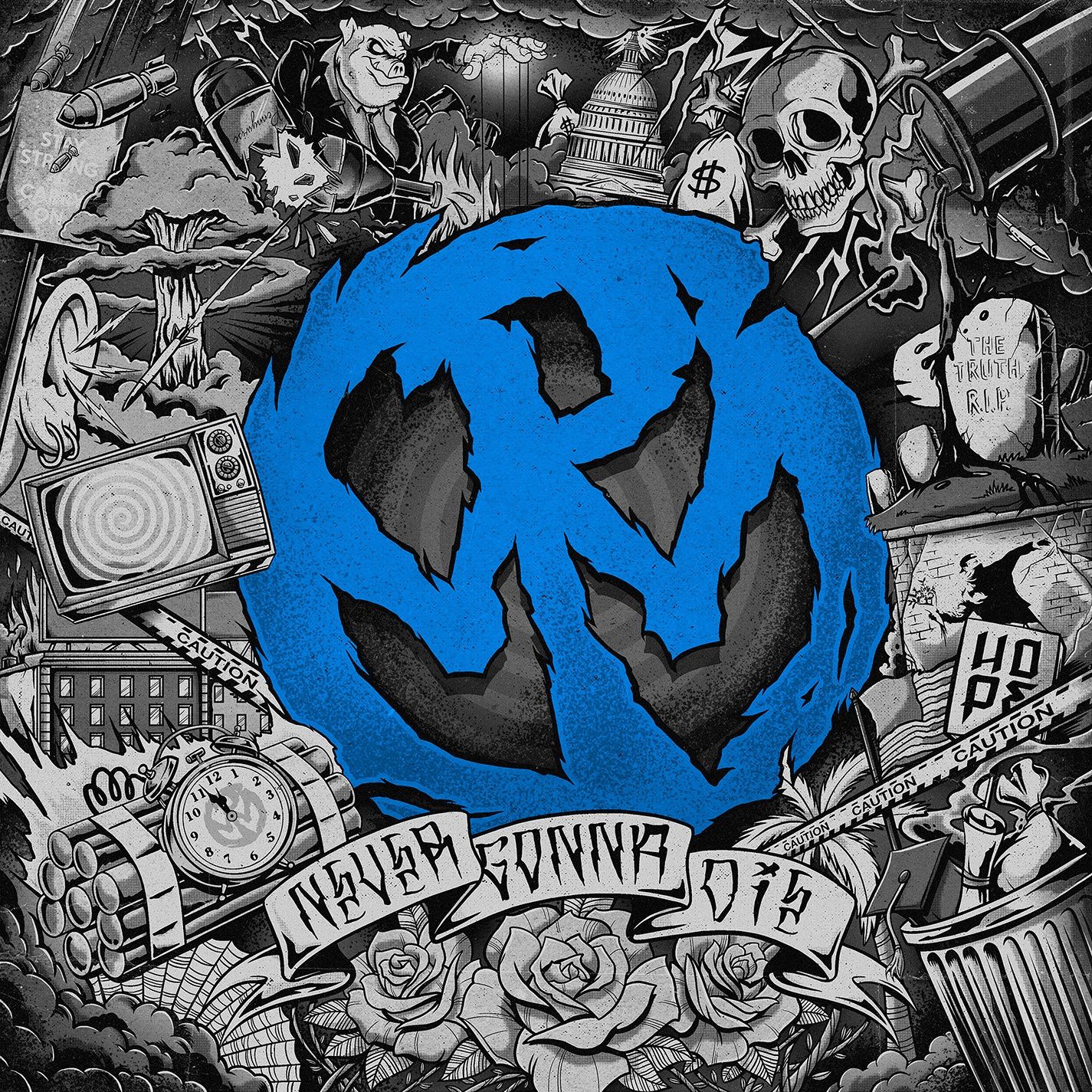 (9/10) California-based Pennywise belong to the spearhead of American punk rock. The band has its roots back in 1988 and it's the evil clown in Stephen King's novel that acted as an inspiration for the naming this punk rock powerhouse.
Pennywise had always the benefit of a pretty stable line-up with one basic exception. It was in 2009 when singer Jim Lindberg left the band. He was preplaced by Zoli Teglas and it was the year 2012, which was another turning point. Teglas, suffering from an injured back, had to stop with Pennywise and it was Lindberg who rejoined the quartet from The Golden State.
"Yesterdays", the 2014 release, was the first album with the rejoined frontman doing the vocal parts and it's the new longplayer that stands for the first full-length Pennywise album in then years with Lindberg, comprising of new songs from beginning to end.
Pennywise recorded fourteen new tunes that made it on the tracklist of "Never Gonna Die". The record provides listeners with nearly 40 minutes of exquisite punk rock as it's known from the four-piece band form California. Each of the 14 fast-past anthems just needs one spin to unveil its entire power. "Never Gonna Die" features the typical Pennywise trademarks, combining dynamic guitar power, a merciless pushing rhythm section and excellent vocals to a great totality. As being used from punk rock there is no way to stand still while listening to these 40 minutes of well-crafted songs.
Next to the terrific tunes it's the lyrics that are more than a necessary 'must have'. Hailing from California means the band being rooted in a cultural epicenter that covers everything from silent film to metal and punk. Over three decades Pennywise made clear that they have the 'Cali-vibe' in their gens. As it was with earlier releases like "Fuck Authority" also the new album is full of statements when it comes of the current state of the Blue Planet. Songs like "American Lies" and "We Set Fire Tonight" are addressing topics like disinformation and the denial of basic social services. Next to this very clear positioning it's songs such as "Live While You Can (Time Bomb)" that also include a positive view on life and never letting other get you down.
"Never Gonna Die" became a fulminate return album of Pennywise new/old frontman Jim Lindberg, who crafted, together with his band mates Fletcher Dragge, Byron McMackin and Randy Bradbury, an album that is as good as important in 2018. Punk rock and its vibe is alive, maybe even more than it was over the last decades.
(9/10)
Tracklist:
Never Gonna Die
American Lies
Keep Moving On
Live While You Can
We Set Fire
She Said
Can't Be Ignored
Goodbye Bad Times
A Little Hope
Won't Give Up the Fight
Can't Save You Now
All the Ways U Can Die
Listen
Something Now
Label: Epitaph
Genre: Punk Rock
Release Date EU: April 20th, 2018