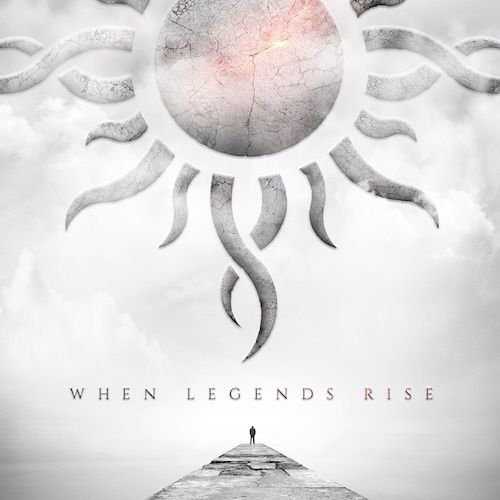 (9/10) Godsmack isn't a band having a massproduction approach when it comes to producing longplayers. The band started in the second half of the famous 90's with a self-titled debut that hit the scene in 1998. From then till now five additional records followed in a kind of four year frequency.
Knowing that "1000hp" was unveiled in 2014 nurtured expectations for a next longplayer in 2018 and Godsmack sticks to their release pattern and delivers. "When Legends Rise" is Godsmack's seventh longplayer and it's a blast. Sully Erna and band mates crafted eleven new songs that ended up on the new longplayer.
The quartet stays true to their sound, bringing riff-oriented alternative metal to your place. 'Melody' is no stranger too when it comes to the newest strike of the Boston-based powerhouse and it's this mixture of elements that characterises Godsmack. It's not that the four-piece band is the only outfit that counts on such a formula for success. It's more the ease and authenticity that makes the band's sound special and attractive for all kind of rock and metal fans. Influences from bands like Black Sabbath and Metallica makes the band to an interesting one for metalheads while some grunge references act as springboard for the alternative rock scene. Last but not least it's the catchy hooks that opens doors for chart-oriented rock fans.
"When Legends Rise" includes all these trademarks and it would not be a suprise if also the seventh album will enter top chart positions.
"Bulletproof" was the first song revealed from the new album, supported by a highly entertaining video clip. But also lasering in on music shows the entire potential of this band. We are talking about a catchy rock songs that stick immediately and still have enough potential being spun many times. "Bulletproof" is framed by the short and crispy opener "When Legends Rise" which deserves to be the title track for the new album. The song has a strong drive and an irresistible chorus, standing for a great start into the album. "Unforgettable" follows "Bulletproof" and is a mid-paced rock song that reminded me partly of Volbeat, just better.
Godsmack focusses on the essence when it comes to songs that ended up on their seventh delivery. None of the tunes can be seen as lengthy or epic. Most of the tracks have a three minutes of length setup. Even the powerful half-ballad "Under Your Scars" tells the story in less than four minutes. Still, or maybe because of this focus, this hymn belongs to the best ones I've heard since quite a while.
"When Legends Rise" gets out of the boxes very well and the guys manage to keep a quality throughout. Also the second half of the album keeps a good level of excitement. Tunes such as the darker "Just One More Time" and the easy going "Let It Out" are vital rock songs and a treat for your ears.
Godsmack's new offer is a strong delivery that showcases the band being highly creative, rocking and heavy. Alternative metal can't sound much better and more professional than what you get with "When Legends Rise". You need to decide for yourself if Godsmack are the 'legends' the album title refers to. However, the album is an excellent one that I definitely can recommend.
(9/10)
Tracklist:
When Legends Rise
Bulletproof
Unforgettable
Every Part of Me
Take it to the Edge
Under Your Scars
Someday
Just One More Time
Say My Name
Let it Out
Eye of the Storm
Label: Spinefarm Records
Genre: Alternative Metal
Release Date EU: April 27th, 2018