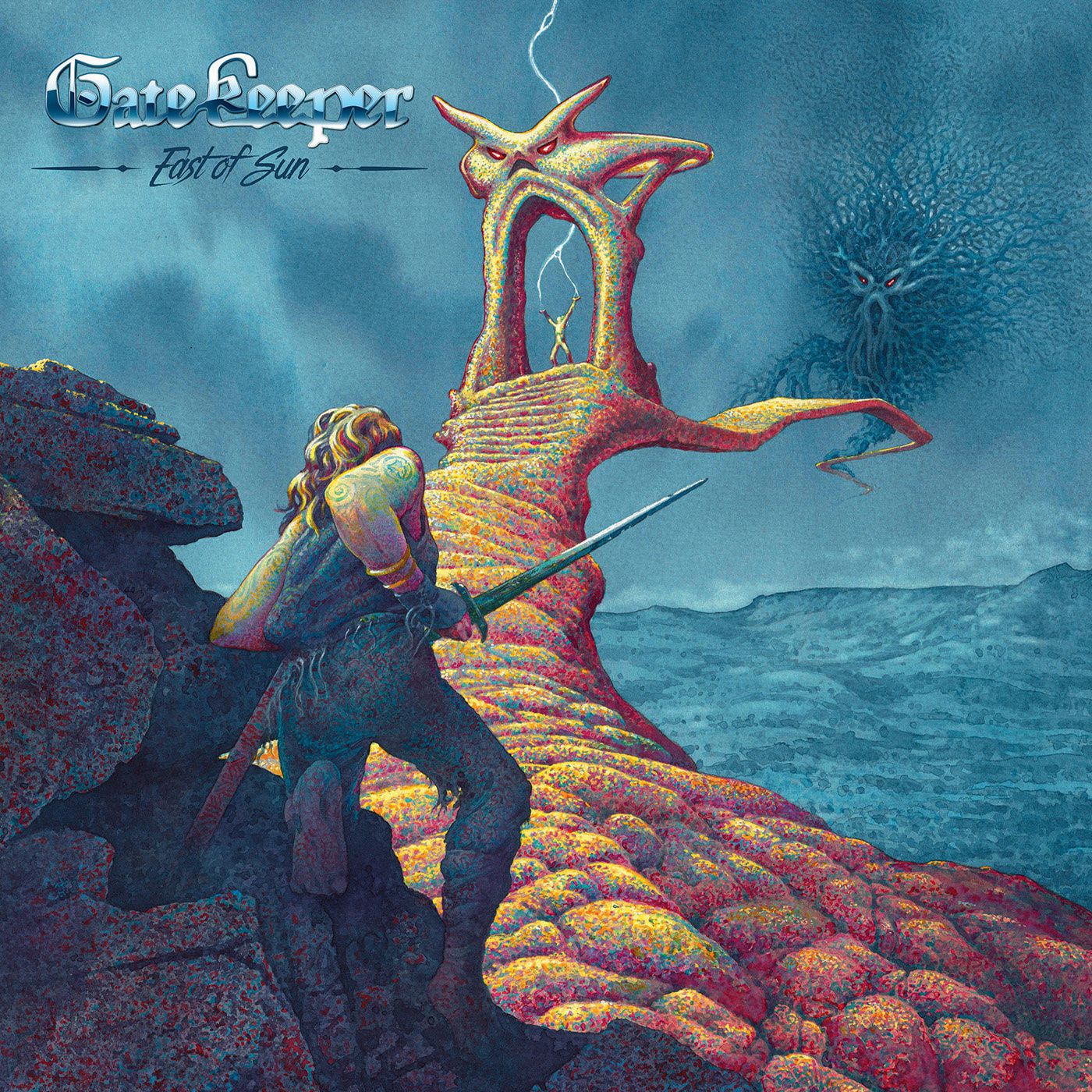 (8/10) Cruz Del Sur Music is known for having a portfolio of exciting bands when it comes to more traditional and epic metal. A new addition to it is Canadian metal warriors Gatekeeper. The band was founded in 2009 as a solo project by guitarist Geoff Blackwell. Some EP's have been recorded and released but the debut was long in coming.
After having inked a deal with Cruz Del Sur Records things gained speed and here it is: "East of Sun". The debut album features 10 songs of which the last two are covers. Let's start with those. It's the legendary "Hall of the Mountain King" (Savatage) and "Death Rider" (Omen) that have been slightly re-arranged and recorded for "East of Sun". Gatekeeper sticks very much to the original version of these two power metal classics. Of course it's hard to compete with the originals and I don't think that it was Gatekeeper's ambition either. What quintet did though in an excellent way is to keep the spirit alive, adding also some extra power to the classic.
The reason we I started with these two song is, because they reflect very well the influences when it comes to Gatekeeper and their sound. Blackwell and bandmates are into traditional metal that has a stronger epic metal aspect weaved in. While listening to songs like the awesome opener "Blade of Cimmeria" or the uptempo "Warrior Without Fear" reminded me of bands like the mentioned Omen but also Manilla Road came to my mind.
I tune you shouldn't miss is entitled "Ninefold Muse". It represents the entire spectrum of Gatekeeper's sound. Starting slowly and with an epic riff the songs builds up to a heavy rocking metal anthem that will be a delight for fans of powerful metal.
The Canadians, hailing from Vancouver, did a great job when it comes to the debut. "East of Sun" is a great album that mixes melodies and strong riffing in a more old-school fashion without sounding outdated. This album is good stuff for the underground.
(8/10)
Tracklist:
Blade of Cimmeria
North Wolves
Warrior Without Fear
Ninefold Muse
Bell of Tarantia
East of Sun
Swan Road Saga
Oncoming Ice
Death Rider (Omen cover)
Hall of the Mountain King (Savatage cover)
Label: Cruz Del Sur Music
Genre: Epic Metal
Release Date EU: April 27th, 2018