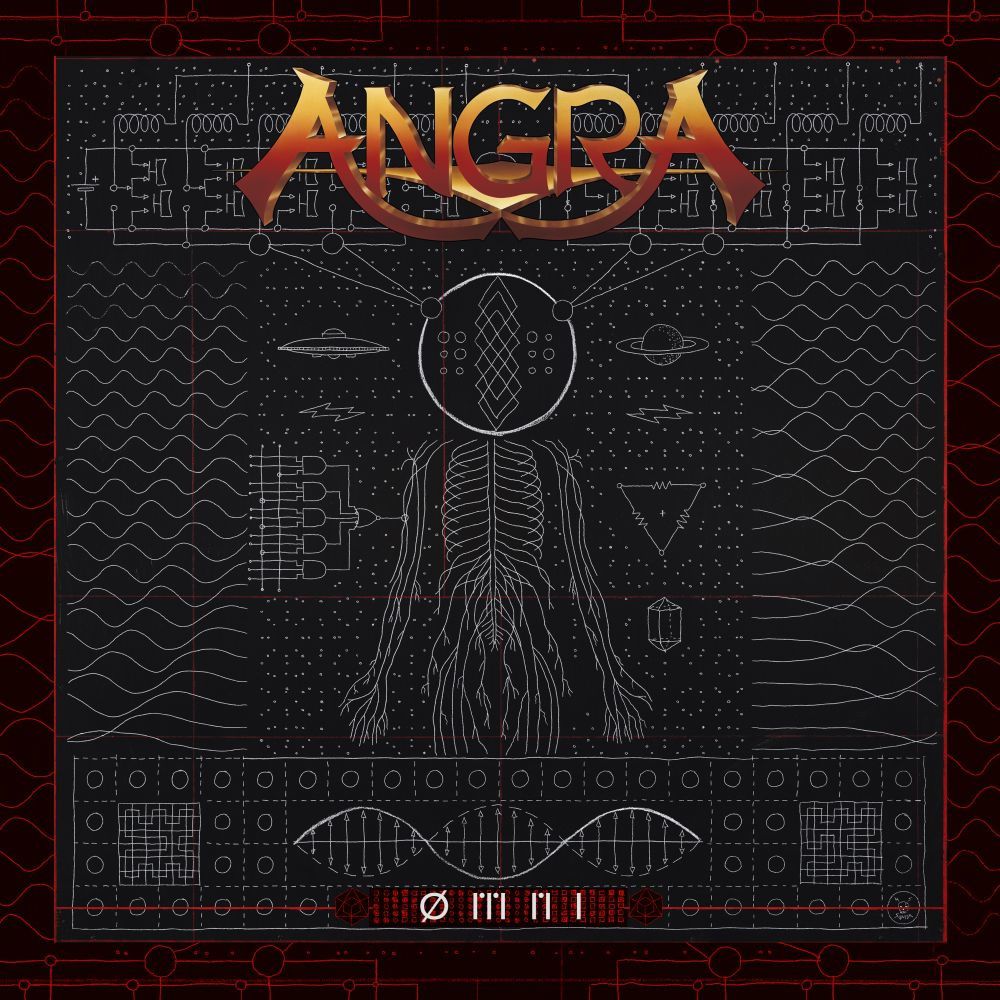 Markus Heavy Music Blog: How are you?
Felipe Andreoli: I'm good. Everything is fine here and I hope you're OK too.
MHMB: Yes, thanks. "ØMNI" is the name of your new album and it's again a concept album. Can you tell us a bit more about the background and how the idea was born?
Felipe Andreoli: 'Ømni' means 'everything' in latin. The main concept is humanity, reaching a new state of consciousness in a few years from now where we will be able to communicate with people in any point in time through our conscience. It will be a sort of time travel, which was the base for us to develop the concept told in 10 different science fiction stories of which each one has a particular plot while being embedded into the main concept. "The Caveman" for example is about communicating with the cavemen, enabling people to understand the beginning of human conscience, community and society.
MHMB: The title track(s) stand out. Both parts are awesome but it's unusual to end the album with a cinematic instrumental. Was there any specific reason to put it at the end of the longplayer?
Felipe Andreoli: "Ømni - Silence Insight" is my favorite track on the album. I think it pretty much sums-up what anger is about, especially what anger is about nowadays. It was a very collaborative process of writing and arranging this track. Everyone of us had a big input on it and we're really proud of the song. The album sounds much like a soundtrack to a film and we have the soundtrack-like ending. I think fits the record pretty well. It's like you listened to ten different stories and then, at the end, you have this kind of tune that goes through the all the earlier melodies that kind of reminds you of the whole record again.
MHMB: A real smasher on the record is "Black Widow's Web". I think it's the first time that you guys added growls to a song. Were these growls planned already from the beginning?
Felipe Andreoli: Yeah, the growls were planned from the beginning. We were at the 70.000 Tons Of Metal cruise in January of last year and Arch Enemy was there too. We watched their show and we were just in 'wow' of how amazing Alissa is as a performer and as a singer. She is very versatile. She can growl like crazy and she has a beautiful clean voice. We immediately thought that it would be so cool having her on our new record. Fabio (Lione) knew Alissa from a tour he did with Kamelot and he said that he can ask about having her on the album. Even before he asked, we started to work on the song with Alissa in mind all the time. I think it came out really nicely with her presenting the aggressive side of the spider while the other singer, Sandy, being the softer part of the black widow. We were really amazed by the work Alissa did. She send us a ton of different files with different interpretations. It was really a pleasure to have her on board.
MHMB: Alissa's clean vocals are excellent too, but these sections in "Black Widow's Web" have been taken over by a Brazilian singer called Sandy. Who is Sandy and why adding another singer to the song?
Felipe Andreoli: Well, you're right. Alissa's clean vocals are excellent and you guys of course never heard of Sandy. She is huge in Brazil. Just to give you a little bit of background, she is the daughter of a very famous popular singer of typical Brazilian music and she sings since she was a little girl. Everybody in Brazil has seen her singing on TV since she was five years old and she is now 32. You can imagine that everyone in this country knows her. And not only that she's really famous, she's a great singer too, and she's a friend. When we wrote the song for Alissa, we haven't had the intro and the outro part as it is now. Me and Rafael (Bittencourt) wrote them later on and as he developed the concept of the 'black widow', he thought that it would be very wise to have someone with a very soft voice too. We called Sandy and we were not sure if Sandy would accept to sing on the record, mainly because of her being a huge pop star. But since she has a huge respect for Angra and she's a friend she said 'yes'. As Alissa, also Sandy was very busy and we got that files like last minute. We love the result and the combination of the two voices really adds to the song's storytelling.
MHMB: Fabio Lione does again a great job as singer on the new album. Is Fabio in the meantime a fix member of Angra?
Felipe Andreoli: Yes, Fabio Lione is the Angra singer and his fully committed to Angra. This entire line-up is not temporary at all and with also Marcello being a fixed band member.
MHMB: Angra will come to Europe in spring this year. What can we expect? Have you guys discussed already a setlist?
Felipe Andreoli: Yes, we have discussed the setlist. It will comprise of new songs and classic songs. Since the shows will not be very long ones we have to be very wise in choosing the songs.
MHMB: You will be on tour with Geoff Tate's Operation Mindcrime. Is the tour a co-headliner tour or is Geoff Tate a special guest?
Felipe Andreoli: Geoff is a special guest. He has a slightly shorter set, but he is a hell of a special guest. It's gonna be a pleasure to listen every night to "Operation Mindcrime", played in its entirety. Actually I did a couple of shows with Geoff in Brazil, playing the same record a couple of months back. He commissioned me to form a band of Brazilian musicians for him. I got together a few friends that I know are great musicians and big fans of Queensryche and we did two shows with Geoff, opening up for Mr. Big. It was amazing. Therefor it's gonna be very nice having Geoff with us on tour.
MHMB: As a preparation for the interview I also went on Angra's Facebook site. You guys communicate only in Portuguese (at least that's my guess 😃 ). Is there any reason why you don't post in English since you could reach far more fans.
Felipe Andreoli: You're kind of right, but we do not only communicate in Portuguese. Since most of our fans are based in Brazil, many of the topics are directly related to the Portuguese speaking people. The more international stuff we post in English. What happens from time to time is, that people that take care of our Facebook page forget to geotag these posts.
MHMB: Is there anything else you would like to share with Markus Heavy Music Blog and its readers.
Felipe Andreoli: Well Markus , we're really excited to release this record as we speak. We think that "Ømni" is by far the most inspired record we ever did. I don't like to say that it's the best record or anything like that, because that's not up to us. As it stand right now, it's my favorite record and we can't wait to hit the road in Europe, go around and show this new music to the people ... and of course as well the old classics.
MHMB: Thanks for spending some time with Markus' Heavy Music Blog and hope to see you guys at the Rotterdam show.
Felipe Andreoli: Thanks for the interview and see you in Rotterdam. Thanks.