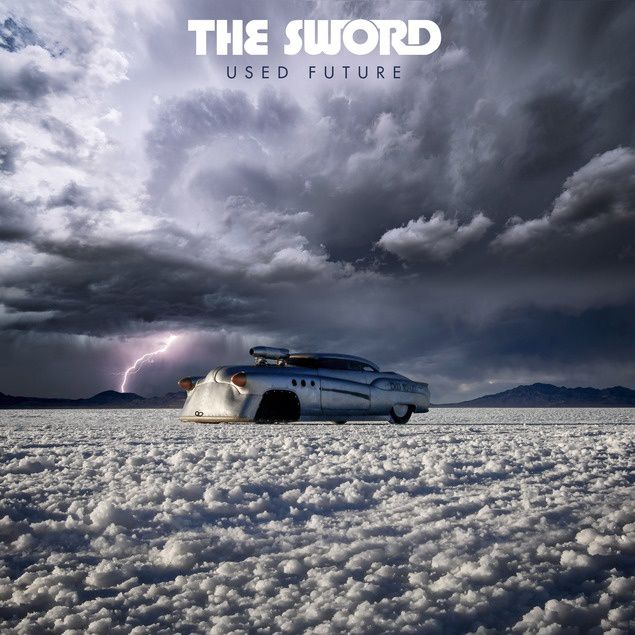 (8/10) The first time I got the chance to listen to The Sword was back in 2009 in Antwerp, Belgium when the band opened for no less than Metallica. I still remember that I liked their sound and songs, but their at that time more traditional metal was also something I haven't expected as opener for thrash icons Metallica and their special guest Machine Head.
Anyhow, in the meantime we are 9 years further down the road and The Sword is an established rock band. The new album " Used Future" is available as we speak, a longplayer that comprises of 13 new songs, showing a continuous move towards classic rock.
John Cronise, founder and main songwriter, crafted the album together with his band mates "Bryan Richie (b), Kyle Shutt (g) and Santiago Vela (d), showcasing a mature rock outfit that found their sound.
"Used Future" is an exciting album that's built on classic rock, stoner elements and some Sabbath-inspired doom moments. The work result is the most creative record the quartet released to date, stating wide range of sounds.
A prelude is guiding towards the opener "Deadly Nightshade", a thrilling song that includes all the earlier mentioned. It's this retro vibe, embedded in the thes tune, that reminds of the early days of rock, referring to bands like T-Rex and Led Zeppelin.
Tracks you shouldn't miss on "Used Future" are for sure the cool 70's reminding title track, the grooving "Sea of Green" and easy going "Back of Thoth", followed by "Brown Mountain" which is a terrific instrumental with a bit of a Pink Floyd feel included. It's a cornerstone on this album.
"Used Future" became an well-done rock album that satisfies by its cool sound, relaxed vibe and cool expression. Thumbs up.
(8/10)
Tracklist:
Prelude
Deadly Nightshade
Twilight Sunrise
The Wild Sky
Intermezzo
Sea of Green
Nocturne
Don't Get Me Too Comfortable
Used Future
Come and Gone
Back of Thoth
Brown Mountain
Reprise
Label: Spinefarm Records
Genre: Classic Rock
Release Date EU: March 23rd, 2018