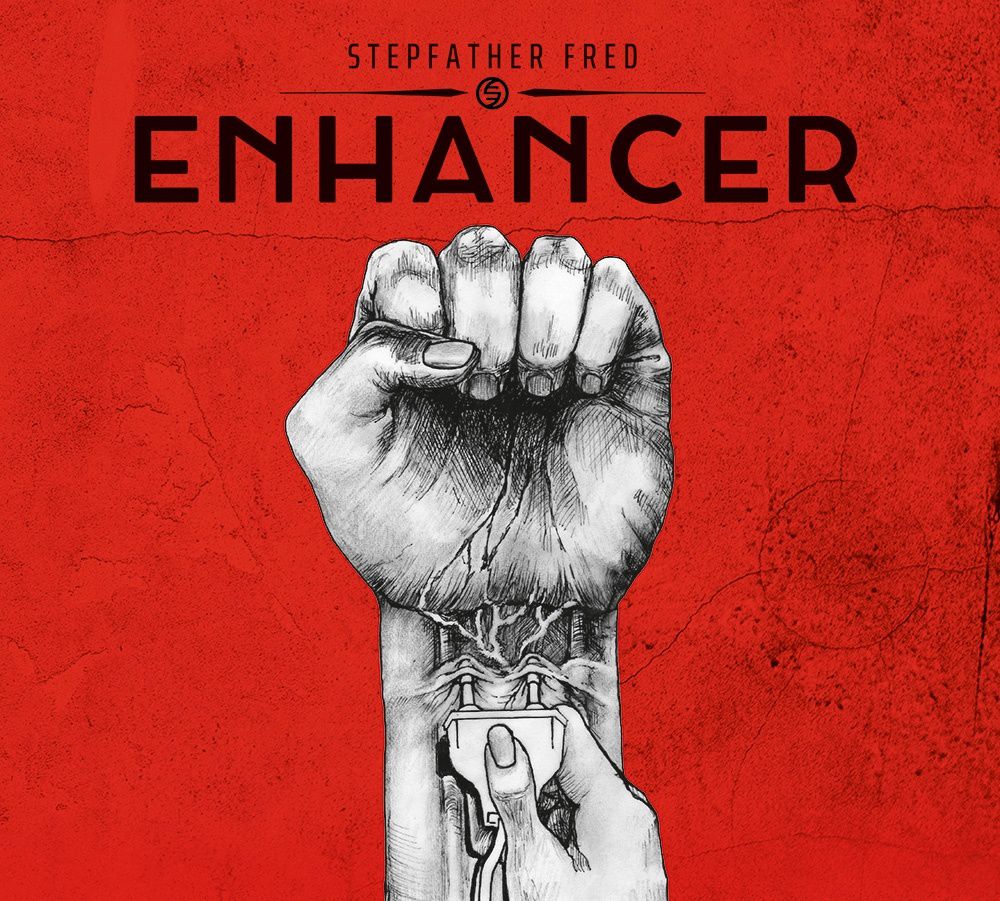 (8/10) The first things that stand out from a lot of other bands is the name. I can't tell you who inspired Stepfather Fred for choosing such a name, but it's for sure an unusual one in rock and metal.
The first time I was confronted with the name was during Brainstrom's release show for the "Scary Creatures" album. The 'stepfathers' have been the opening act that night and the first impression wasn't a too band one. Even their music is slightly different from the powerful metal supplied by Brainstorm but the guys could score and also deserved the warm applause.
The debut was released some months later and another two years further down the road it's time for the next strike. Stepfather Fred is into alternative rock and metal. That's what they offered on the debut and that's what is captured on "Enhancer" too.
The first recognizable thing with the new album is the fact that it sounds much tighter compared with the debut. One thing leading to a dense sound if, next to the production, the extensive touring. The German quartet ignites a musical fireworks that's actually pretty impressive. 'Youth gone wild' could have been the credo for the four-piece band during their time in the studio.
Things start wild and furious with "I Have to End" which is definitely a starting point more than an end. Rock vibes are in focus with "Alone in the Ground" and it's the calmer tone that show the entire width of Stepfather Fred's sound. Mentioning 'calmer tones' doesn't mean that the latter is ballad. Not at all. It's more a moderate paced song with a calmer verse and an energetic chorus, a combination that makes the song to one of the best ones on the entire album.
Another song I would like to mention in this context "Cut My Strings" that reminds with its bassline very much of Nirvana. Not that it's a copycat. The song is really different from Kurt Cobain and mates, but the four string is for sure inspired by songs like "Smells Like Teen Spirit".
What benefits the mentioned three songs but also the other ten tracks on the album are mainly two things. It's the coarse voice of frontman Sebastian Schuster that gives each tune on the album a harsh expression, helping a lot in making this album to a rocking one. These great vocals in combination with some six-string firepower, provided by Simon Schweiger, gives Stepfather Fred the dynamic needed.
"Enhancer" is the second album of a band that progressed a lot over the last years. This album is an entertaining alternative metal release, build on pure passion and enthusiasm.
(8/10)
Tracklist:
I Have To End
Alone In the Ground
This Is Me
Prime Time
Die Hard - Live Fast
Full Metal Jacket
Cut My Strings
Speed of Life
One Second Alive
Take Control
Halo
Focus
My Way to You
Label: El Puerto Records
Genre: Alternative Metal
Release Date EU: April 27th, 2018