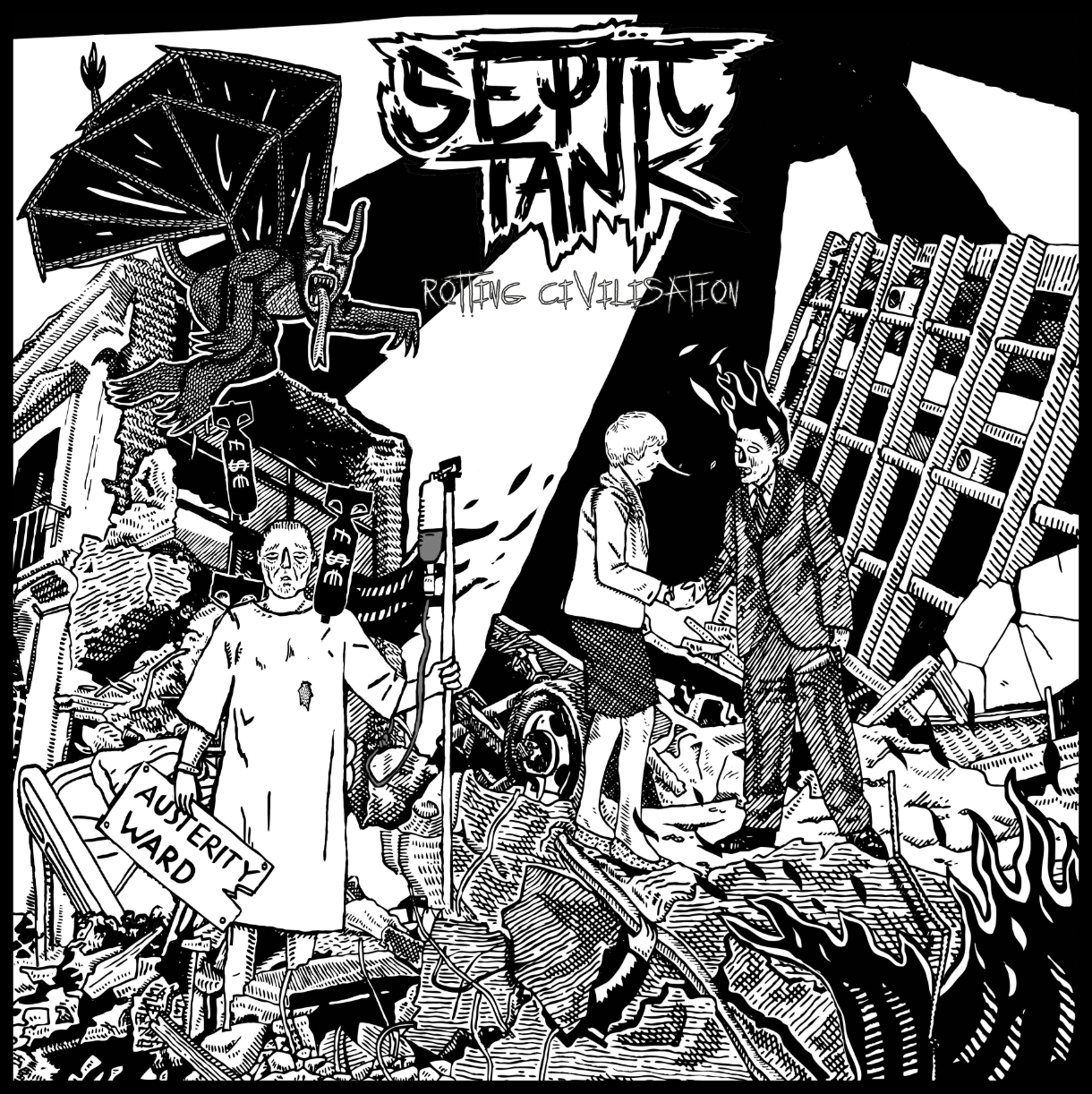 (9/10) Septic Tank is a band, hailing from the UK that has its roots in the early 90. It was in 1994 when Septic Tank began as an outlet for members of doom metal veterans Cathedral, following their passion for hardcore and punk. No less than Cathedral vocalist Lee Dorrian as well as Gaz Jennings, bass player Scott Carlson (Repulsion) and drummer Barry Stern (ex-Trouble) started the band with some jams on a few occasions.
After having been in a state of hibernation for two decades Septic Tank is back, this time with a record in their backpack. The debut "Rotten Civilisation" is following a first EP, entitled "Septic Tank", which was released in 2013 only in Japan and with a limited number of pieces.
After five more years it was the final concert of Black Sabbath in Birmingham that brought together Lee Dorian and Scott Carlson. A few songs were already drafted but not reheased while new songs have been added to the mix in no time while the guys met.
The result of all the wait and work is a raging hardcore, punk, thrash metal record. It's almost impossible to describe the sound since it's built on so many influences. Motörhead's sound is one source of inspiration while some doomy Celtic Frost moments add another shade to the mix. Next to these to creative influencers it's punk music that gives Septic Tank a rock solid base, a sound that's inspired by bands like G.I.S.M..
"Rotten Civilisation" is an album that lives by its dynamic and aggressive. It transports a pissed-off vibe that was obviously present when the guys wrote the songs and produced the album. There are no frills added at all. What you get as a listener is the pure essence of furious emotions, captured and embedded in each of the 18 songs. The joy with this record is the spontaneity. Nothing sounds planned again and again and again. All the songs are emotions and notes are just a helpful tool to express an angry vibe that's built on today's reality.
Septic Tank's debut is an extremely authentic and powerful album that impressed me from beginning to end.
(9/10)
Tracklist:
Septic Tank
Who
Victimised
Social Media Whore
Divide and Conk Out
Treasures of Disease
Fucked
Whitewash
Death Vase
You Want Some
Digging Your Own Grave
Danger Signs
Walking Asylum
Lost Humanity
Never Never Land
Self-Obsessed
Living Death
Rotten Empire
Label: Rise Above Records
Genre: Crustcore
Release Date EU: April 13th, 2018