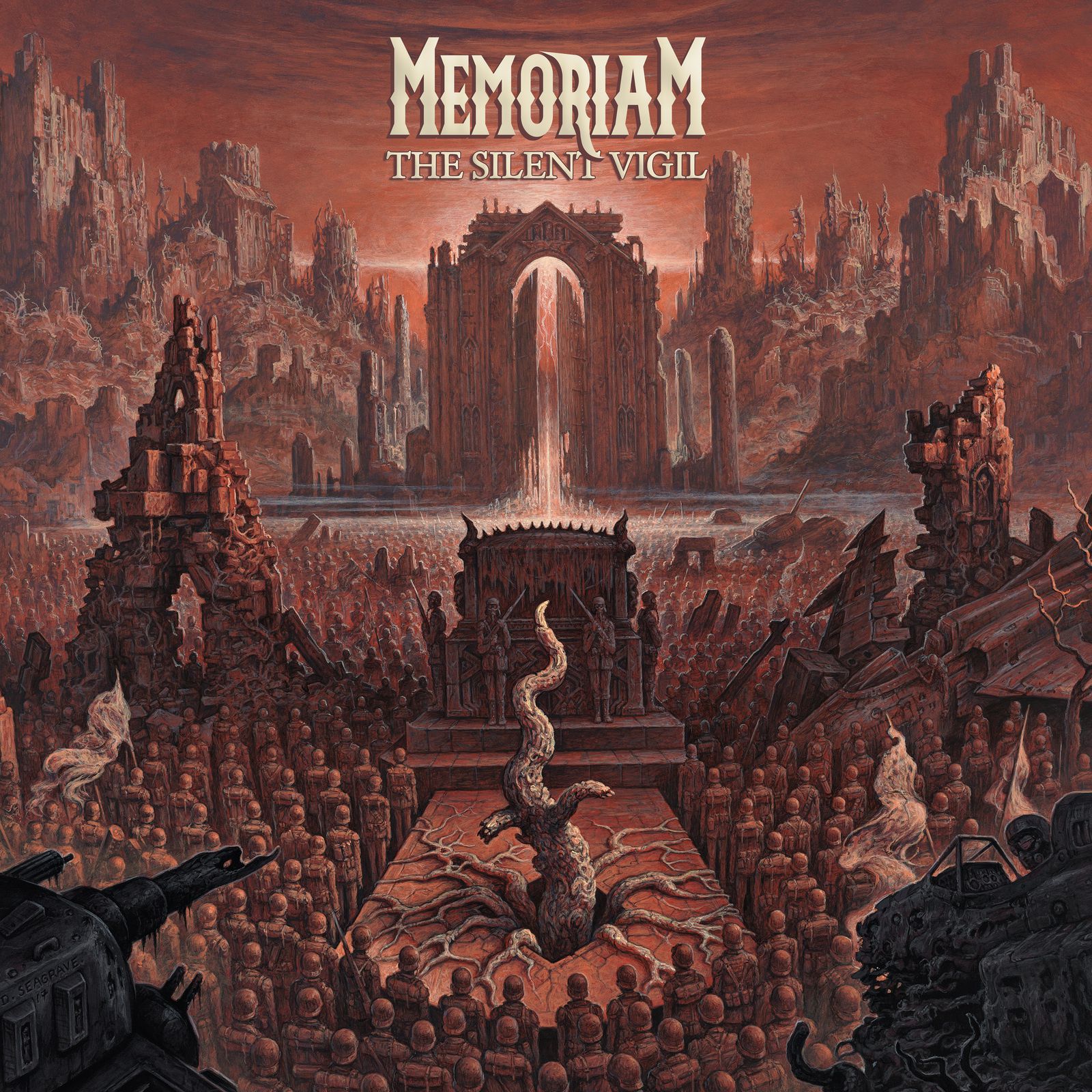 (9/10) One album I was excitedly looking forward to is Memoriam's new strike, entitled "The Silent Vigil". The band debut almost to the day one year ago with their fantastic first album "For the Fallen".
Memoriam is new and not. The powerhouse, hailing from the UK, was founded by members of the legendary Bolt Thrower and Benediction which is an excellent reference. Memoriam is the brainchild of frontman Karl Willetts and bass player Frank Healy and the quartet is complete by Andrew Whale on drums and Scott Fairfax, handling the blistering riffs.
The debut of this new death metal outfit was sonic blast and so is the second album. "The Silent Vigil" comes with 10 songs of an equally high level of quality.
Memoriam doesn't keep things short and fast. It's a slowly rolling death metal machine that's impossible to stop. Each of the songs, of which the title track is the shortest one, includes far enough firepower to wow the listener. The cool thing with Memoriam's interpretation of death metal is the fact that the guys don't create songs that are too complex. Simplicity rules and is a basic ingredient for "The Silent Vigil". The beauty with this record is the combination of harsh metal music that comes with an almost hypnotic expression. What easily could end up in monotony is not the case with this longplayer. The compelling thing is the intensity and density of this metal bulldozer, a fascinating power with an anarchic vibe.
Musical wrecking balls like "From the Flames" and "As Bridges Burn" have the potential of coursing severe neck pain due to extensive headbanging. Also the first unveiled tune, "Bleed the Same", belongs to the true highlights on the album of which each song would have deserved to be mentioned. But don't spend too much time on reading. You need to listen to this album.
Expectations on the debut were already high, but those even increased when it comes to the new longplayer. Fortunately these four guys are experienced enough to handle such a situation. Memoriam wasn't distracted by any expectation and recorded songs that are authentic and down-to-earth. This album will be successful because it's not aiming for success. Sounds maybe weird but it isn't at all.
(9/10)
Tracklist:
Soulless Parasite
Nothing Remains
From the Flames
The Silent Vigil
Bleed the same
As Bridges Burn
The New Dark Ages
No Known Grave
Weaponised Fear
Dronestrike V3
Label: Nuclear Blast
Genre: Death Metal
Release Date EU: March 23rd, 2018