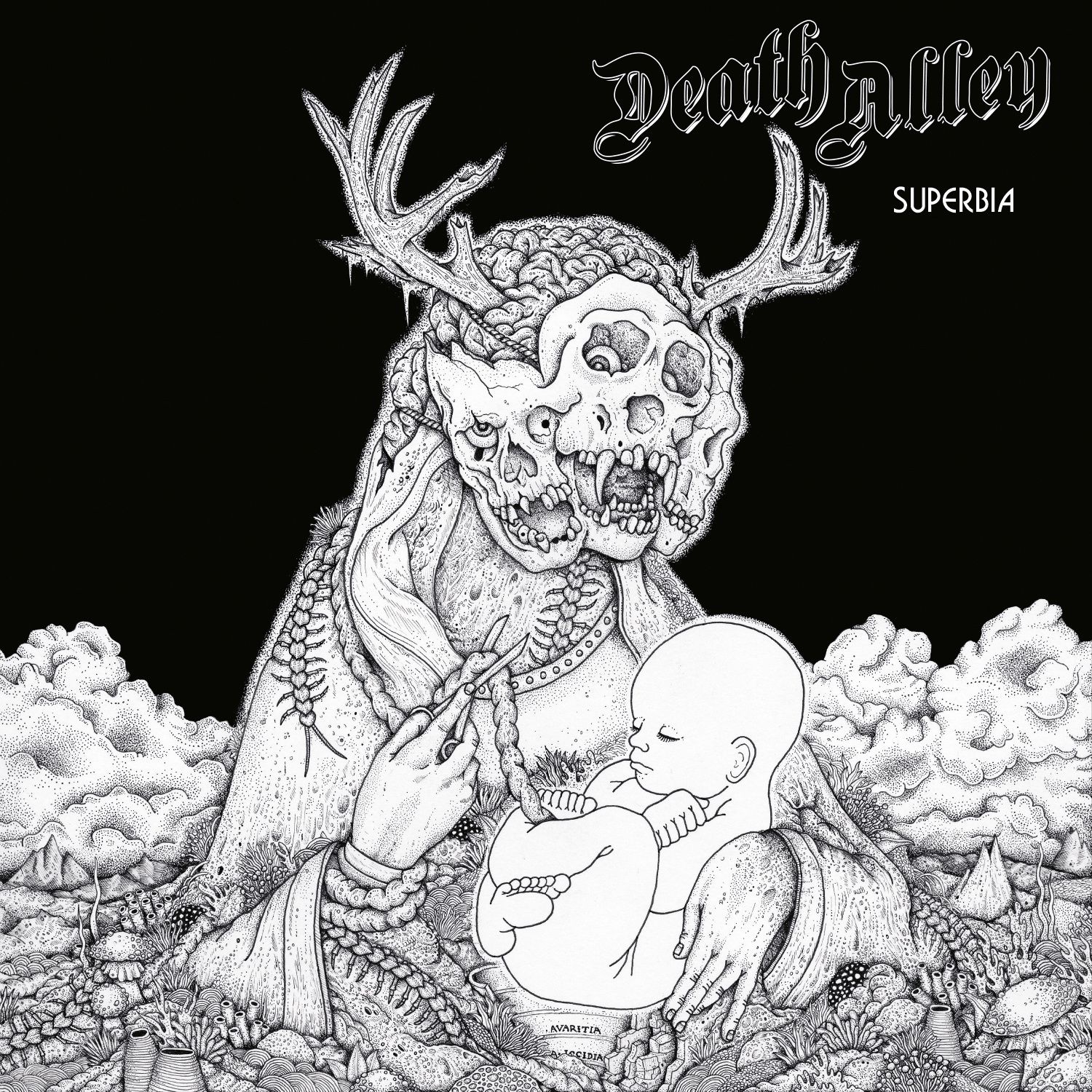 (7/10) Death Alley, hailing from Amsterdam, NL, is the brainchild of former The Devils' Blood guitarist Oeds Beydals. It was in 2013 when Beydals started this powerful rock outfit that builds on roots that refer to punk on the one hand and classic (progressive) rock on the others side. Together with the recent line-up, Truijens, Bus and Bruinuisson, King Crimson have been identified as influencers when it comes to Death Alley's sound, as well as records of Poison Idea and The Stooges get regular spins on the band member's record players.
To date Death Alley unveiled a debut, "Black Magic Wonderland", back in 2015. The longplayer was framed by several 7" releases and a live album that was recorded during the Roadburn festival in Tilburg, NL.
"Superbia" is the sophomore album Death Alley releases and it's the first one that comes via Century Media. Pieter Kloos (DOOL, The Devil's Blood) supported with excellent production work, giving the album a dynamic and powerful sound.
"Superbia" has a stronger psychedelic expression. It is a demanding album the reveals its beauty after a while. Putting a nine minutes song into pole position shows that the album doesn't follow a standard approach. Rumbling in moderate pace the song is fascinating from beginning to end and stands for a first highlight on the album. "Daemon" isn't the only epical song on the album. Also "Feeding the Lions", "Headlights in the Dark" and the closer "The Sewage" are epical ones, the latter with eleven minutes the by far longest composition on "Superbia".
These longer journeys through sounds and spheres are spiced up by short and crispy rockers like "The Chain" and the uptempo "Murder Your Dreams".
"Superbia" is a timeless psychedelic rock album, reflecting an own sound of a band that is determined and passionate. Cool stuff.
(7/10)
Tracklist:
Daemon
The Chain
Feeding The Lions
Headlights In The Dark
Shake The Coil
Murder Your Dreams
Pilgrim
The Sewage
Label: Century Media
Genre: (Psychedelic) Hardrock
Release Date EU: March 23rd, 2018