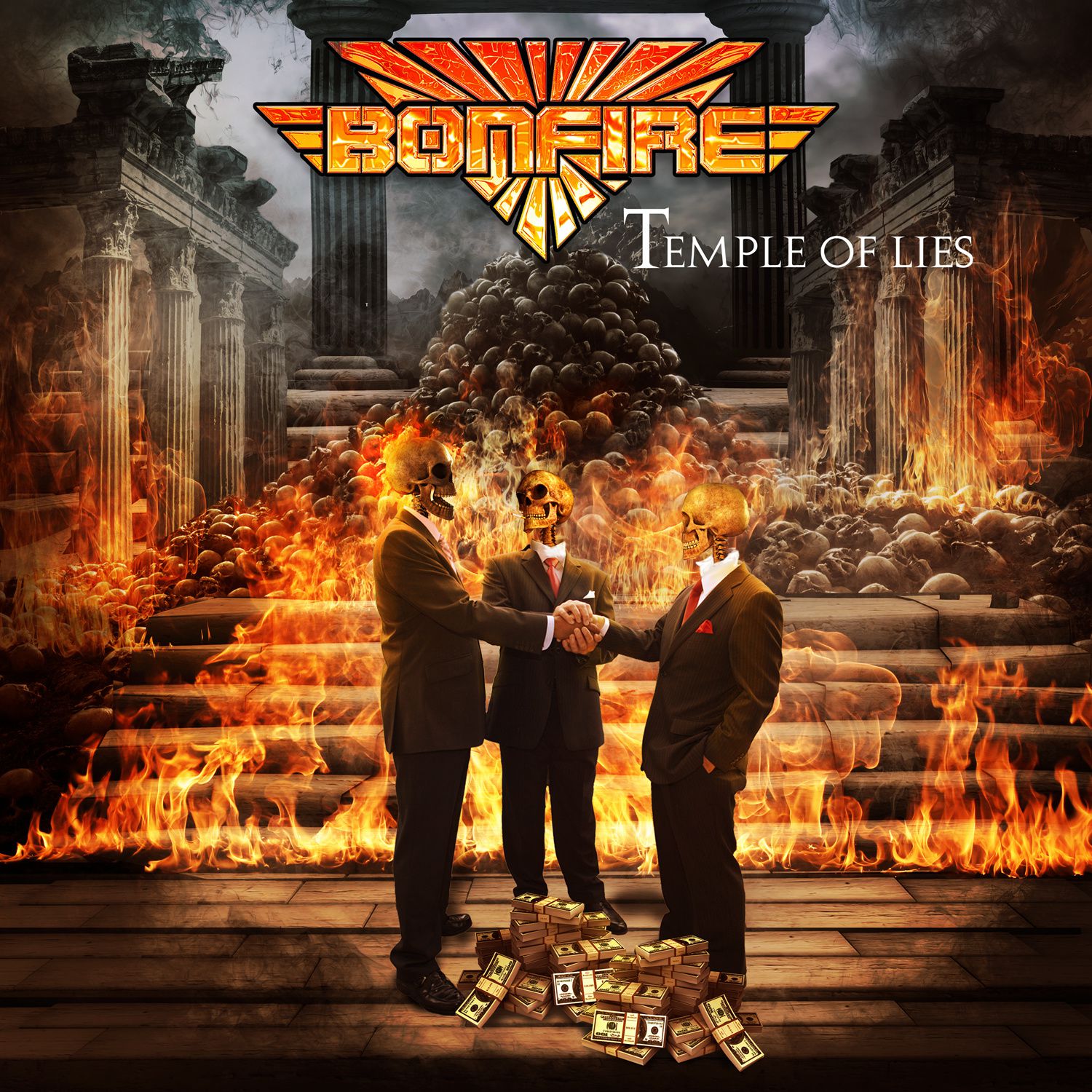 (8/10) Since a few years Bonfire is gaining more and more momentum again. The latest releases have been all pretty good, showcasing a band that found their way back into the spotlight.
Bonfire these days is very much Hans Ziller, founding member and main driver of the Bavarian metal outfit that celebrated bigger successes in the late 80's.
Four years ago Ziller had to face a major line-up change. Singer and founding member Claus Lessmann left the quintet from Ingolstadt, Germany and was replaced by former Accept singer David Reece. In 2016 Reece left Bonfire and it was German vocalist Michael Bormann who should have become Bonfire's new frontman. Due to legal reasons a certain time period needed to be bridged and it was Alexx Stahl who took over vocal duties for the time needed. Unexpectedly things worked more than well and Stahl's voice fit so good to Bonfire's sound that the singer became a fix member of the five-piece band. The quintet recorded with "Temple of Lies" their 16th studio album and it's the first one with Stahl at the mic.
An intro, entitled "In the Beginning", sets the stage. It feels like a mixture of Manowar and neo-classic metal that welcomes you before title song takes over. "Temple of Lies" is the first surprise since it blows the speakers with heavy riffs and Stahl presenting his pure metal siren capabilities. I had to get used to the high-pitched vocals since I haven't expected such a powerful beginning, but already with the second spin I started to really like the tune.
After such a start it's "On the Wings of an Angel" that brings back the hard rocking Bonfire vibe and it's the slowly rolling "Feel the Fire (Like the Bonfire)" that could become a classic on Bonfire's setlist.
These tracks stand pretty much for what you can expect of "Temple of Lies". Hans Ziller and crew wrote good melodic rockers like "Fly Away" and also "Love the Way You Hate Me" belongs to the specularities on a good rock album. While listening to the album I had to think several times of Axxis since Stahl has partly a similar voice than Bernhard Weiss. And talking about comparisons/influence: am I the only one that hears some Queensryche guitarlines being part of "I'll Never Be Loved By You"?
Anyhow, "Temple of Lies" is an excellent melodic metal /hardrock album that might not bring a lot of new to the table but satisfies listeners and fans with great melodies, well-crafted hooks, pure power and a really good singer. If you like melodic metal you will like "Temple of Lies" too. The album might not be able to compete with the early Bonfire classics, but it's getting pretty close.
(8/10)
Tracklist:
In the Beginning
Temple of Lies
On the Wings of an Angel
Feed the Fire (Like the Bonfire)
Stand or Fall
Comin' Home
I'll Never Be Loved by You
Fly Away
Love the Way You Hate Me
Crazy Over You
Label: AFM Records
Genre: Hardrock
Release Date EU: April 13th, 2018