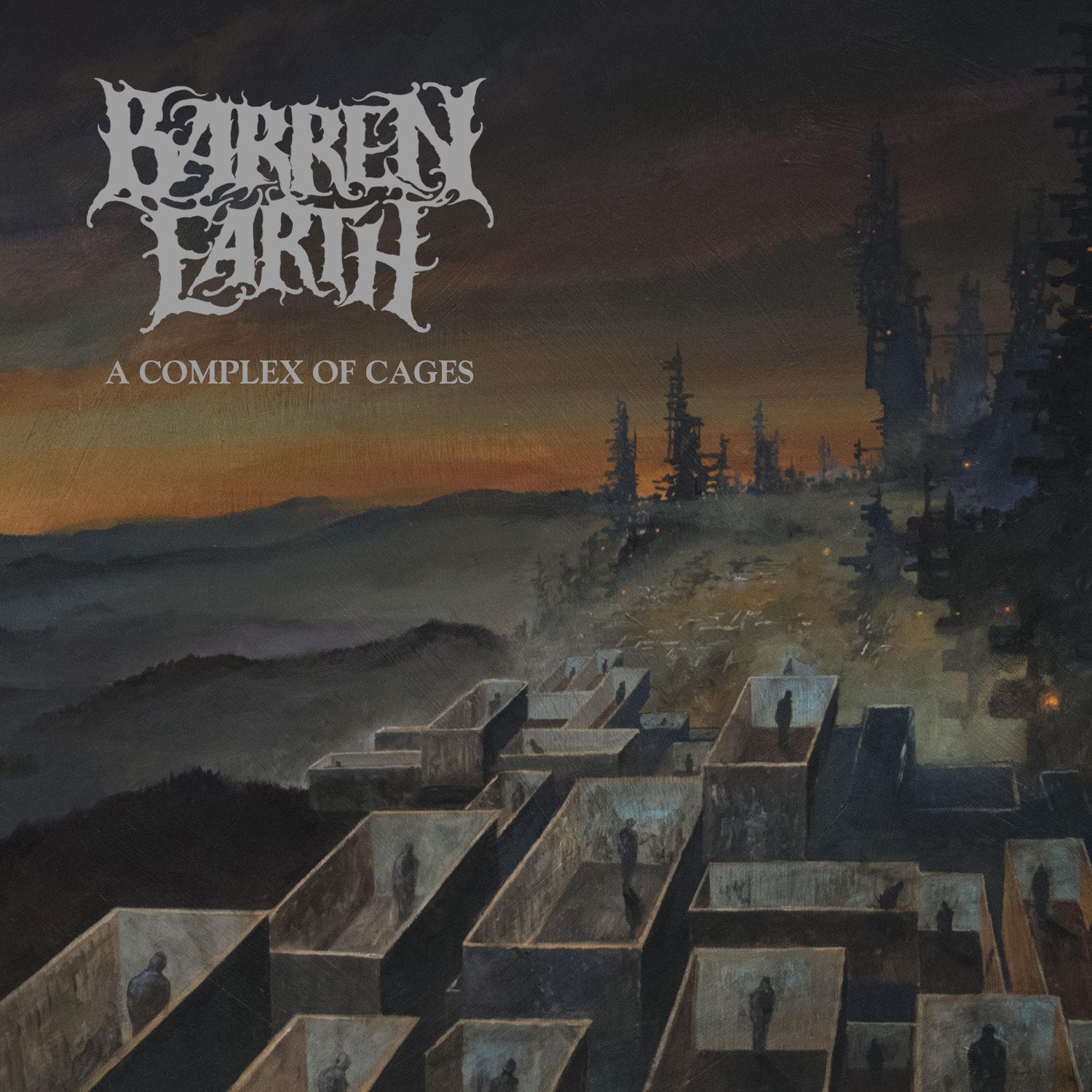 (8/10) Finnish Barren Earth aren't a newcomer in metal. The band, hailing from Helsinki, Finland, debut in 2010 after having inked a deal with Peaceville Records. "Curse of the Red River" was the first out of three longplayers the guys released up to date.
Three years after "On Lonely Towers" hit the shelfs, it's "A Complex of Cages" that will be a delight for fans of progressive metal as well as for death metal supporters. The new album is number two for Century Media, featuring nine new songs of epical length. Barren Earth isn't looking for a quick and easy knock-out. The sextet focusses on longer songs that unite progressive influences from the 70's with harsh growls.
Just listening to the music gives an impression of listening to bands like Dream Theater. Guitars and keyboards create big soundscapes that are melodic and full of dynamics. Hard-hitting drums and a booming bass create the solid foundation and it' the partly clean vocals that doesn't make you think about death metal. To balance the feeling of complex harmony Barren Earth adds deep growls to their sound. These moments add arcs of suspense to the mix and act as a wake-up call in case you lost yourself in multi-layered song structures.
The cornerstone of the new album is entitled "Solitude Pith", which is a ten minutes song. Sami Yli-Sirniö, also known from Kreator, and Janne Perttilä can show all their virtuosity on the six-string while singer Jón Aldará is still a lucky strike for the outfit from Helsinki. This guy is a real master of his trade.
This centerpiece is surrounded by not less exciting tunes like "Zeal" and Spire". I wouldn't say that the differences between the new album and "On Lonely Towers" is huge. Barren Earth continues what they can do best – merging two styles into something excellent. It is more that the new longplayer is a kind of natural next step and it's the details that shine.
Barren Earth's premier on Century Media is a good one. Fans of bands like Paradise Lost and Opeth should check out this album – if you don't have it on your list already anyhow.
(8/10)
Tracklist:
The Living Fortress
The Ruby
Further Down
Zeal
Scatterprey
Solitude Pith
Dysphoria
Spire
Withdrawal
Label: Century Media
Genre: Progressive Death Metal
Release Date EU: March 30th, 2018