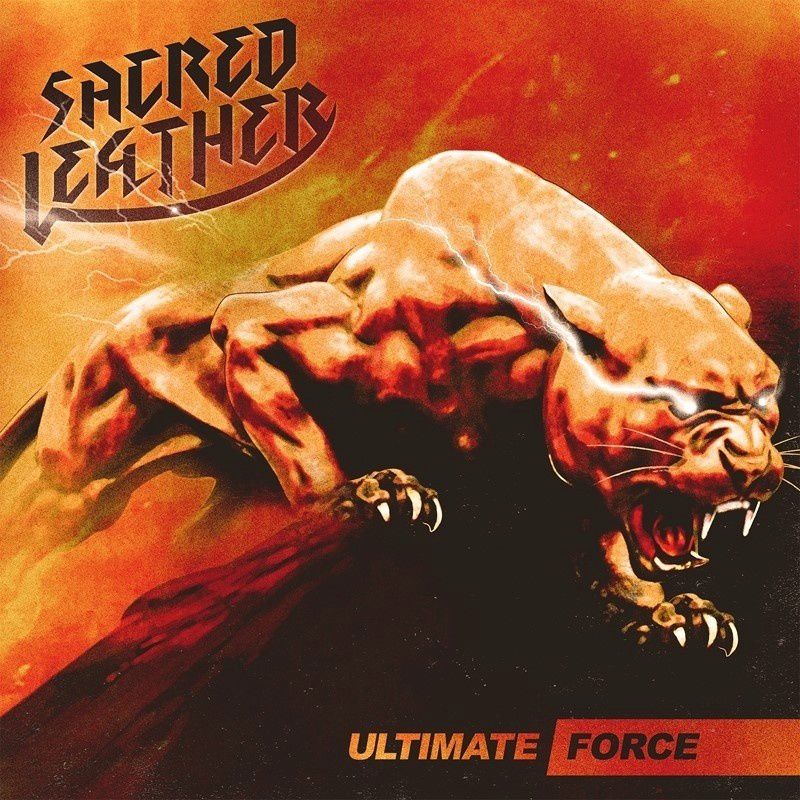 (8/10) Sacred Leather hails from Indianapolis, Indiana and is a metal powerhouse that was formed some years ago. A can't tell you the exact date, but the first release dates back to 2014 when a single entitled "Hunger in the Night" hit the scene. Since then some singles followed and even before a debut album was released the guys published a live album.
With all this work done the time was right for a full-length album – Sacred Leathers debut. The quintet inked a deal with Cruz Del Sur Music and I must say that the guys fit very well in the label's portfolio.
Sacred Leather plays heavy metal, in the best sense of the word. "Ultimate Force" comes with seven old-school metal tracks that will be loved by headbangers with a passion for vintage metal. Scared leather fires on all cylinders when it comes to "Ultimate Force". What characterizes the sound of this five-piece band from Indiana are excellent riff attacks, razorblade sharp solos and a heavy pounding rhythm section, all enriched by the well-done vocals by Dee Wrathchild. This guys is a real metal siren that reminds of Rob Halford and eve the mighty Kind Diamond I had to think of once.
Next to great musical skills also the songwriting lives up to high standards. Sacred Leather doesn't stick to a cookie-cutter approach. They five guys use the entire freedom traditional heavy metal provides. Short and uptempo tracks like the title track are also part of Sacred Leather's offer as well as epical metal compositions a la "The Lost Destructor / Priest of the Undoer". The latter is the closer of this album and is with almost ten minutes the longest song on the album. "The Lost Destructor / Priest of the Undoer" is covering everything you can expect from such an album. A mystical beginning with a pumping bassline introduces the listener to a metal treat that goes back to the roots of powerful metal.
I wonder why the world had to wait so long for Sacred Leather's debut. However, now it's ready to rock and I can strongly recommend this lively longplayer. These guys have metal in the veins and passion in their hearts.
(8/10)
Tracklist:
Ultimate Force
Watcher
Power Thrust
Dream Searcher
Master is Calling
Prowling Sinner
The Lost Destructor / Priest of the Undoer
Label: Cruz Del Sur Music
Genre: Heavy Metal
Release Date EU: February 23rd, 2018