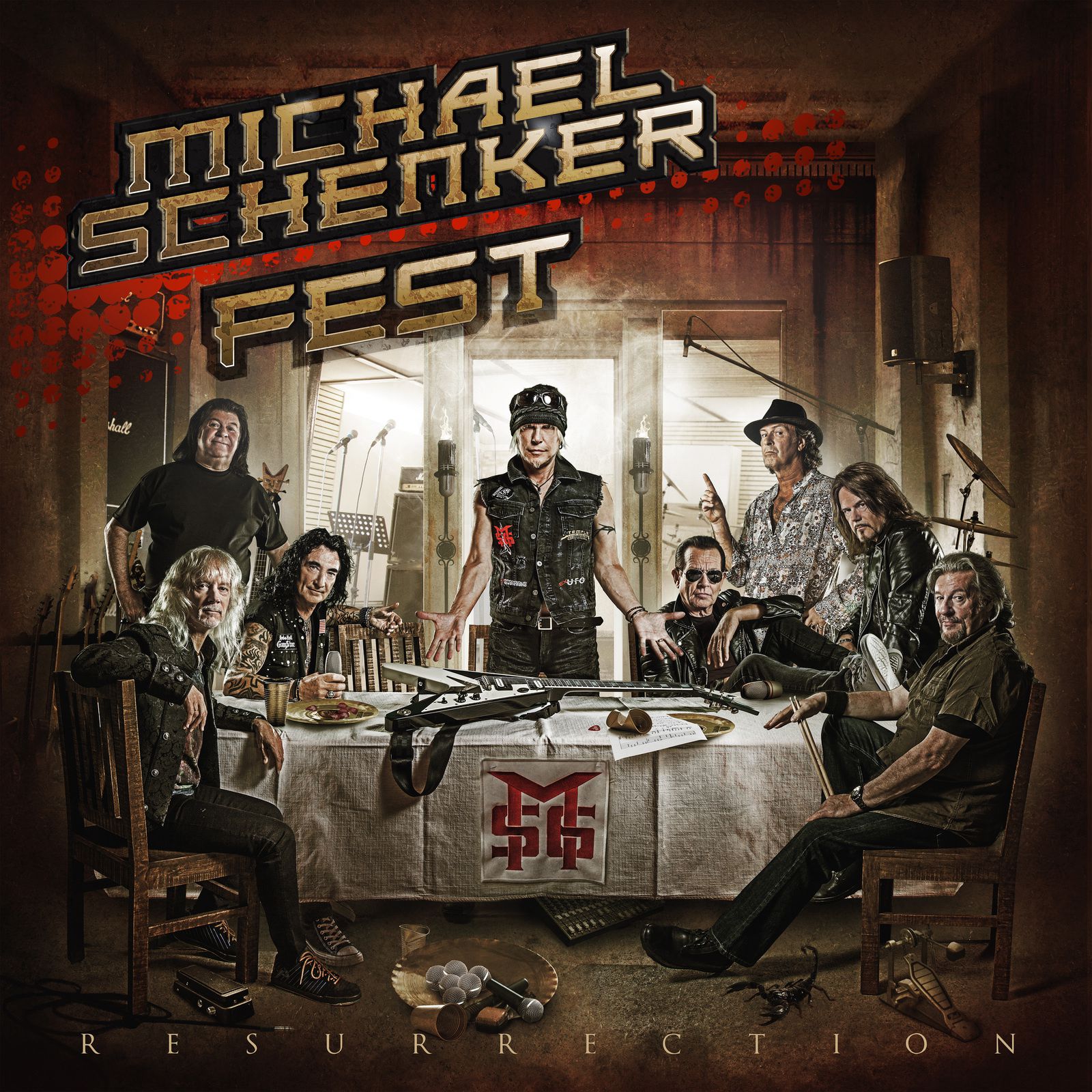 (8/10) If you didn't live under a rock for the last decades the name Michael Schenker isn't something new to you. The iconic guitarist has a long history in metal with many ups and some down.
Michael started, together with his brother Rudolf Schenker, being part of the Scorpions in the early 70's. After leaving the band he joined UFO before starting the Michael Schenker Group with which he published records such as "Assault Attack". I don't want to spend too much time in the past but I still would like to mention the more mainstream-based McAuley Schenker Group for two reasons. One is that "Perfect Timing" is a well-done melodic metal record and it's singer Robin McAuley that's also part of Schenker's newest release.
This time it's the Michael Schenker Fest that brings some metal to your place. "Resurrection" is the title of the new longplayer that was recorded with Chris Glen (b), Ted McKenna (d) and Steve Mann (g/key). Next to these great musicians the album features four different vocalists, giving each of the songs a slightly different touch. Gary Barden, Graham Bonnet, Doogie White and the earlier mentioned Robin McAuley took over vocal responsibility and gave the album a special feel.
Things start fast and furious with "Heart and Soul". The song functions well as being the opener since it transfers a lot of energy and it's no less than Metallica guitarist Kirk Hammett that contributes to the opener with some screaming guitar parts.
The album comes with more of these fast songs. "Time Knows When It's Time" is such a song that pushes the pedal to the metal and also "Everest" keeps the pace up high.
Next to these fast tracks it's "Warrior" that's a real anthem, combining all four singer in one tune. "Warrior" is a highlight on the album, followed by the terrific "Take Me to the Church" with Doogie White behind the mic.
"Resurrection" also combines metal and melody in a good fashion, represented by "The Girl With the Stars in Her Eyes". The verse is pretty dynamic and kept heavy before the chorus reveals a sugar sweet melody.
Next to all the musical brightness there's with "Living a Life Worth Living" also a song on the album that can't live up to most of the other songs on the album. Compared to some other hymns on "Resurrection" it's this tune that never unveils it's power. And stays on a good but standard level.
To sum up: "Resurrection" is a well-crafted metal album that unites some metal pioneers who follow their passion for hard riffs, pounding drum, excellent leads and a booming bass. This album stands for excellent metal entertainment and I recommend checking it out.
(8/10)
Tracklist:
Heart and Soul (feat. Robin McAuley & Kirk Hammett)
Warrior (feat. Gary Barden, Robin McAuley, Graham Bonnet, Doogie White)
Take me to the Church (feat. Doogie White)
Night Moods (feat. Graham Bonnet)
The Girl With Starts in Her Eyes (feat. Doogie White)
Everest (feat. Graham Bonnet)
Messin' Around (feat, Gary Barden)
Time Knows When It's Time (feat. Robin McAuley)
Anchors Away (feat. Doogie White)
Salvation (Instrumental)
Livin' a Life Worth Livin' (feat. Gary Barden)
The Last Supper (feat. Gary Barden, Robin McAuley, Graham Bonnet, Doogie White)
Label: Nuclear Blast
Genre: Heavy Metal
Release Date EU: March 2nd, 2018