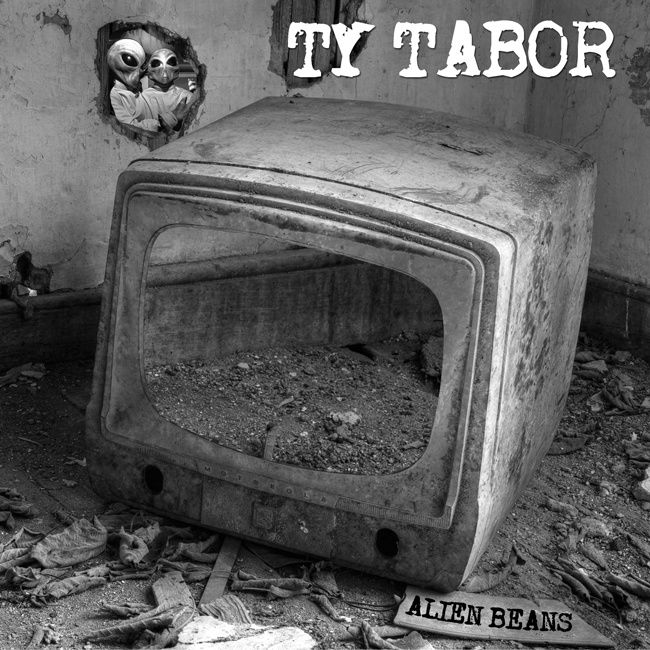 (9/10) King's X guitarist Ty Tabor was busy with working on his next solo release and it's "Alien Beans" that will still the hunger of rock fans on January 12th, the release date of Tabor's new album. The longplayer comes via Rat Pak Records and is a double CD.
The guitarist from Pearl, Mississippi recorded ten new studio tracks which ended up on CD 1 while there are another eleven extra songs on the second disc. The second CD comprises of older stuff from Tabor that got a remastering and some also went through a remix. These songs aren't that much known by fans. Tabor made use of the opportunity to give the tunes a new tweak and after having heard them I must say that it was worth the effort. Tracks like "Ride" and the grooving "Money Mouth" are excellent rock songs with some calmer tunes ("Fast Asleep") adding soulful moments to this 'best of' section.
Equally important is the first disc that contains new songs. Tabor wanted to give the album a heavier touch and after giving the record some loops I must say that he succeeded. "Alien Beans" starts with the title track which is an instrumental intro. "Freight Train" is next in line, followed by "Johnny Guitar", both songs with an excellent groove and a bluesy touch. To break the pattern Tabor added "So Here's to You" to the tracklist. It's an acoustic tune that includes a lot of feel and emotion.
The entire album has a certain vintage touch without being old-fashioned. "Alien Beans" sounds modern and vital which makes it to a lively and entertaining experience for listens. Songs like "Somebody Lied" are awesome, merging hardrock and blues to something that puts a spell on you.
A song you also should listen to is "Until This Day is Done". It's a moderate paced tune that puts Tabor's terrific guitar play into forefront. The song clearly shows why Ty Tabor belongs to the best guitarist these days. There is so much feel in the way he handles the six-string without forgetting about the song itself. It's not an endless row of solos. It's more about a well-accented and singing guitar that gets enough space to shine.
"Alien beans" is a superb hardrock album that combines creativity, musical savvy and passion to a great total that deserves many loops on your record player.
(9/10)
Tracklist"
CD 1:
Alien Beans
Freight Train
Johnny Guitar
So here's To You
Back it Down
Somebody Lied
This Time
Heavily Twisted
Until this Day is Done
Deeper Place
CD 2:
'Cause We Believe (Blame It)
Free Yourself
Ride
Senseless Paranoia
Money Mouth
Fast Asleep
Politician's Creed
Play
Bring it on Back
Nobody Wins When Nobody Plays
Change
Label: Rat Pak Records
Genre: Hardrock
Release Date EU: January 12th, 2017