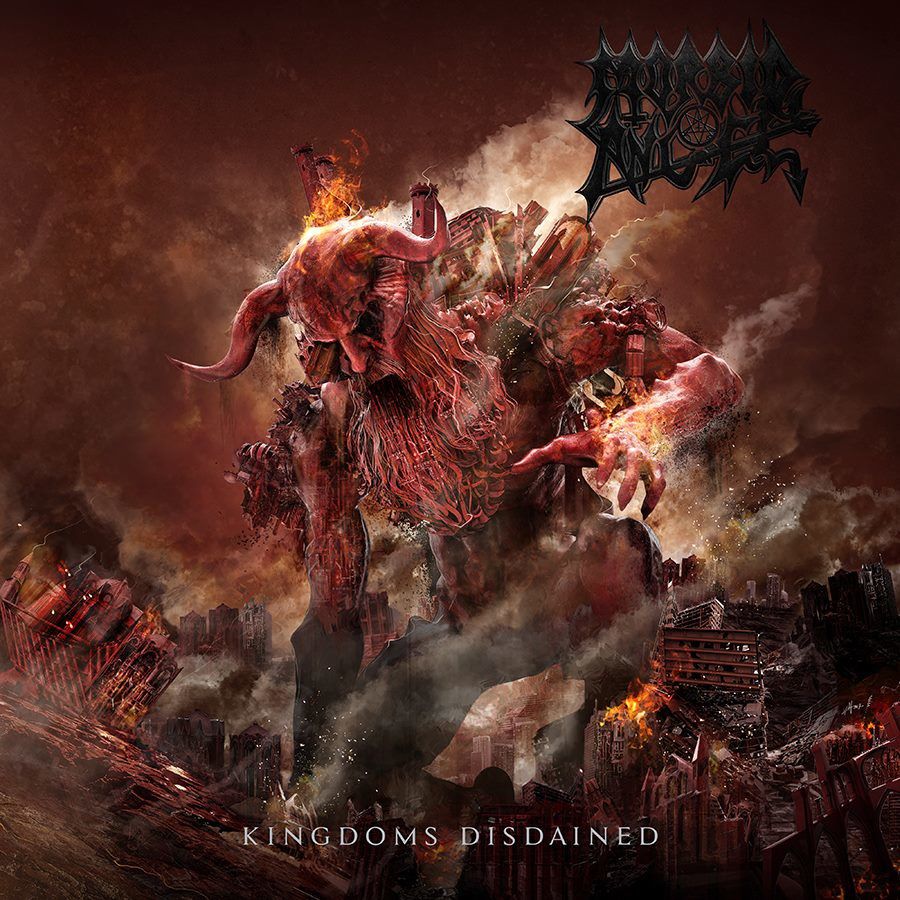 (8/10) Without any doubts, Morbid Angel belongs to the pioneers of death metal. Records like "Altars of Madness" and "Covenant" are milestones in a genre that added another extreme to metal. Hailing from Tampa, Florida, the cradle of US-death metal, Morbid Angels longplayers were critically acclaimed and excessively celebrated by metal fans all over the place.
After having published "Heretic" in 2003 the band needed till 2011 to come-up with a new studio record. Fans have been hungry for new material of Florida-based death metal pioneers and what they got served was the very controversial "Illud Divinum Inasanus". This was back in 2011 and a few things happened since then. The main difference comes with the line-up. David Vincent left the band in 2015 and was replaced by Steve Tucker who was part of the band already in the late 90's.
All the mentioned raised expectations when it comes to Morbid Angel's tenth studio release, entitled "Kingdoms Disdained". To a certain extend the new longplayer can live-up to expectation. Morbid Angel left the "Illud"-days behind and focuses again on brutal death metal that goes back to the roots.
This time the quartet starts directly with a smasher called "Piles of Little Rams" instead of wasting time with an intro. The opener is pushing hard and shows a renewed band that found back to where they comes from. It's not that everything is great again, but the new longplayer is far better than what we got to hear in 2011. Trey Azagthoth's leads and riffs are again a substantial pillar for each of the eleven songs, tunes that are massive and complex. It needs some loops to get into the details of most of the numbers on the album and it's worth to invest the time. "Kingdoms Disdained" isn't modern death metal from the shelf. It's more like a blast from the past when the guys revolutionized metal, being a counterpart to nu-metal and grunge.
What limits the joy of "Kingdoms Disdained" though is the sound of the album. It could be seen as oldschool, but I think it's a muddy mix and a rumbling production. 2017 offers more technical possibilities to give an album like "Kingdoms Disdained" the right punch.
All in all I can conclude that Morbid Angel's tenth album is a step in the right direction. "Kingdoms Disdained" became a good death metal album and it's a turning point back to what the band is known for – extreme and brutal death metal that's uncompromising with break-neck riffs and leads.
(8/10)
Tracklist:
Piles of Little Rams
D.E.A.D.
Garden of Disdain
The Righteous Voice
Architect and Iconoclast
Paradigms Warped
The Pillars Crumbling
For No Master
Declaring New Law (Secret Hell)
From the Hand of the Kings
The Fall of Idols
Label: Silver Lining Music
Genre: Death Metal
Release Date EU: December 1st, 2017