German beer and Äppelwoin passionists Tankard started their thrash attack back in 1986 with their debut "Zombie Attack". The guys started four years prior to their first release as Avenger before they changed into Vortex the same year. Last but not least Gerre and Co. introduced Tankard as the bands moniker in 1983 and since then the guys are a constant force in metal. Uniting thrash metal and an unbound fun factor made Tankard to a unique band that released excellent metal albums without taking music and life too serious.
As part of the Noise Lebt! campaign also Tankard's 'Noise years' get a revival with the first seven longplayer being reissued.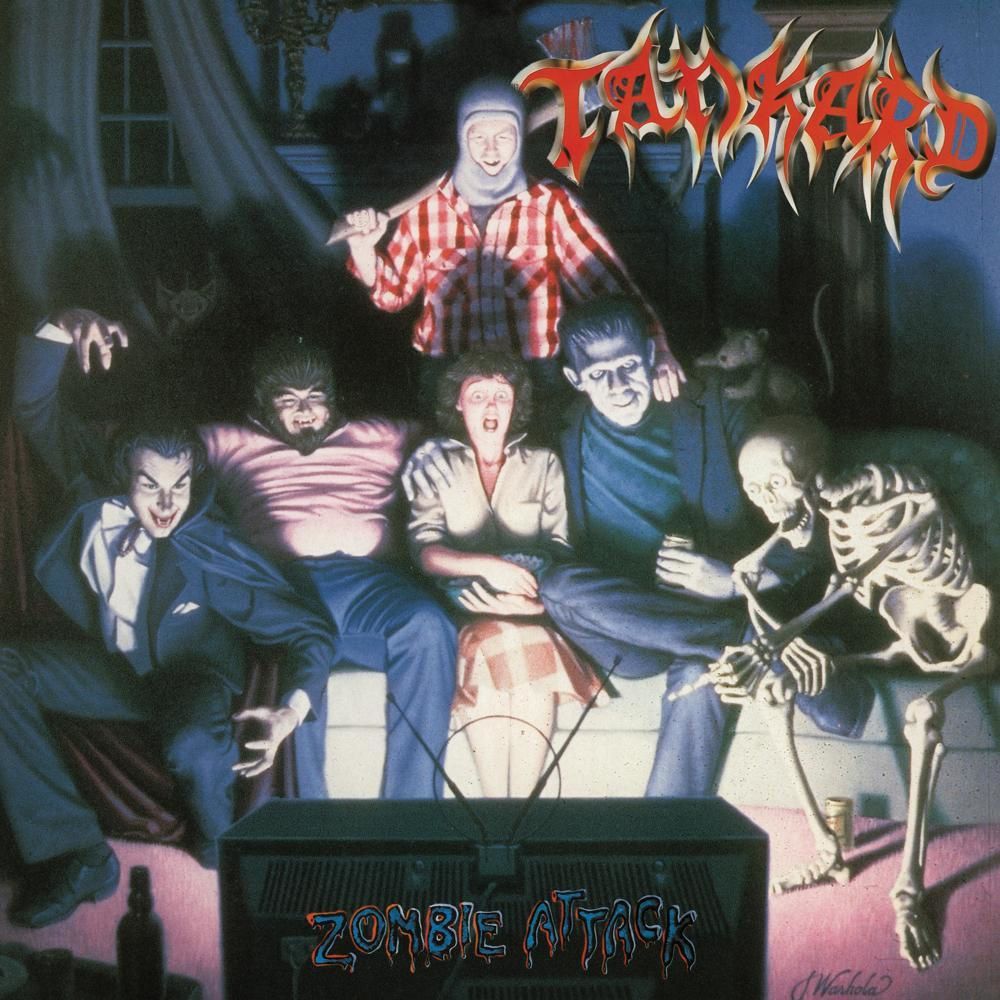 Zombie Attack (Release Date: November 24th, 2017)
Tankard's debut hit the shelves in 1986. Entitled "Zombie Attack" the album is a raw piece of metal music. This album isn't about musical filigree. This longplayer is a soundtrack for a rock solid metal party, featuring songs that are mainly taken from the "Alcoholic Metal"-demo. It was the demo that led to a contract with Noise Records, the start of a cooperation that went on for many years. "Zombie Attack" is a wolfish mixture of punk and metal, showcasing a band that didn't accept any limitations and boundaries.

Tracklist:
Zombie Attack
Acid Death
Mercenary
Manic Forces
Alcohol
(Empty) Tankard
Thrash Till Death
Chains
Poison
Screamin' Victims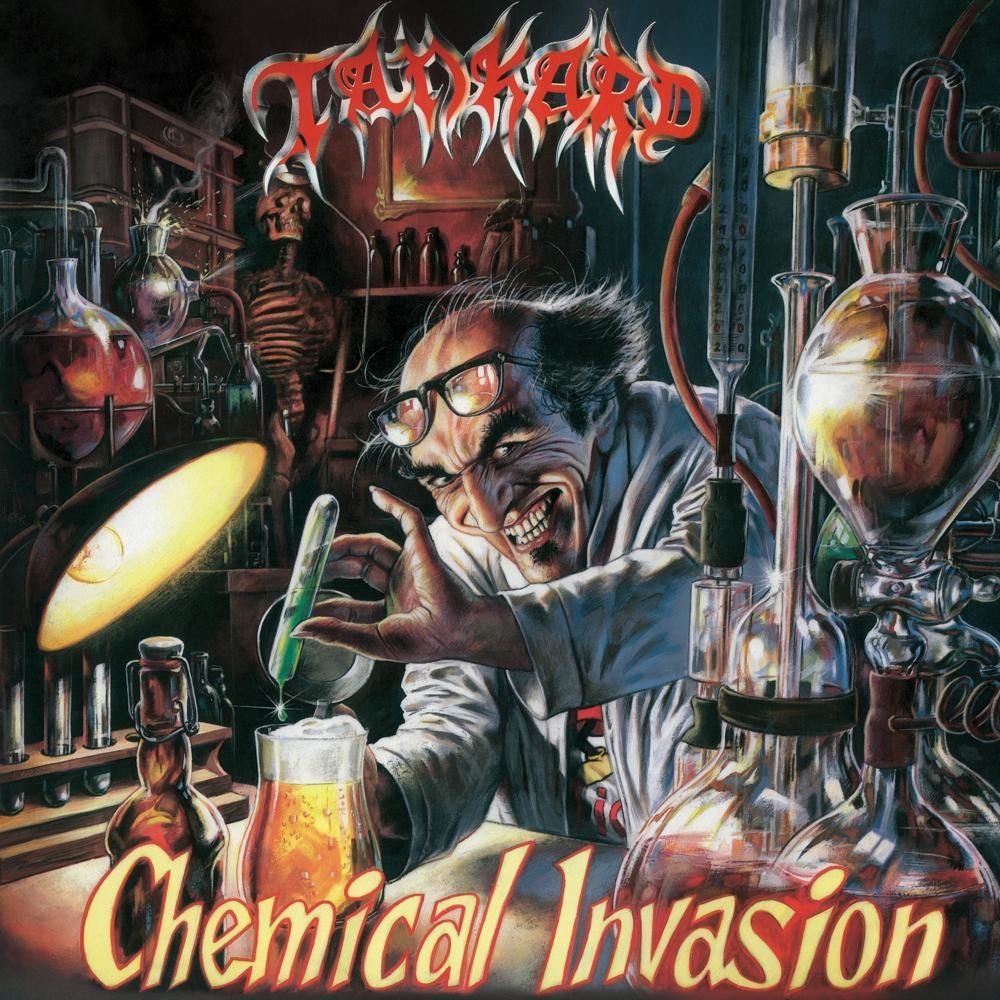 Chemical Invasion (Release Date: November 24th, 2017)
The debut brought some first attention. The fact that "Zombie Attack" was well-received acted as a motivator for working on the sophomore longplayer. "Chemical Invasion" is the name of the band's second record, featuring songs that are still furious but also include some more musical evolvement. Nine new songs, sandwiched between an intro and outro are merciless thrash anthems. Tankard is based on fun and passion for metal and beer. These guys never focussed on commercial success and it was this authentic dedication that gave them the credibility needed. What was surprising with "Chemical Invasion" is the fact that the longplayer includes with "For a Thousand Beers" and "Traitor" two almost epical songs with seven minutes of length. These songs showed the potential of the band and are a first sign that Tankard is more than just a bunch of metal ruffians. Last but not least Tankard began also with cover songs that ended up on their early records. It's Gang Green's "Alcohol" that found a spot on the tracklist and Tankard's version is at least as good as the original from Boston's drinking companions.
Tracklist:
Intro
Total Addiction
T antrum
Don't Panic
Puke
For a Thousand Beers
Chemical Invasion
Farewell to a Skut
Traitor
Alcohol
Outro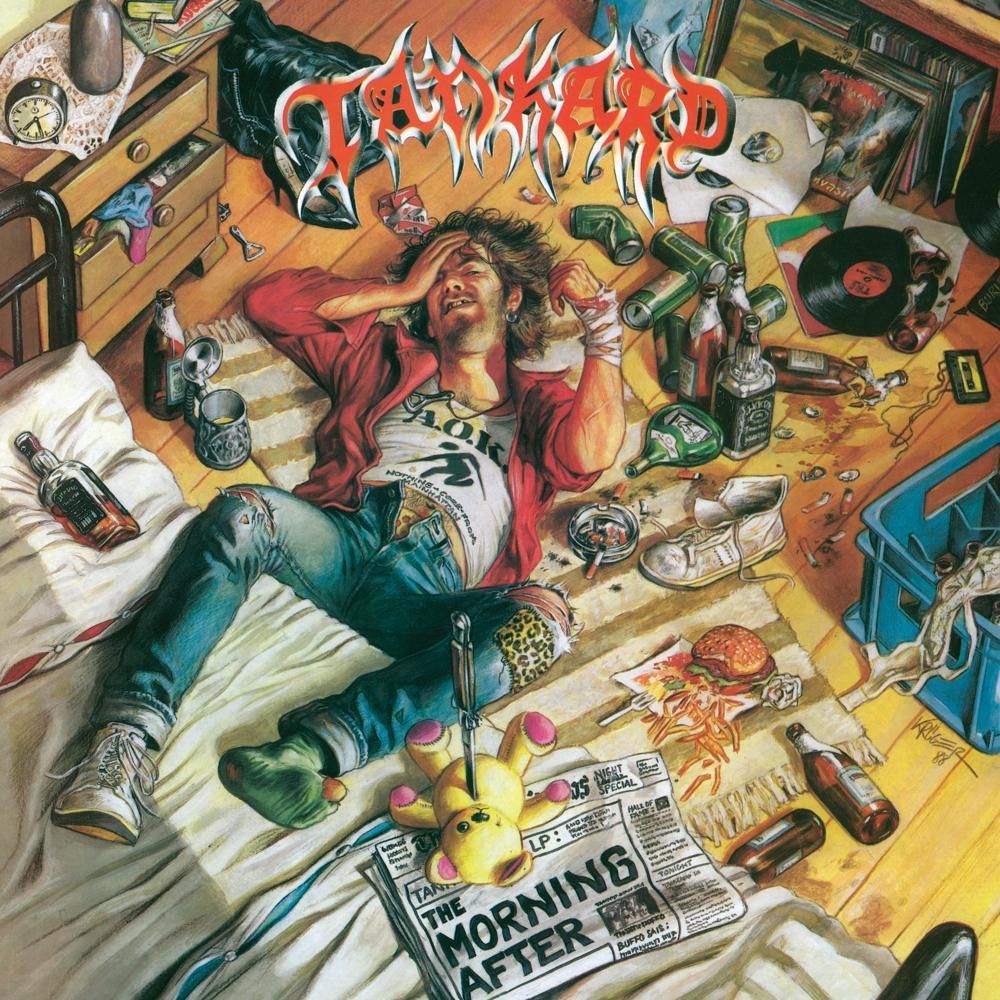 The Morning After (Release Date: November 24th, 2017)
Twelve months after "Chemical Invasion" underlined Tankard's status it was "The Morning After" being the crucial third longplayer. 1988 was an iconic year when it comes to German thrash metal. Bands like Kreator, Tankard and Sodom faced a constantly growing fanbase and it was Tankard that completed this new wave of German thrash metal.
"The Morning After" still belongs to the best the guys from Frankfurt ever released. Tunes like "TV Hero", "The Morning After" and "Help Yourself" are excellent thrash anthems with pure riff-power. The guys developed their sound to a level that gave them more options when it comes to song writing without losing the initial power signature that made and still makes Tankard to a legend in thrash metal.
As with "Chemical Invasion" also the third album includes a cover version, showing the bands passion for hardcore. This time it's "Try Again" from German/American powerhouse Spermbirds that got a metallic expression and as with "Alcohol" also "Try Again" paid tribute to the original, sticking to the initial sound by adding a fresh punch to these killers.
After having lived a life on the fast-lane for some years the quintet decided to release an EP for bridging the waiting time till the next studio longplayer. "Alien" was published in 1989 and comprises five songs, including the Rose Tattoo cover "Remedy". It also introduced the 'green alien', the little monster that's alive as a mascot up-to-date.
Tracklist:
Intro
Commandments
Shit-Faced
TV Hero
F.U.N.
Try Again
The Morning After
Desperation
Feed the Lohocla
Help Yourself
Mon Cheri
Outro
Alien
666 Packs
Live to Die
Remedy
(Empty) Tankard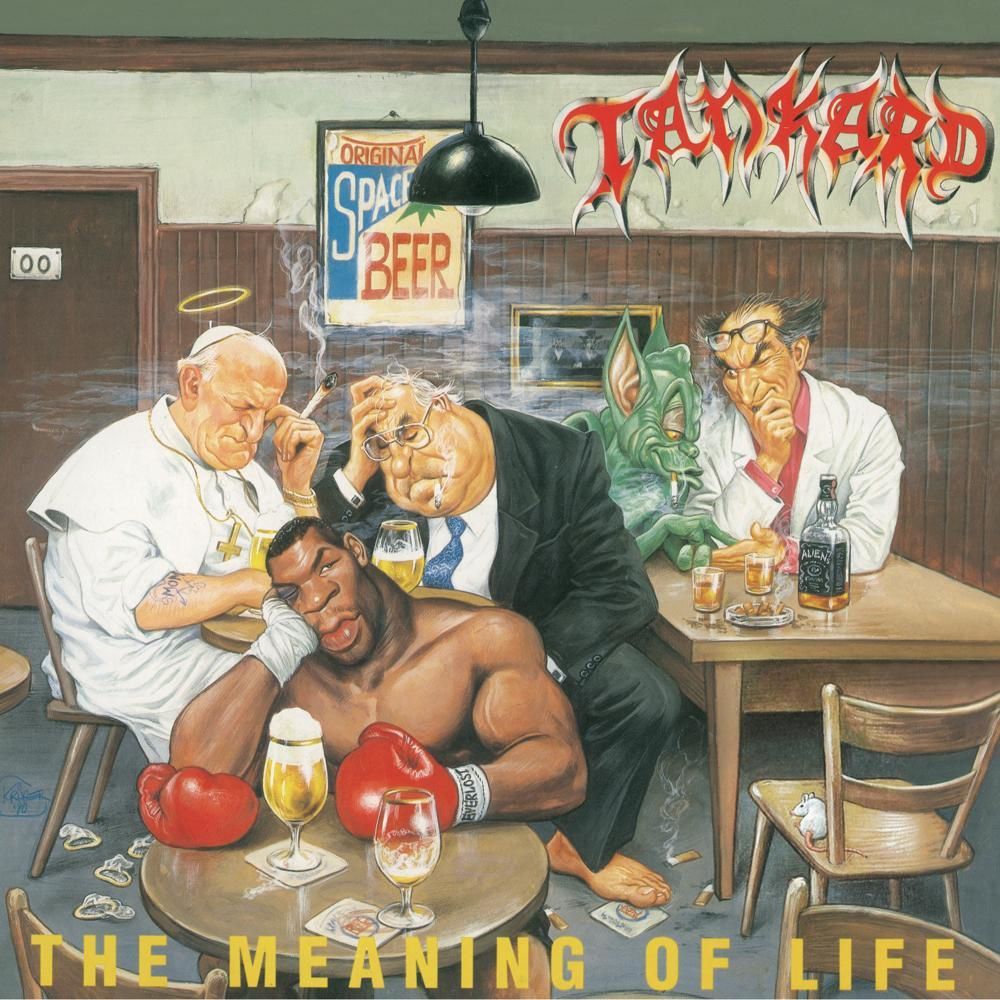 The Meaning of Life (Release Date: January 26th, 2018)
Building on the achievements of the 80's Tankard went into the new century with "The Meaning of Life". The horror theme, which was present on the debut, slowly disappeared and the passion for beer remained. Songs like "Beermuda" and "Space Beer" are excellent metal tracks, spreading a fascination up till now. Next to these 'trademarks' also some political messages got more space on "The Meaning of Life". Tankard wasn't and ins't a political band who's 'preaching' a message. However, the artwork and also tracks like "Dancing on Our Grave" prove that Tankard records are more than booze and party.
This reissues also contains five live songs, recorded at the 'Thrashing East Festival' which took place on March 4th, 1990 at Werner-Seelenbinder-Halle in East Berlin.
Tracklist:
Open All Night
We Are Us
Dancing on Our Grave
Mechanical Man
Beermuda
The Meaning of Life
Space Beer
Always Them
Wheel of Rebirth
Barfly
Wonderful Life
The Morning After (Live)
Commandments (Live)
Alien (Live)
Open All Night (Live)
Maniac Forces (Live)
Stone Cold Sober (Release Date: January 26th, 2018)
During the 90's life didn't become easier for metal bands. Grunge gained momentum, giving many traditional metal bands a hard time. Some bands slightly adjusted their sound while Tankard sticked to their guns. The Frankfurt-based band delivered with "Stone Cold Sober" another brutal thrash metal album. Still being rough and wild the guys continued added a meaning to their songs and lyrics. "Juristiction" is about justice that's only existing for people with money while the small ones always get caught. Also "Sleeping with the Past" is a very political song. The quintet got mature over time without losing the fun of life and their twinkle in the eye.
Gerre & Co. also sticked to the tradition of having a cover song on the album. This time it was "Centerfold" that got a thrashy expression a la Tankard.
Last but not least "Stone Cold Sober" was the first album that included a song with German lyrics. "Freibier" is the name of the song that was pretty unique in 1992 but also inspirend the band to do some more stuff in their native language.
Tracklist:
Jurisdiction
Broken Image
Mindwild
Ulgly Beauty
Centerfold
Behind the Back
Stone Cold Sober
Blood, Guts and Rock'n'Roll
Lost and Found (Tantrum Part 2)
Sleeping With the Past
Freibier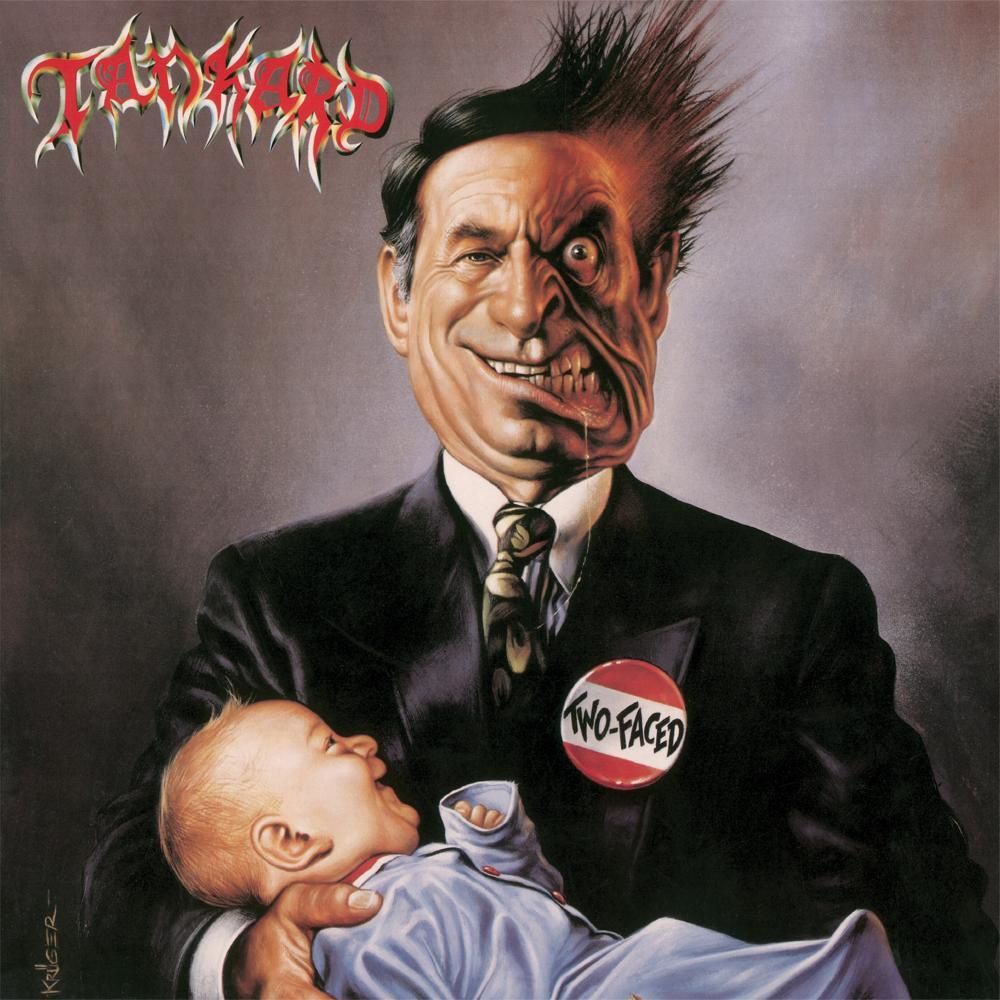 Two-Faced (Release Date: January 26th, 2018)
Tankard's sixth studio album saw the light of day in 1993. The recording took place at Musiclab Studios in Berlin and it was again Harris Johns being the producer for "Two-Faced". Like with the latest records Tankard tried to take things in a wider context than purely being reduced to beer and drinking. The artwork, done gain by Sebastian Kruger, mirrors the title in an excellent fashion. On the one hand there is the boringly traditional business man while there is the dark monster too, bringing the freak into the forefront. The title track itself is one of the best Tankard songs to date and hopefully the guys will put the classic back on the their setlists. The fun factor is captured on "Two-Faced" as well, thinking about "Cities in Flames" which is full of metal cliches - from beginning to end.
Sticking to the concept demands another cover version. This time it was "Ich brauch' meinen Suff" from German punk band Strassenjungs, combining the bands passion for punk and continues with the German lyrics experiment.
Tracklist:
Death Penalty
R.T.V.
Betrayed
Nation Over Nation
Days of the Gu
Cities in Flames
Up From Zero
Two-Faced
Ich brauch' meinen Suff
Cyberworld
Mainhattan
Jimmy B. Bad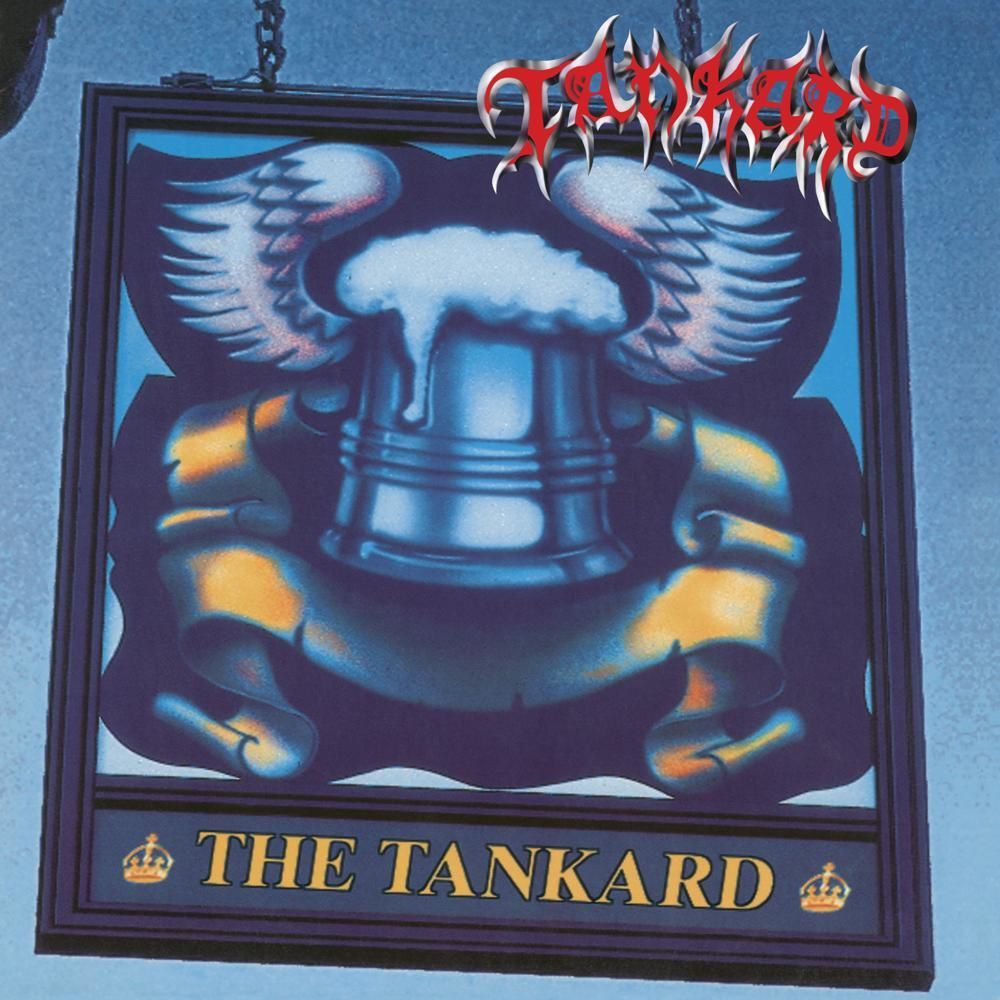 The Tankard / Aufgetankt (Release Date: January 26th, 2018)
The Noise years came closer to an end and it was "The Tankard" that stands for the final chapter of this era. The band from 'Mainhattan' was well-known for the excellent artwork and therefor it was a horrible experience to see the one that made it on "The Tankard". Sebastian Kruger did a fantastic job and it was his fine pieces of art that gave Tankard also a visual identity. And since Kruger didn't have time for this album things ended up badly.
Next to the horrible packaging the band became a quartet with Axel Katzmann leaving due to health issues. It's this loss that's one of the reasons why "The Tankard" became a very melodic album. The opener "Grave New Wold" is a very catchy track with some Metallica cross-references but it's the distracting "Poshor Golovar" that marked a low-point. This album was the end of an era, showcasing a band that was in a state of transition. The huge successes in the 80's pushed Tankard right into the spotlight and the years that followed helped the band to evolve. The guys got mature without losing the fun factor in life and music. Now it was time for something new, a new chapter in a new context.
Tracklist:
Grave New World
Minds on the Moon
The Story of Mr. Cruel
Close Encounter
Poshor Golovar
Mess in the West
Atomic Twilight
Fuck Christmas
Positive
Hope?
Liebesspieler
Pogo in Togo
Hurra, hurra, die Schule Brennt
Herr D.
Sternenhimmel
König von Deutschland
Elke
Skandal im Sperrbezirk
Billiger Slogan