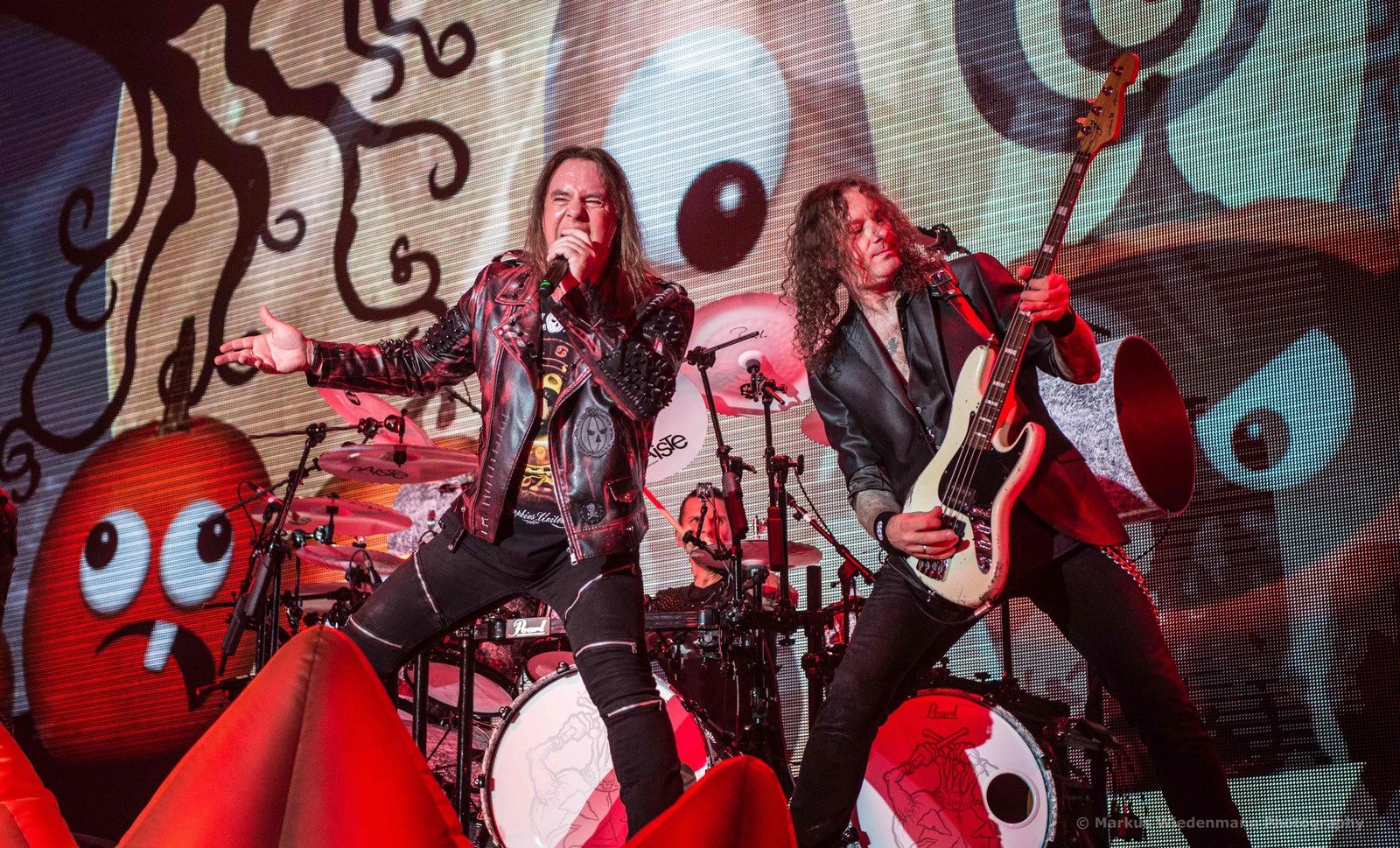 2017 is coming closer to an end, a year that had many highlights with one announcement that was sticking out - the Pumpkins United tour. Actually the first news came out in 2016 with things getting more concrete in spring this year. Helloween's 'Pumpkins United' tour feels like a dream that became true. Instead of performing some shows in an 'old-school setup', Helloween decided to go for a slightly different approach. 'Pumpkins United' includes all the current band members with the addition of no less than Michael Kiske and Kai Hansen. Even Ingo Schwichtenberg, who passes away in 1995 far too early, was and is part of this tour. The band honours the drummer with a drum solo via the backdrop screen, a solo he does together with Dani Löble. You can't interpret the word 'united' much better than this.
As a part of the world tour the band had a stop in The Netherlands on November 20th. It was the 013 in Tilburg that hosted a fantastic three hour show, featuring finest heavy metal. Helloween bridged in a perfect fashion old and new; not only when it comes to the line-up. The focus was, how could it be different, on the two parts of the 'Keeper of the Seven Keys" album. Five songs each turned the venue into a madhouse.
It was the Robbie Williams smash hit "Let me Entertain You" that acted as an intro to an unforgettable night of which "Halloween" was the starter, followed by "Dr. Stein" and "I'm Alive". These songs are classics and pure energizers.
Next to the great songs, the excellent musicians and the very well-done sound it was the stage scenery that completed a perfect metal show. As mentioned already earlier, it was a big screen that acted as a backdrop. Helloween used it to make Ingo Schwichtenberg part of this three hours metal journey. Next to this highlight of the night, one out of many, it has been short intermissions with Seth and Doc that have been placed after every second song. These nice and amusing breaks were the icing on the cake. Each of the short clips included a twinkle in the eye, stating the humour Helloween stand for.
Being grown up with the 'Keeper'-albums it felt like a journey back in time. Listening to the brilliant medley "Starlight/Ride the Sky/Judas" (from the "Walls of Jericho" release) and the epic "Keepers of the Seven Keys" was a delight for fans and metalheads. Of course time didn't stand still and we all got older. However, the magic survived and after all the decades that passed it's still a pleasure to listen to these classics in metal.
An exciting thing with this line-up is the fact that Helloween can benefit of three guitarists, providing a lot of riff-power and an extremely powerful sound. Next to the three axemen it's Andi Deris and Michael Kiske that performed more than well. It's the rougher voice of Deris that feels like an excellent counterpart to Kiske's high pitch moments, all climaxing when both have been on stage together, performing as a duet. It never felt like the one being better than the other or the both competing. It was more a completion of Helloween's sound. Still I must say that I was impressed how good Kiske's voice is after all these years. This man was and is one of the most influential singers in heavy metal - or how he stated towards the end of the show: "I lost my hair, but I didn't lost my voice". And he's so damn right - with both.
Time was flying that night and even the best things come to an end. The Grand Finale that night included two more classics. "Future World" and "I Want Out" have been excessively celebrated. The ending of a show couldn't have been better than with these two Helloween-hits.
Initiating 'Pumpkins United' was an outstanding idea. This set-up is fun for everybody. The band seemed to enjoy every single minute and also fans finally got what they were asking for such a long time - Helloween from then and now, all in one package. A night to remember and, at least when it comes to me, the by far best show in 2017.