Just a few days after Hamburg-based metal icons Helloween played an impressive show in Tilburg it was another German metal legend that delighted Dutch metal fans with excellent songs, covering a time span of more then three decades.
Destruction hit the road for playing three shows in The Netherlands. The starting point of this short trip was Leiden. It was the Gebr. De Nobel that hosted this thrash metal attack with a setlist that was built with an oldschool approach - the thrash anthems.
But before Schmier, Mike and Vaaver started their hellish thrash inferno it was a local band that kicked-off that night. HellBender calls Leiden their home base, something that became very obvious by the encouraging amount of metalheads in front of the stage. The harsh thrash/death metal mix of HellBender motivated more and more fans to leave the bar for enjoying HellBenders brutal riff attacks. Honestly, I haven't heard of the guys before and I think it was the first time that they entered a stage in bigger venue. However, it was a striking metal set with songs that did their job as energizers. HellBender's sound might not by the most innovative one, but the intensity and passion that was put into each note played that night led to a well-deserved and rewarding applause.
We stay in the Benelux but 'move' to Belgium. Bark, hailing from Antwerp, was next on the list. The band is still a rather new one with a foundation date in 2014. The noticeable thing with their performance is the power that comes with this five-piece outfit. These guys inflame a sonic blast and it felt like standing in the middle of a metal storm. Unfortunately there was a smaller crowd in front of the podium, which maybe also had to do with the fact that the songs felt very similar. It was a storm, blowing on a constant level right into your face. A bit more variation wouldn't have been a bad thing.
Finally it was time for Destruction to enter the stage. The trio didn't loose any time and started right into a set that was build very much around the "Infernal Overkill" album. Schmier, Mike and Vaaver put smashers like "Antichrist", Black Death" and the excellent instrumental "Thrash Attack" on the setlist; songs that belongs to the best German thrash metal ever brought to surface. These tunes are classics and it wasn't a big surprise that fans celebrated each of the seventeen anthems with a 90 minutes mosh pit.
Destruction's set didn't include any minute for recovery. "Curse the Gods" marked the excellent beginning of a concert that included everything fans of the German powerhouse came for. "Mad Butcher", "Release From Agony" and the 'newer' "The Butcher Strikes Back" (from 2000) led to a hellish metal party, with the latter being the closer of the regular set.
After a very short break the trio returned on stage for two more tunes. It was a blood curdling scream by Schmier that introduced "Thrash Till Death" before "Bestial Invasion" acted as the Grande Finale of a show that took fans back to the first half of Destruction's impressive musical history. I guess that nobody, including the band, would have been disappointed by just going on for a bit longer, but due to a strict curfew (a disco party followed that night in the same room) the 90 minutes had to do the job, and they did. Witnessing a Destruction show is always a delight and so was this night.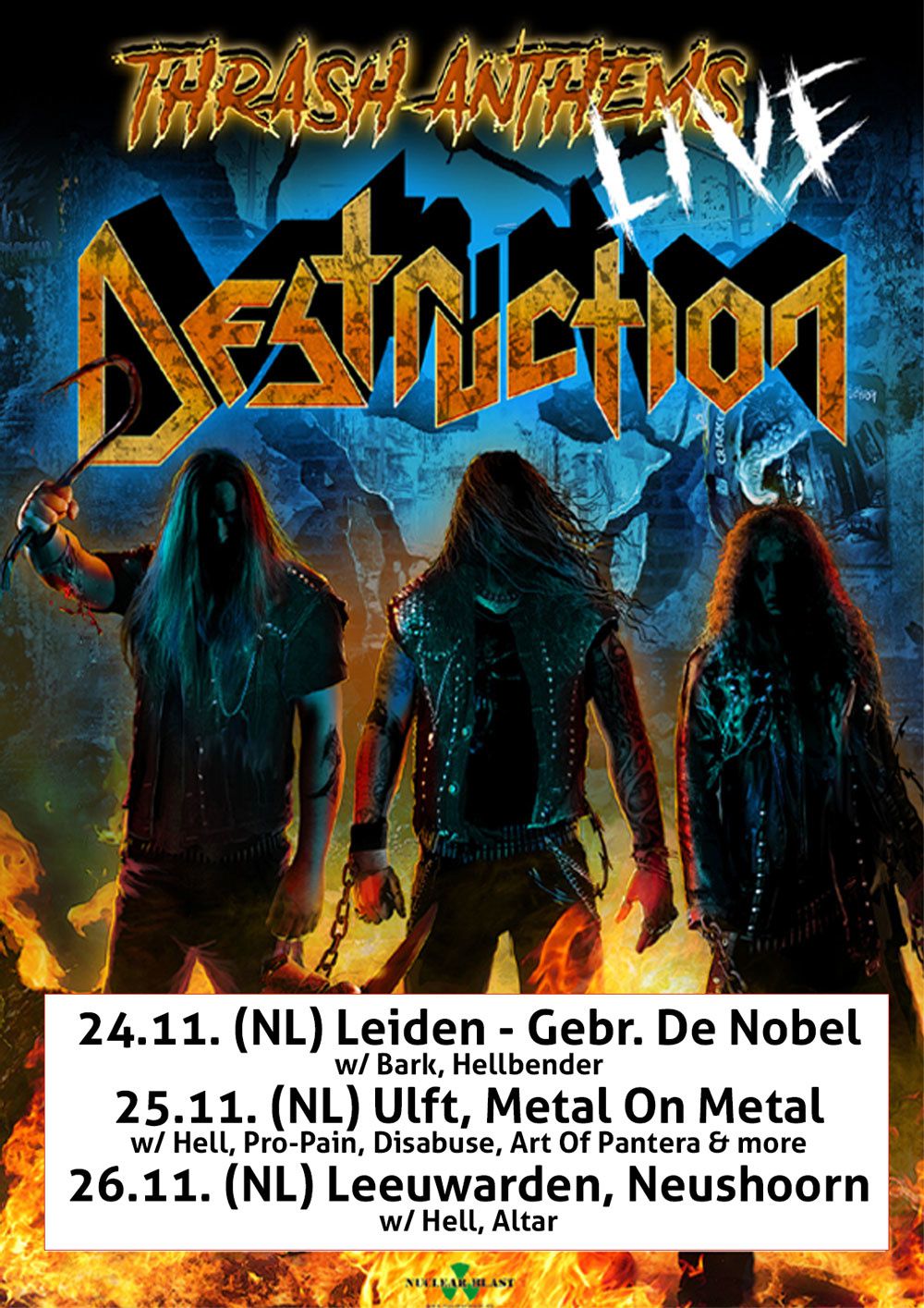 Tracklist Destruction:
Curse The Gods
Tormentor
Nailed to the Cross
Mad Butcher
Dethroned
Life Without Sense
Release From Agony
The Ritual
Black Death
Antichrist
Satan's Vengeance
Total Desaster
Thrash Attack
Second to None
The Butcher Strikes Back
Thrash Till Death
Bestial Invasion
Location: Gebr. De Nobel, Leiden, The Netherlands
Date: 24.11.2017