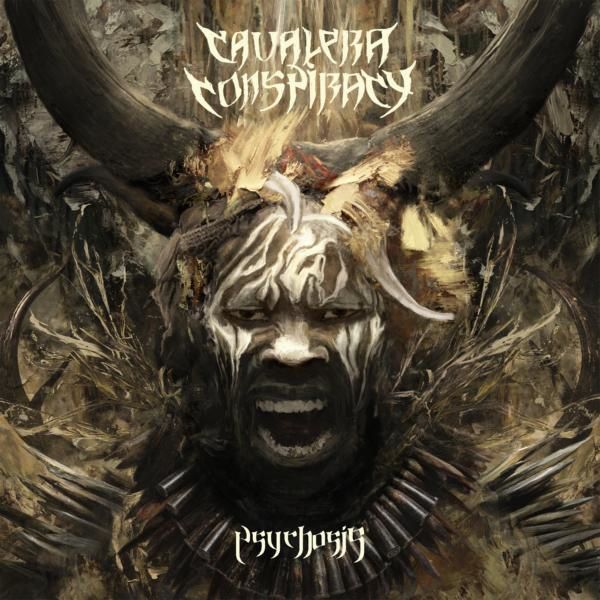 (8/10) End of November the Cavalera brothers kicked-off a European tour. This time the guys didn't hit the road as the Cavalera Conspiracy. The tour is done as Max & Iggor Cavalera with the main purpose of celebrating the 20th anniversary of a milestone in metal – Sepultura's "Roots".
What's interesting though is the fact that in parallel the two brothers also release a new Cavalera Conspiracy album. Normally you could expect some touring activities connected to a new album, but not this time. I haven't seen the most recent setlist and I guess that at least the one or the other new songs will find a spot on the setlist.
Besides all this guessing, let's have a look into "Psychosis". It's album number four of Cavalera Conspiracy and it became an interesting one. The best album for me is the debut and also the newest release will not change this. It doesn't mean that "Psychosis" is a bad record and also the fourth album is full of excellent groove metal anthems, especially in the first half. It just can't reach the great "Inflikted".
The start into the longplayer couldn't be more brutal than what you get to hear with "Insane". It's a merciless thrash beast that feels like a smash into right into the face. The brutal "Terror Tactics" follows, a song that easily keeps the high level set by the opener; a fact that also goes for the grooving anthem "Impalement Execution". Extreme metal could sound much better.
Towards halftime the album includes a shift, starting with "Crom". Still building on the trademarks of Cavalera Conspiracy, the tunes includes a first industrial touch, something that gets even more into the forefront with "Hellfire". I felt a bit reminded of Ministry when I heard this tune the first time. Adding these variations to "Psychosis" is a good move since it breaks a standard pattern. On the other hand it also adds a bit of a scattered picture to the totality.
After such a musical detour the band returns to the fast and furious with "Judas Pariah". This high-speed track starts a metal storm and it's a grooving section in the second half that increases additional excitement. What comes next is more of a distraction. The title track all of a sudden unveils an atmospheric sound. The instrumental comes unexpected and is hard to place in the context of the album. However, it is a moment to recover from the massive metal attack that hit the listener with the previous songs. The final chapter is entitled "Excruciating" and brings back the known. Brutal vocals, screaming guitars and a pounding rhythm section closes album number four.
"Psychosis" stands in the tradition of the earlier releases of the two brothers. It might not become a classic and it comprises some surprises, but Cavalera Conspiracy still represents merciless thrash metal that can lead to severe neck problems due to intense headbanging.
(8/10)
Tracklist:
Insane
Terror Tactics
Impalement Execution
Spectral War
Hellfire
Crom
Hellfire
Judas Pariah
Psychosis
Excruciating
Label: Napalm Records
Genre: Groove Metal / Thrash Metal
Release Date EU: November 17th, 2017