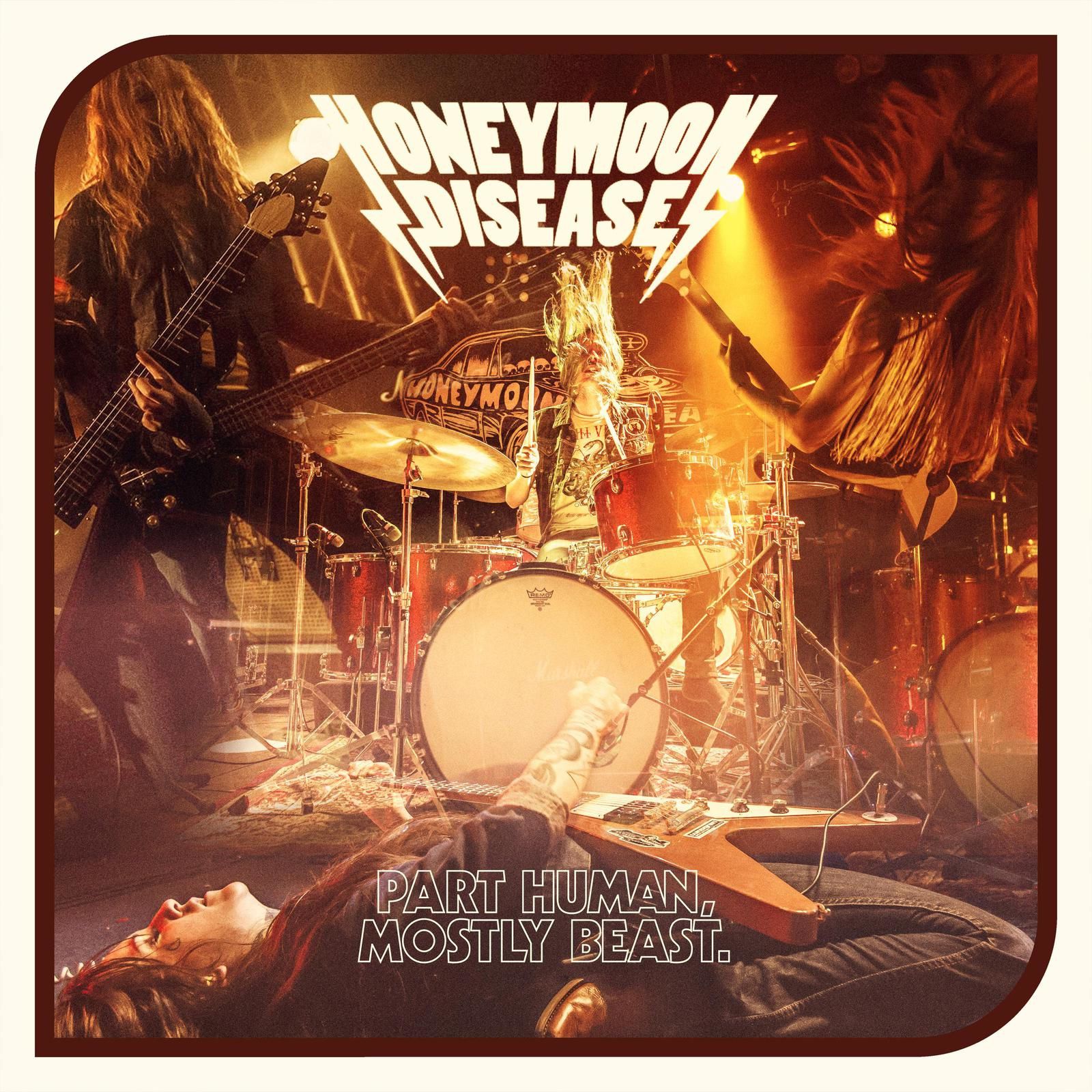 (9/10) It was almost to date one year ago when Swedish powerhouse Honeymoon Disease rocked the Gebr. De Nobel, Leiden, acted as opening act for Zodiac. The show that this quartet nailed down was an impressive one since you could not only listen to great rock music; you could also sense and fell the power of rock. It was hard to believe that this band, at that time, had just one release Honeymoon Disease in the open.
Twelve months after this exciting show the Gothenburg-based outfit comes up with their highly anticipated sophomore album entitled "Partly Human, Mostly Beast". The longplayer comprises twelve new hardrock smashers, unveiling the joy of rock. Honeymoon Disease has more than a great sense for big melodies. Each of the integrated hooks does its job in perfection, making the album to a great listening experience. It's the horn section in "Tail Twister", the pumping bass, being the motor for "Coal Burnin'" and mercilessness of a speedster like "Fly Bird, Fly High", making this album to an extremely positive one. Each of the tunes includes such a great vibe, breathing the pure spirit of rock'n'roll. Honeymoon Disease swings a hot bat at the moment with songs that really kick ass - from the heavy grooving "Night By Night" to "Rymvalds", showing the soulful side of Honeymoon Disease.
Retro rock with a strong vintage expression gained some popularity over the last years, with many bands surfing this wave. The beauty with this power outfit though is that they found their own little niche by being 100% authentic with full pleasure for what they are doing – driving on the fast lane of rock'n'roll.
"Partly Human, Mostly Beast" is an awesome release that ask for many spins on your record player. It's only rock'n'roll and I like it.
(9/10)
Tracklist:
 Doin' it Again

Only Thing Alive

Tail Twister

Rymdvals

Needle In Your Eye

Fly Bird, Fly High

Calling You

Four Stroke Woman

Night By Night

It's Alright

Coal Burnin'

Electric Eel
Label: The Sign
Genre: Hardrock
Release Date EU: October 27th, 2017