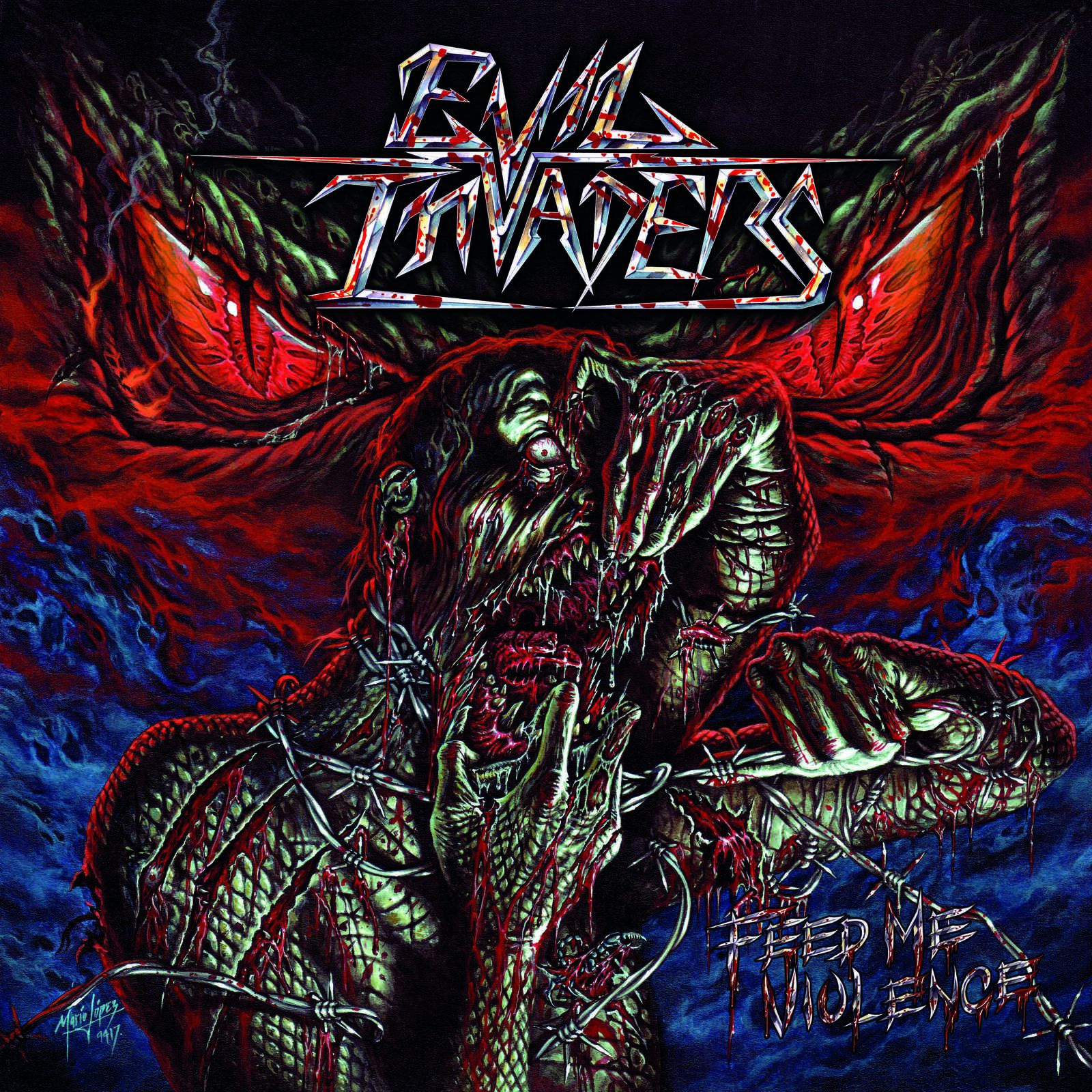 (7/10) One year after having presented a four track EP, Belgium speedsters Evil Invaders push their newest studio album "Feed Me Violence" on the market. The band didn't change the general principles of their sound. Evil Invaders still stand for furious metal with screaming guitars and wild leads. What we can conclude though is the improvement when it comes to songwriting. The sophomore record includes more twists and nuances compared to the unbound debut by still including the raw power of metal.
However, pushing the pedal to the metal isn't everything you get offered by the Belgium quartet. The guys focus on tempo and speed, no doubt. But instead of just push one's foot to the floor the quartet also adds some cleverly placed breaks to their sound, variations that add excitement. The Helloween-inspired "Oblivion" is an example for such a track. The half-acoustic beginning shows another side of Evil Invaders before the tune slowly shifts gears, ending up in a high-paced metal track with double bass attacks. A songs that moves the above mentioned to a next level is the closer "Among the Depths of Sanity". Partly following the same principles as "Oblivion" the tune is with six minutes the longest one on the album. For me it's the most mature one to date when it comes to song writing, proving again that Evil Invaders is more then just excessive speed and blind rage. The guys have more in petto and they unveil it on "Feed Me Violence".
However, songs with breakneck speed are present too. The opener "Mental Penitentiary" takes its power from a merciless tempo in combination with high pitch screams and also the title track is an aspirant for a speeding ticket.
Evil Invaders' sophomore longplayer comes with more than uncompromising speed metal. The guys from Belgium have enough creativity to break the pattern with well-done tunes such as the grooving "Broken Dreams In Isolation".
"Feed Me Violence" is a longplayer that makes fun and comes with a certain entertaining factor. Youth gone wild on this longplayer.
(7/10)
Tracklist:
Mental Penitentiary

As Life Slowly Fades

Suspended Reanimation

Broken Dreams in Isolation

Feed Me Violence

Oblivion

Shades of Solitude

Anger Within

Among the Depth of Sanity
Label: Napalm Records
Genre: Speed Metal
Release Date EU: September 29th, 2017