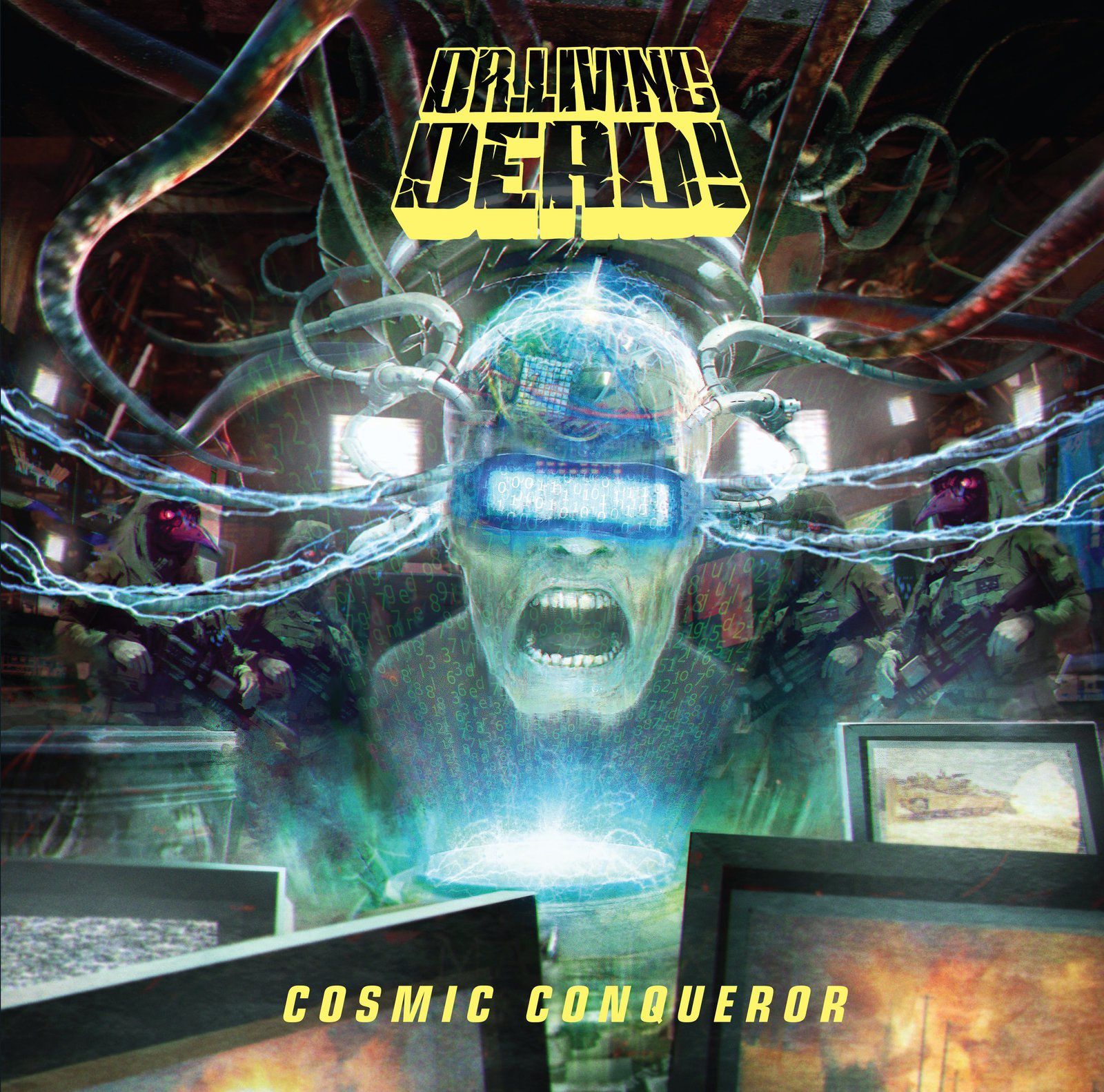 (8/10) Stockholm is, at least when it comes to metal music, known for outstanding hardrock and sinister death metal. But there's a thrash scene either and one of the most known bands is Dr. Living Dead!.
The group, featuring four doctors (Dr. Rad, Dr. Toxic, Dr. Mania and Dr. Slam), started their 'deadly healing' in 2007. Two demos led to a self-titled debut that became a part of many metal collections in 2011. Since then the four-piece band, on a more or less regular base, procures supplies in the form of two more longplayers.
Two years after having published "Crush the Sublime Gods" it's "Cosmic Conqueror" that hits the shelves. Now, you can ask yourself 'what's new'. It' actually not that much. Dr. Living Dead! isn't a band that belongs to the most innovative ones. Too narrow is the framework of thrash metal and even the crossover component doesn't bring that much new to the table. That's one side of the equation.
Dr. Living Dead!'s strength is the enthusiasm and commitment for what the four 'doctors' like most - energetic thrash metal that comes with a dominant Suicidal Tendencies. "Cosmic Conqueror" is a longplayer that is fully charged with power. The quartet obviously have a lot of fun with what they are doing. There is a lot of joy of playing embedded in each of the songs, all with a positive vibe and a lively energy.
Based on the mentioned limitation in varying their sound I was a bit sceptic in the beginning. I was afraid of getting too much of the same thing only different and partly this is also reality. However, the dynamic and the authentic passion of Dr. Living Dead! sweeps away all these worrying thoughts. It's a positive metal storm, started by the Stockholm-based band that brings a lot of fun and pleasure into a headbangers life.
(8/10)
Tracklist:
Coffin Crusher
Can't Kill the Dead the Summoning
Terror Vision
Cosmic Conqueror
Disease to Exist
Into the Eye
Survival Denied
Moment of Clarity
Infiltrator / Exterminator
Cyber Crime
Label: Century Media
Genre: Crossover/Thrash Metal
Release Date EU: October 27th, 2017