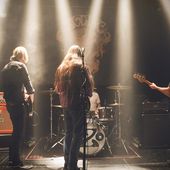 Zodiac, Raveneye & Honeymoon Disease, Leiden, 06.10.2016
Explore this photo album by Markus Wiedenmann on Flickr!
https://www.flickr.com/photos/125260742@N07/sets/72157673717359500/
It was a year ago when Zodiac, Raveneye and Honeymoon Disease brought some warm and powerful rock to Leiden, Netherlands. By the way, don't miss Honeymoon Disease's upcoming release. Stay tuned for the review.