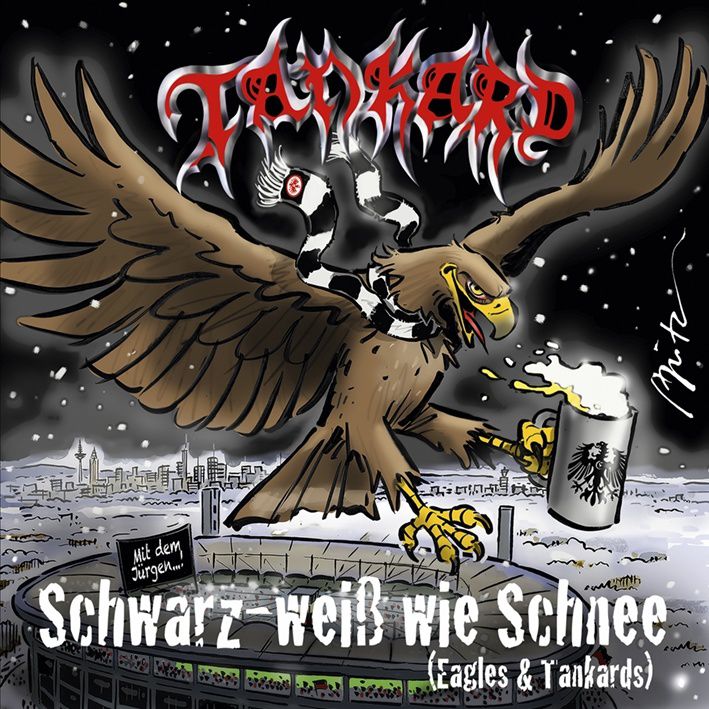 (*/10) Frankfurt-based thrash veterans Tankard are not only in favor of a fresh beer and a bembel filled with Apfelwein, they are also soccer fans, supporting their hometown team Eintracht Frankfurt, being part of the German Bundesliga.
It was at the end of the last millennium when Tankard wrote with "Schwarz-weiss wie Schnee" a hymn that's dedicated to their favorite team. As not expected different, the single was sold-out quickly - a period that will end on September 15th. It's Nuclear Blast who re-releases this song as a 7", featuring six songs in total. Next to a new 2017 version of the title track the disc also comes with the original 1999 recording and another tribute called "Forza SGE".
Three well-known Tankard songs are the add-on, with "(Empty) Tankard" coming in a live version that was recorded in 2016.
This release is for Tankard fans as well as for supporters of Eintrach Frankfurt who missed the original version.
(*/10)
Tracklist:
Schwarz-weiss wie Schnee (Version 2017)
Forza SGE
Schwarz-weiss wie Schnee (Version1999)
One Foot in the Grave
A Girl Called Cerveza
(Empty) Tankard
Label: Nuclear Blast
Genre: Thrash Metal
Release Date EU: September 15th, 2017