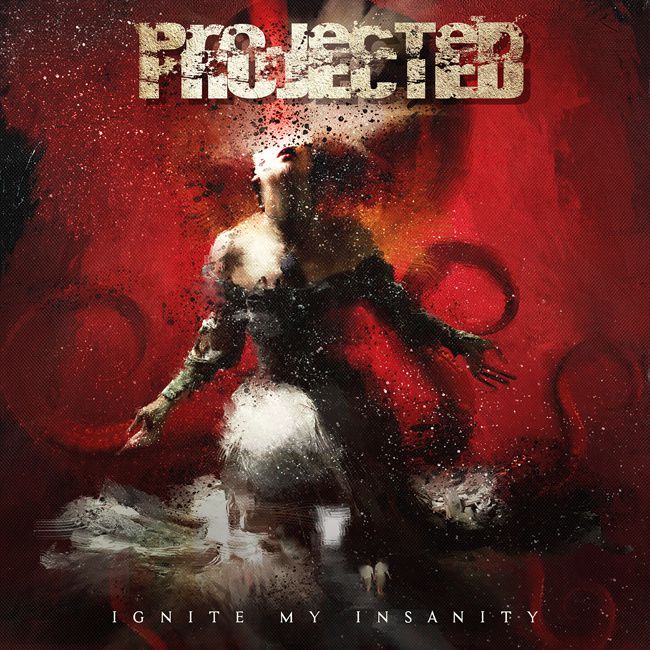 (9/10) Wait a second. Catchy melodies and heavy guitar riffing, where have we heard this earlier? True, Sevendust made use of this principle since many years and Projected does the same. This isn't a coincidence knowing that Sevendust guitarist John Conolly is one quarter of Projected, a supergroup that also comprises Sevendust's bassist Vinnie Hornsby, Scott Phillips (Alter Bridge) and Eric Friedman (Tremonti).
"Ignite My Insanity" is the sophomore release of the quartet that debut with "Human" in 2012. Since a few weeks the new album is now available also in Europe and if you haven't heard it yet, you should close this gap - the sooner the better.
The musical background of the four musicians involved gives you a pretty good idea of what to expect from this two CD release. Melodic alternative metal with a modern approach is what these songs are about. The joy with the album is that it feels like being done with an ease, not being overloaded with sky-high expectations. The four-piece band made us of all the liberty provided and created a jaw-dropping good double decker.
"Ignite My Insanity" contains all ingredients you want to get served with such a musical feast. Soulful ballads like "Faith" are part of the game as well as brutal riff monsters, a category "Six Feet Below" belongs to. Tunes like "Ignite" are a well-crafted mix of great vocal lines in the chorus, a psychedelic verse and furious guitars. A song that's merciless pushing is entitled "Vain" and I could continue since the album is thrilling from beginning to end. Anyhow, I would like to mention two more songs. "Rectify" and "Call Me the Devil" have been co-written by Mark Tremonti, adding a slightly other touch to the tracks by still fitting in the context of the album.
The only question is if 21 songs are a bit too much. On the other hand, they are all good, profiting from a dynamic and powerful production. So, who cares. Each of these songs hit bulls eye and that's what counts.
What's amazing is the fact that Projected is a side project only. These songs would deserve to be performed live since they belong to the best alternative metal brought up to surface over the last years. "Ignite My Insanity" is loud, heavy, soulful and enthralling. This album is a 'must' for Sevendust- and Alter Bridge-fans.
(9/10)
Tracklist:
CD 1:
Strike
Reload
Six Feet Below
Vain
Rectify
Faith
Gomorrah
Heaven Above
10 Years Gone
Only
CD 2:
Fire
Ignite
Call Me the Devil
Concede
Inhuman
Better
Hate You Back
Upside Down
Seconds
Inside the Sun
Battlestations
Label: Rat Pak Records
Genre: Modern Metel
Release Date EU: August 18th, 2017