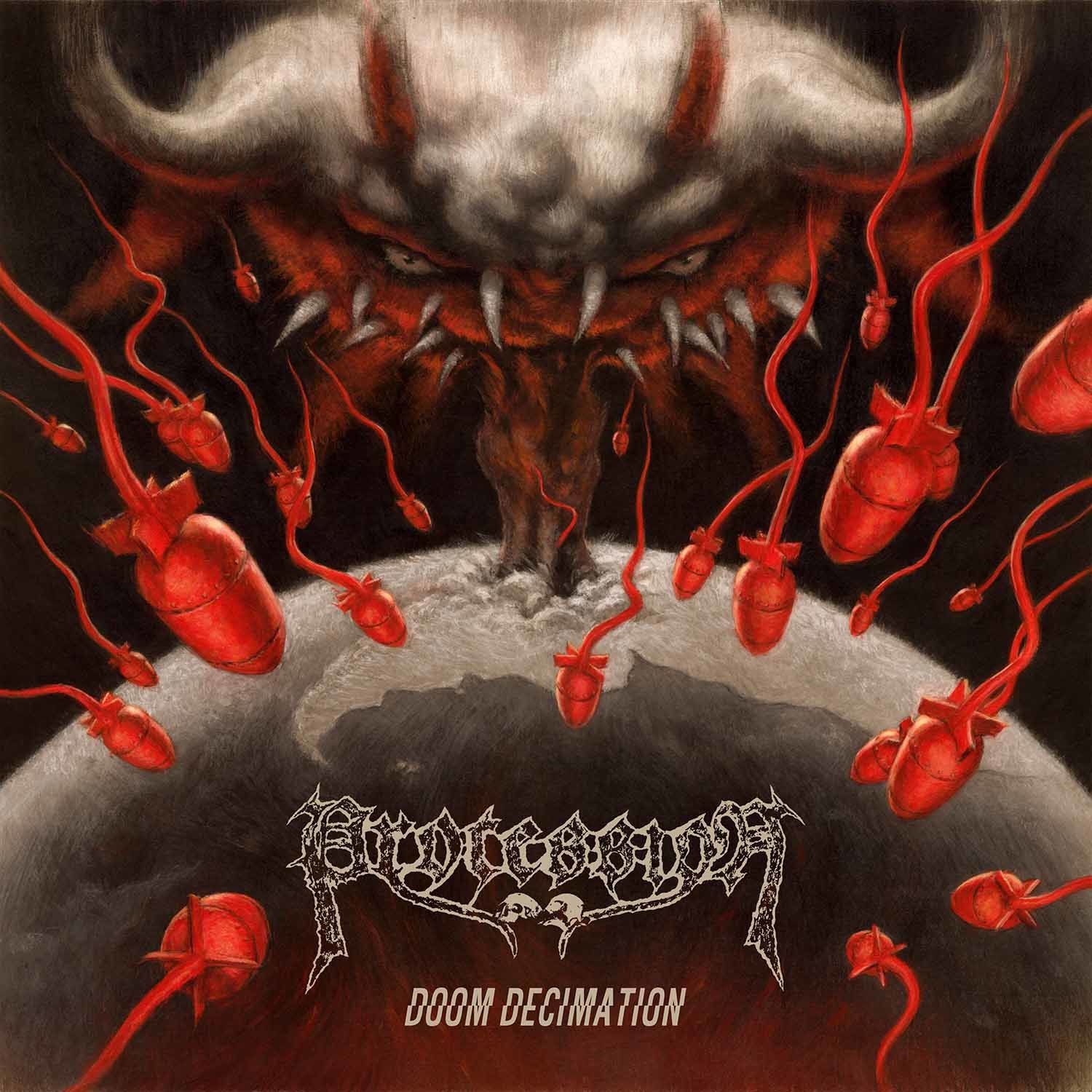 (9/10) It was in 2010 when a band, I haven't heard of before, all of a sudden appeared on the scene with an album that was jaw-dropping good. Procession was the name of this quartet that came from Chile, sending a strong metal message to the world. "Destroyers of the Faith" was the longplayer with which the band debut, followed by the sophomore "To Reap Heavens Apart", which was at least as good as the debut.
In the meantime Procession, or better said their main man Felipe Plaza, relocated to Sweden, a country with a big and vital metal scene – from mainstream to underground. In such an environment inspiration is everywhere and still Plaza decided to work on recording the new longplayer in Chile. Doing this allowed the band to fully focus on the new album as well as it underlines the South America roots of Procession rather tah being seen as a 'European metal band'.
"Doom Decimation" is an album that perfectly fits into the bands discography. In total nine new songs will be a delight for traditional metal fans as well as it should be checked by worshipers of doom metal.
After the short and intense "The Warning" it's the metal smasher "When Doomsday Has Come" that marks a first highlight on this release. The tune is a moderate paced traditional metal track that's done in a perfect fashion. Powerful and with full engagement the quartet celebrates metal in perfection.
After such a start Procession puts a foot on the break with "Lonely are the Ways of the Stranger". Doom metal is what you get with this exciting song before "Amidst the Bowles of Earth" leaves you slack-jawed again. Pace is still rather low, but compared with the earlier song I hear more melodic metal and US metal that's embedded in this long but not lengthy number.
After a calm intro, "Democide" reveals again the mighty riffs in slo-mo before Procession shifts gears. "All Descending Suns" is an uptempo number that acts as a refreshing counterpart to the before mentioned tracks. And just to keep the arc of suspense high two more songs with finest quality follows of which the epical "One by One They Die" ends the album in a perfect manner. Eight minutes of old-fashioned but not dusted metal stand for the last chapter on this album that guarantees a continuation of Procession's great work up-to-date. Heavy metal fans will love this album that proves that you get great music if passion rules the game. You wonder why it's not these kind of acts that get the support slots for bands like e.g. Iron Maiden and Co.. They would have deserved it.
(9/10)
Tracklist:
The Warning
When Doomsday has Come
Lonely are the Ways of the Stranger
Amidst the Bowels of Earth
Democide
All Descending Suns
As They Reached the Womb
One by One They Died
Label: High Roller Records
Genre: Doom Metal
Release Date EU: October 31st, 2017