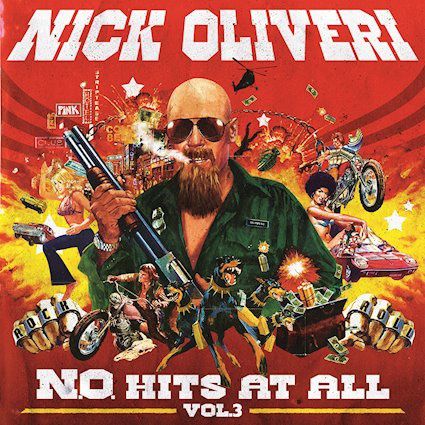 (5/10) 'All good things come in threes', that could be one thought that Nick Oliveri had before starting this trilogy. Next to that, and looking on sales prices, it's also a good opportunity to make some money. Instead of putting all the songs, or most of them, on one album, these EPs' triple the income by being priced as a regular CD.
However, as with the first two six track releases also volume three comes with cover versions of tunes that influenced Oliveri and also belong to his personal favorites. And as we're used to, Oliveri invited guest musicians to join him on "N.O. Hits at All – Volume 3". John Joseph (Cro-Mags) is part of this release as well as Todd Youth (Murphy's Law, Danzig), Brant Bjork, Melissa auf der Maur, Joey Castillo and some more.
The choice of songs cover a range from Royale Daemons to Black Sabbath, the later being represented on this EP with an awful version of "The Mob Rules". Hopefully Ozzy and Co. don't have to listen to this version of their classic in metal.
"N.O. Hits at All – Volume 3" starts to become an annoying continuation of a great idea that started with volume one. This EP is a redundant one and I hope it's the last one of its kind.
(5/10)
Tracklist:
R'n'R Outlaw
Luv is Fiction
Medication
Kyuss Dies!
Country As Fuck
The Mob Rules
Label: Heavy Psych Records
Genre: Punk Rock
Release Date EU: October 20st, 2017